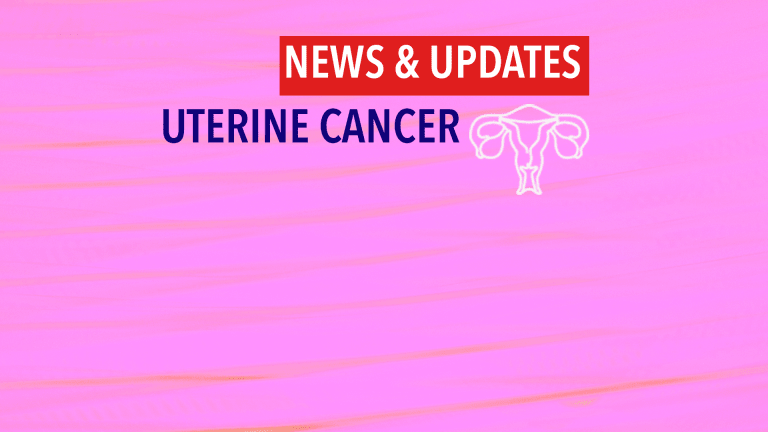 Megestrol and Tamoxifen Combo Is Active against Advanced Endometrial Cancer
Megestrol and Tamoxifen Combo Is Active against Recurrent or Advanced Endometrial Cancer
A combination of megestrol acetate and tamoxifen may be more effective against advanced or recurrent cancer of the endometrium than megestrol acetate alone, according to researchers from the Gynecologic Oncology Group, who are presenting their findings at the American Society of Clinical Oncology's annual meeting in New Orleans.
Cancer of the endometrium is characterized by the presence of cancer cells in the lining of the uterus (or womb), or endometrium. Treatment options depend on a number of factors, including the stage of disease (extent of disease at diagnosis). For some persons who have disease that recurs (returns) after initial treatment or who have advanced disease that has spread from the endometrium to other parts of the body, treatment with surgery, chemotherapy, and/or radiation therapy may not be effective. Many of these women receive hormone therapy, usually with a progestin (type of female hormone) called megestrol acetate, to help control the symptoms of disease and prolong survival time. This treatment produces responses in 15% to 30% of patients and causes fewer side effects than chemotherapy or radiation therapy. However, researchers continue to develop and study new and hopefully more effective drugs and drug combinations. It is thought that the use of tamoxifen, an anti-estrogen hormone therapy, might help increase the effectiveness of the progestin, allowing the megestrol to kill more cancer cells.
The researchers treated 61 women with recurrent or advanced endometrial cancer with a combination of megestrol and tamoxifen. Twenty-eight percent of these patients had a response to treatment, with 21% having complete disappearance of all detectable cancer. Of those who responded, 50% sustained this response for an average of 20 months. It was noted that, overall, younger women had better responses to the treatment than older women.
From these findings, the researchers concluded that megestrol and tamoxifen appears to be an active combination against advanced and recurrent endometrial cancers. Persons who have this type of disease may wish to talk with their doctor about the risks and benefits of participating in a clinical trial in which megestrol and tamoxifen or other promising new treatments are being studied. Sources of information on ongoing clinical trials that can be discussed with a doctor include a comprehensive, easy-to-use service provided by the National Cancer Institute (cancer.gov. (Proceedings of the American Society of Clinical Oncology Thirty-Sixth Annual Meeting, Vol 19, Abstract 1499, p379a, 2000)