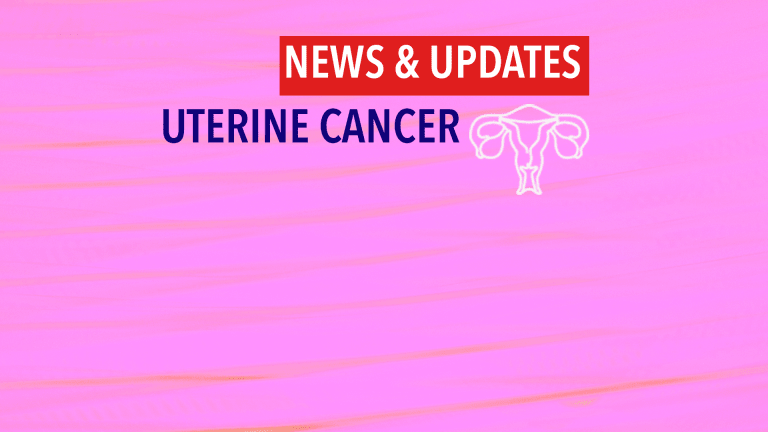 Targeting HER2 in Uterine Cancer
Precision cancer medicines that targeting HER2 appear effective in uterine cancer
Adding the monoclonal antibody drug Herceptin (trastuzumab) to chemotherapy in women with certain uterine cancer prolongs survival and represents a new treatment option. Originally reported by Johns Hopkins Medicine researchers results from the TAPUR trial confirm the benefit at ASCO 2021. All women with uterine cancer should undergo NGS testing for cancer driving mutations in order to determine if their disease can be more effectively treated with a precision cancer medicine. 
About Uterine Cancer
Uterine serous carcinoma makes up less than 10% of all cancers of the endometrium, or lining of the womb, diagnosed in the United States each year, but it accounts for more than a third of the 10,000 endometrial cancer deaths annually. The aggressive carcinomas often don't cause symptoms until they've begun to spread throughout the body. As a result, the average time that standard chemotherapy and surgical treatments can keep the tumor from growing or spreading—known as progression-free survival—is only about eight months.
HER 2 Positive Uterine Cancer
About 30% of all uterine serous carcinomas test positive for HER2/neu, a receptor protein that is also over-expressed in about 10% of all breast cancers.2
HER2 is also known as ERBB2 (v-erb-b2 avian erythroblastic leukemia viral oncogene homolog 2).  Her 2 is a gene that encodes for the receptor tyrosine-protein kinase erbB-2 which is amplified with an increased copy number in several cancers. Amplification of ERBB2 promotes tumorigenesis and pathogenesis of several human cancers. Precision cancer medicines that target HER2 bind to and block HER2 keeping it from driving tumor growth. 
Herceptin
Herceptin was the first precision cancer medicine developed to target HER2 and became the standard treatment for HER2 positive breast and other cancers. Several additional precision cancer medicines that target HER2 have since been developed.
From August 2011 through March 2017 researchers randomly assigned 61 women with uterine serous carcinoma, being seen at their participating institutions, to receive standard chemotherapy with carboplatin and paclitaxel—or those drugs plus herceptin. Some 41 of the patients had stage 3 or 4 uterine serous carcinoma—known as advanced disease—and 17 had recurrent uterine serous carcinoma. All tested positive for the HER2/neu receptor.
Among all patients, those receiving only the standard carboplatin and paclitaxel combination had an average progression-free survival time of 8 months, and the 30 who received herceptin in addition had an average progression-free survival time of 12.9 months. However, the difference was even more profound in the patients with advanced disease, whose progression-free survival time went from an average of 9.3 months to 17.9 months with the addition of herceptin.5 The median survival duration was 24.4 months with herceptin verses 19.6 months.
Herceptin-Perjeta Combination Elicits Clinical Activity in ERBB2/ERBB3+ Uterine Cancer
The combination of Perjeta (pertuzumab) and Herceptin elicited a 37% disease control rate (DCR) in patients with HER2 expressed, mutated, or amplified uterine cancer, according to results from the Targeted Agent Profiling and Utilization Registry (TAPUR) study that were presented during the 2021 ASCO Annual Meeting.1
The TAPUR trial, which is a nonrandomized, phase 2 basket trial testing 18 commercially available treatments in more than 85 molecular targets across advanced solid tumors with specific genomic alterations. 
Investigators evaluated the combination in 28 patients with HER2-positive uterine cancer. Additional findings showed that the median PFS was 28.1 weeks and the median OS was 60.9 weeks.
References
Ali-Ahmad HM, Roth M, Mangat PK, et al. Pertuzumab plus trastuzumab (P+T) in patients (Pts) with uterine cancer (UC) with ERBB2 or ERBB3 amplification, overexpression or mutation: results from the Targeted Agent and Profiling Utilization Registry (TAPUR) study. J Clin Oncol. 2021;39(suppl 15):5508. doi:10.1200/JCO.2021.39.15_suppl.5508
Konecny GE, Santos L, Winterhoff B, et al. HER2 gene amplification and EGFR expression in a large cohort of surgically staged patients with nonendometrioid (type II) endometrial cancer. Br J Cancer. 2009;100(1):89-95. doi:10.1038/sj.bjc.6604814
Halle MK, Tangen IL, Berg HF, et al. HER2 expression patterns in paired primary and metastatic endometrial cancer lesions.Br J Cancer. 2018;118(3):378-387. doi:10.1038/bjc.2017.422
Fleming GF, Sill MW, Darcy KM, et al. Phase II trial of trastuzumab in women with advanced or recurrent, HER2-positive endometrial carcinoma: a Gynecologic Oncology Group study. Gynecol Oncol. 2010;116(1):15-20. doi:10.1016/j.ygyno.2009.09.025
Fader AN, Roque DM, Siegel E, et al. Randomized phase ii trial of carboplatin-paclitaxel compared with carboplatin-paclitaxel-trastuzumab in advanced (stage III-IV) or recurrent uterine serous carcinomas that overexpress Her2/Neu (NCT01367002): updated overall survival analysis. Clin Cancer Res. 2020;26(15):3928-3935. doi:10.1158/1078-0432.CCR-20-0953