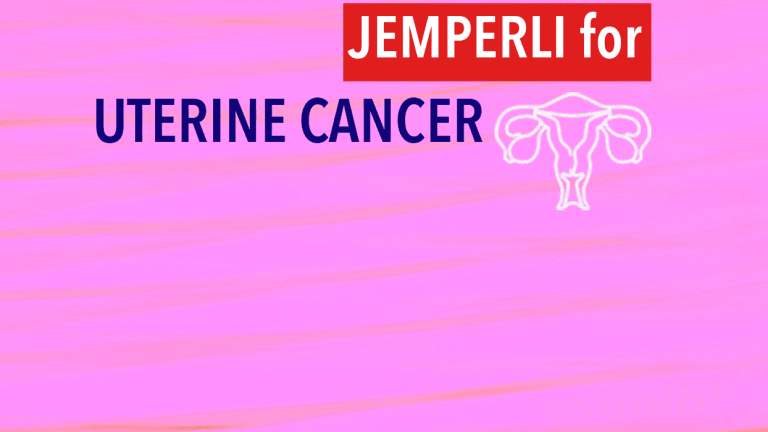 GARNET Study Leads to FDA Approval for Jemperli for Uterine/Endometrial Cancer
Jemperli (dostarlimab) immunotherapy advances treatment of endometrial cancer, especially those with MSI-H or dMMR defects.
by Dr. C.H. Weaver M.D. updated 12/2022
An early phase clinical trial evaluating Jemperli (dostarlimab) in women with recurrent or advanced endometrial cancer presented at the 2019 Society for Gynecologic Oncology (SGO) Annual Meeting on Women's Cancer in Honolulu, Hawaii showed promise for this new precision medicine.1 New data from the GARNET study released further demonstrated the potential of dostarlimab to treat specific subsets of women with advanced endometrial cancer leading to FDA approval in April 2021.2,6
Endometrial cancer (EC) is the most common gynecologic malignancy in the U.S. but there are limited treatment options for women whose disease progresses on or after first-line therapy.
Microsatellite instability (MSI) is the condition of genetic hypermutability or a predisposition to mutations in cells that results from the bodies impaired DNA mismatch repair (MMR) mechanism. DNA MMR is an essential function and the way the body naturally corrects errors that spontaneously occur during cell division associated DNA replication.
Mismatch Repair Genes work like genetic "spell checkers." When problems occur in these spell-checking MMR genes, it means that areas of DNA start to become unstable and the body is unable to correct the errors that occur during DNA replication and consequently accumulate errors. The accumulation of errors causes the creation of novel microsatellite fragments that can be measured. The presence of MSI represents evidence that the MMR function is not working normally and predisposition to developing cancer exists. Endometrial cancers may have MSI-H or dMMR identified when NGS testing is performed. EC can be classified as microsatellite stable (MSS/75%) or microsatellite instability-high (MSI-H/25%) and no effective treatments are currently available for either group.
About Jemperli (dostarlimab)
Jemperli is a humanized anti-programmed death (PD)-1 monoclonal antibody that binds with high affinity to the PD-1 receptor and effectively blocks its interaction with the ligands PD-L1 and PD-L2. Jemperli is a novel precision cancer immunotherapy drugs that helps to restore the body's immune system in fighting cancer by releasing checkpoints that cancer uses to shut down the immune system. PD-1 and PD -L1 are proteins that inhibit certain types of immune responses, allowing cancer cells to evade an attack by the body's immune cells. Jemperli works similar to other checkpoint inhibitors.
About Jemperli Clinical Trials
The ongoing GARNET clinical trial is evaluating Jemperli in patients with advanced cancers including dMMR/MSI-H endometrial cancer and mismatch repair proficient endometrial cancer.2,3 In addition to GARNET, Jemperli is being investigated for women with recurrent or primary advanced endometrial cancer in combination with chemotherapy in the phase III RUBY trial.4,5
Key Study Findings From GARNET
A total of 125 women with recurrent EC were treated with Dostarlimab 500 mg once every 3 weeks for 4 doses, followed by 1000 mg once every 6 weeks until disease progression. In the initial analyses patients were categorized as MSI-H (33%), MSS (63%) and unknown MSI-status (4%).
Treatment with dostarlimab monotherapy resulted in a clinically meaningful response rate in recurrent EC who progressed on or after a platinum-based regimen regardless of MSI status. The overall response rates in the MSI-H population, and MSS population was 53%, 63% and 47%, respectively. At the time of data cutoff, treatment was still ongoing in 84% of responders, with 89% of the responders (33 of 37) having been on treatment for more than six months and 49% of responders (18 of 37) having been on treatment for more than one year.
An updated analysis included patients with dMMR EC; Treatment with dostarlimab showed an a response rate of 42% and a disease control rate of 58%. Overall, 13% of patients had a complete response and 30% of patients had a partial response. At the time of data cutoff, with a median follow up of 11.2 months ongoing responses were reported for up to 20 months.
Update From Ruby Clinical Trial
The phase 3 RUBY clinical trial evaluated the use of Jemperli in patients with primary advanced or recurrent endometrial cancer. Part 1 examined Jemperli plus carboplatin and paclitaxel, followed by Jemperli alone, compared with carboplatin and paclitaxel plus placebo, followed by placebo alone. In part 2, patients were administered Jemperli plus carboplatin and paclitaxel, followed by Jemperli plus Zejula (niraparib), compared with carboplatin and paclitaxel plus placebo, followed by placebo alone.
The combination of Jemperli plus chemotherapy, followed by Jemperli alone produced a significant improvement in progression-free survival compared with chemotherapy alone in patients overall and those with mismatch repair deficient (dMMR)/microsatellite instability–high (MSI-H) disease.7,8
Join The CancerConnect Uterine Cancer Community
Jemerli is now FDA approved and indicated for the treatment of adult patients with mismatch repair-deficient (dMMR) recurrent or advanced endometrial cancer, as determined by an FDA-approved test, that have progressed on or following prior treatment with a platinum-containing regimen.
References:
Data from GARNET study indicates robust activity of dostarlimab in patients with advanced or recurrent endometrial cancer
A Phase 1 Dose Escalation and Cohort Expansion Study of TSR-042, an Anti-PD-1 Monoclonal Antibody, in Patients with Advanced Solid Tumors (GARNET). ClinicalTrials.gov.. Accessed February 2020.
Oaknin A, Duska LR, Sullivan RJ, et al. Preliminary safety, efficacy, and pharmacokinetic/pharmacodynamic characterization from GARNET, a phase I/II clinical trial of the anti–PD-1 monoclonal antibody, TSR-042, in patients with recurrent or advanced MSI-H and MSS endometrial cancer. Presented at 2019 SGO Annual Meeting; March 16-19, 2019; Honolulu, HI. Abstract 33.
Laken H, Kehry M, Mcneeley P, et al. Identification and characterization of TSR-042, a novel anti-human PD-1 therapeutic antibody. European Journal of Cancer. 2016;69,S102. doi:10.1016/s0959-8049(16)32902-1.
A Study of Dostarlimab (TSR-042) Plus Carboplatin-paclitaxel Versus Placebo Plus Carboplatin-paclitaxel in Patients with Recurrent or Primary Advanced Endometrial Cancer (RUBY). ClinicalTrials.gov.. Accessed February 2020.
https://www.gsk.com/en-gb/media/press-releases/fda-grants-accelerated-approval-for-gsk-s-jemperli-dostarlimab-gxly-for-women-with-recurrent-or-advanced-dmmr-endometrial-cancer/

The RUBY phase III trial met its primary endpoint in a planned interim analysis in patients with primary advanced or recurrent endometrial cancer. News release. GSK. December 2, 2022. Accessed December 2, 2022. https://bit.ly/3H1XEgl

A study to evaluate dostarlimab plus carboplatin-paclitaxel versus placebo plus carboplatin-paclitaxel in participants with recurrent or primary advanced endometrial cancer (RUBY). ClinicalTrials.gov. Updated August 12, 2022. Accessed December 2, 2022. https://clinicaltrials.gov/ct2/show/NCT03981796