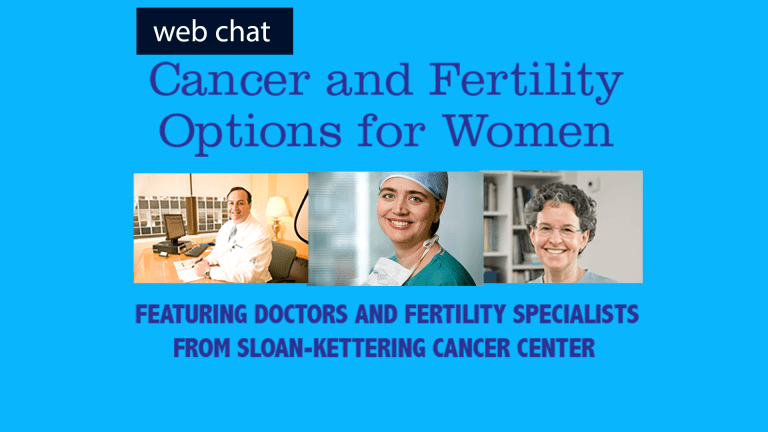 Cancer and Fertility Options for Women
Overview of fertility options for women diagnosed with cancer from Memorial Sloan Kettering's Cancer & Fertility Program
Memorial Sloan-Kettering Cancer Center experts answered your questions about cancer and fertility-sparing options for women in a live Web Chat. The following topics were covered:
Overview of Cancer and Fertility Options for Women,Joanne Kelvin, RN, MSN, AOCN
Fertility Preservation in Gynecologic Oncology Patients,Nadeem Abu-Rustum, MD, FACOG, FACS
Preserving Fertility in Women with Newly Diagnosed Colon or Rectal Cancer,Larissa K. F. Temple, MD, FACS, FRCS(C)
The Ask The Expert Series is made possible by support fromThe Personalized Medicine Foundation, Incyte Oncolgy, Abbvie, and CancerConnect. The "Ask The Expert" series is not medical advice nor is it a substitute for your doctor. It should serve as a guide to facilitate access to additional information and enhancement of a shared decision making process with your treating physician.
About the Experts
Dr. Abu-Rustum is the Director of Minimally Invasive Surgery for the Gynecology Service at Memorial Sloan-Kettering. His clinical expertise includes minimally invasive and general gynecologic surgery for cancers o the ovary, uterus, and cervix. Dr. Abu-Rustum will discuss fertility-preserving techniques available to women who are newly diagnosed with an early-stage gynecologic cancer and are considering their treatment options. Click here for Dr. Abu-Rustum's bio.

Dr. Temple is a surgical oncologist in the Colorectal Service at Memorial Sloan-Kettering. An expert in the treatment of colon, rectal, and anal cancer, she has a special interest in preserving bowel, bladder, and sexual function as well as quality of life after colorectal cancer surgery. She also oversees Memorial Sloan-Kettering's Colorectal Survivorship Clinic. Dr. Temple will present information on standard and investigational treatment options available to preserve fertility in women newly diagnosed with colon or rectal cancer. Click here for Dr. Temple's bio.
Joanne Kelvin is a clinical nurse specialist and leads Memorial Sloan-Kettering's Cancer and Fertility Program. She will provide an overview of how cancer treatment can affect fertility in women and will discuss options that may be taken prior to treatment to preserve a woman's ability to have a biological child, such as egg and embryo freezing. She will also discuss alternative options available post-treatment to help build a family, such as use of donor eggs and adoption. Click here for more information about Memorial Sloan-Kettering's Cancer and Fertility Program.