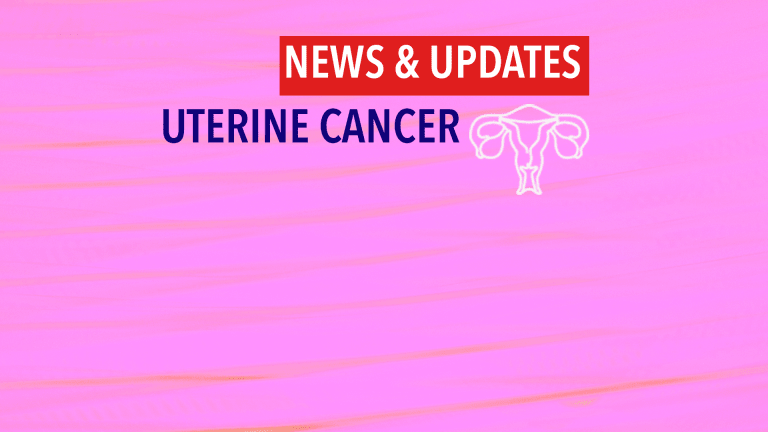 Advances in The Treatment of Endometrial (Uterine) Cancer
Advances in precision cancer medicine are changing the way endometrial cancer is treated.
by Roberta Codemo, updated by C.H. Weaver M.D. 5/2020
In November Mary Venvertloh of Quincy, Illinois thought she was suffering from a severe case of constipation.
The Monday after Thanksgiving she called the nurse practitioner at her doctor's office and was put on a regimen of stool softeners and laxatives. When her bowels still weren't moving by Friday, she went to the emergency room at Blessing Hospital in Quincy. X-rays confirmed she wasn't constipated.
A CT (computerized tomography) scan showed she had endometrial cancer – a type of cancer that begins in the lining of the uterus. She was transferred to Barnes-Jewish Hospital in St. Louis, Missouri and placed under the care of Andrea Hagemann, M.D., Associate Professor of Obstetrics and Gynecology, Division of Gynecologic Oncology, at Washington University School of Medicine. By the time of her diagnosis, the cancer had already spread to her lymph nodes and omentum.
Venvertloh, now 63, said Dr. Hagemann asked if she wanted to participate in a new clinical trial at Washington University School of Medicine that is studying the use of immunotherapy – drugs that help the body's immune system recognize and attack cancer cells — in patients with newly diagnosed advanced stage endometrial cancer.
Endometrial Cancer
Endometrial cancer is the most common gynecological cancer in the United States, and the number of women diagnosed with this disease is on the rise. More than 61,000 women will be diagnosed with endometrial cancer, and more than 10,000 will die from the disease.
A large majority of endometrial cancers are Type 1, and are often associated with obesity – a prime risk factor for this disease. Adipose tissue – fat cells – produces excess estrogen. When there is a high circulating level of estrogen, a woman's risk of developing endometrial cancer increases. Type 1 cancers are often detected early because the excess estrogen leads to vaginal bleeding. If it is found early, endometrial cancer has a high survival rate.
What is puzzling is the rising incidence of Type 2 endometrial cancers, which are often not associated with obesity – although obesity rates are also on the rise in this population. Type 2 cancers are more aggressive and the cancer has often already spread outside the uterus by the time it is diagnosed, Women with Type 2 disease generally do not respond well to standard therapies – chemotherapy, radiation, or a combination of both, resulting in poor outcomes with mortality rates approaching 50 percent or higher. For this reason, it is critical to find new treatment therapies for women with advanced stage and metastatic cancers.
Promising new treatments in the anti-cancer arsenal include immunotherapy agents. Endometrial cancer is a good candidate for immunotherapy. "It's a promising avenue," said David Mutch, M.D., Ira C. and Judith Gall Professor of Obstetrics and Gynecology and the Vic Chair of Gynecology at Washington University School of Medicine in St. Louis. "There are a lot of angles that we can use. Immunotherapy is just one of them."
One of the most promising new immunotherapy drugs is pembrolizumab, a programmed death receptor-1 (PD-1) inhibitor that was recently approved by the Food and Drug Administration. PD-1 inhibition has proven effective in treating advanced melanoma and colorectal cancers. "It was a logical step to use immunotherapy for uterine cancers," said Katherine Fuh, M.D. PhD, Assistant Professor of Obstetrics and Gynecology, Division of Gynecologic Oncology, at Washington University School of Medicine in St. Louis. "Uterine and colorectal cancers share the similarity that both tumors can have a high mutation load that brings more immune T cells to the tumors ready to work."
PD-1 is a "checkpoint" protein that is found on the surface of T cells – cells in the body that fight infection — and acts as an "off" switch that keeps T cells from attacking other cells in the body. It attaches to PDL-1 – a protein that is found on cancer (and normal) cells. When PD-1 binds with PDL-1, it tells the T cells to leave the cell alone. A high number of endometrial cancer tumors have PDL-1, which allow the cells to remain undetected by T cells. PD-1 checkpoint inhibitors block this signal and let the immune system attack the cancer cells, causing the tumor to shrink.
Up until now, PD-1 has only been studied in patients with recurrent or relapsed endometrial cancer. Premal Thaker, M.D., Associate Professor of Obstetrics and Gynecology, Division of Gynecologic Oncology, at Washington University School of Medicine in St. Louis is currently enrolling patients in a "window of opportunity" trial designed to understand not only how this disease spreads but its biology. By performing a biopsy on the tumor pre- and post-immunotherapy treatment, she hopes to learn how the biology of the tumor cells change after exposure to immunotherapy agents.
After some hesitation, Venvertloh agreed to participate in the trial. "I gave it to God," she said and signed the papers. She traveled to St. Louis every three weeks and received two cycles of PD-1 inhibitor prior to surgery. Following surgery, she received six cycles of standard chemotherapy followed by four additional cycles of maintenance PD-1 inhibitor.
"I feel really good," said Venvertloh, who believes the power of prayer got her through this. Her latest CT scan showed no evidence of cancer in her body. "Why else would it be working if it wasn't for prayer," she said. "God had a hand in it."
This correlates with what Dr. Thaker has observed. Immunotherapy is easier to tolerate, and, in most patients, is likely to prolong life while improving the quality of life. "Most patients are happier on immunotherapy," said Dr. Thaker, and she has found that patients enjoy a better quality of life on PD-1. "Patients are really excited about immunotherapy."
Dr. Thaker is encouraged by what she is seeing on radiographic imaging, but doesn't have the science to back it up yet. "It's too early to understand the true benefits of immunotherapy," she said. "It may not be a wonder treatment. However, if we don't try, we won't know."
Targeted Therapies
Researchers are also looking at new chemotherapy treatments that target endometrial cancer cells directly. It is now understood that cancer results when cellular mutations occur. Existing treatments kill off millions of cells that are sensitive to chemotherapy agents, leaving behind chemotherapy-resistant cells. These cells continue to divide and mutate. By understanding tumor genomics, researchers are able to identify the mutations that "drive" or cause the tumor to grow.
The Cancer Genome Atlas (TCGA) – a project of the National Cancer Institute – has identified four endometrial cancer subtypes – POLE mutations, microsatellite instability, copy-number low and copy-number high high-grade serous. "The [TCGA] has led to a greater understanding of the molecular events that lead to endometrial cancer," said Dr. Mutch, who is one of the authors of the report. By understanding the tumor's molecular characteristics, one day it may be possible to develop targeted treatments for each subtype.
Angiogenesis inhibitors such as Avastin (bevacizumab) have shown some success in patients with endometrial cancer. These drugs block essential biochemical pathways or mutant proteins that are required for tumor cell growth and survival. For example, Avastin targets blood vessel growth that feeds tumors. "It's important to categorize the prognostic characteristics of the tumor," said Dr. Mutch.
Sentinel Lymph Node Mapping
At the same time, strides are being made with the diagnosis and staging of endometrial cancer. Sentinel lymph node (SLN) mapping (surgical staging) has been validated as the gold standard in other cancer types such as breast cancer and melanoma. It is now being studied in endometrial cancers, and initial published reports have described promising results. SLNs are the initial draining lymph nodes where the cancer is most likely to spread from the primary tumor.
During the procedure, a surgeon injects a dye or radioactive tracer into the periphery of the tumor and follows the dye as it travels throughout the pelvic basin to locate the SLNs that "light" up. The surgeon then removes the SLNs and a pathologist checks the nodes for cancer cells. If the lymph nodes come back "clean," it's unnecessary to remove all the lymph nodes – a procedure called a complete lymphadenectomy. This minimizes the risks associated with a complete lymphadenectomy, which include bleeding, lymphedema and nerve damage.
"In the hands of experienced surgeons, the SLN technique has been shown to be a reliable alternative to a complete lymphadenectomy," said John Moroney, M.D., Associate Professor of Obstetrics and Gynecology at the University of Chicago Medical Center in Chicago. In order for this to be a practice standard, however, additional study among gynecological oncologists is needed.
Prevention
Rising obesity rates remain a huge health issue in this country. People don't want to talk about obesity. "It's a hot button topic," said Paola Gehrig, M.D., Professor and Director of UNC Gynecologic Oncology within the Department of Obstetrics and Gynecology at the University of North Carolina in Chapel Hill, North Carolina. There's a lot of stigma attached to being overweight, but that should not stop us from having a judgment-free conversation regarding the health risks associated with obesity.
Dr. Gehrig stressed it's important for physicians to educate their patients about making healthy lifestyle changes if they are overweight. While being overweight doesn't mean a woman will develop endometrial cancer, being thin doesn't mean she won't. Focus must be placed on preventative measures – such as diet and exercise – if headway is to be made in combating this disease.
"We are making strides in teaching our patients the importance of a healthy weight in the prevention of obesity-driven cancers like endometrial cancer," said Victoria Bae-Jump, M.D., Associate Professor in the Division of Gynecology Oncology within the Department of Obstetrics and Gynecology in Chapel Hill, North Carolina. "However, a lot more work needs to be done."
Roberta Codemo is a Springfield-based freelance health journalist and ovarian and endometrial cancer survivor. She writes about gynecological and other cancers, sleep disorders, fitness and nutrition, rare diseases and other issues that affect women's health for a variety of magazines. She started her career as a reporter for The Hillsboro Journal more than 20 years ago, and transitioned to full-time freelancing in 2012. She is owned by a black cat named Coal and is working on a horror novel in her spare time. She enjoys reading, travel and learning new things.