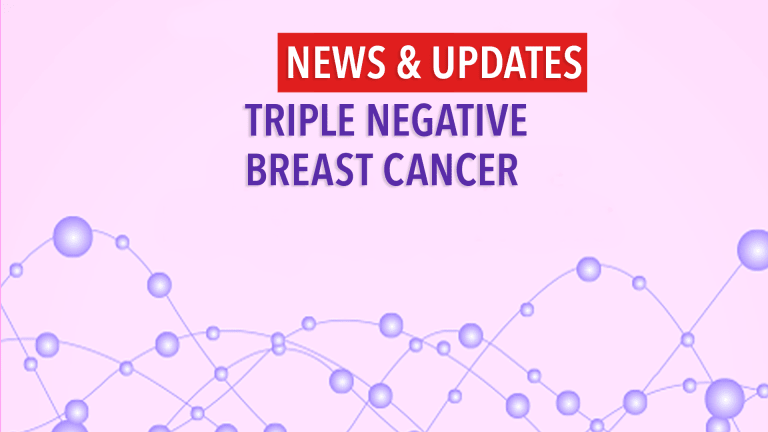 Trodelvy (sacituzumab govetecan) Treatment for Triple Negative Breast Cancer
Trodelvy™ FDA approved for treatment of advanced TNBC - April 2021 update confirms effectiveness in 500 patients.
by Dr. C.H, Weaver updated 4/2021
Trodelvy (sacituzumab govetecan) also known as IMMU-132 was approved by the U.S. Food and Drug Administration (FDA) for the treatment of patients with triple-negative breast cancer (TNBC) and updated results were published in the New England Journal of Medicine. (1,2,6) On April 5th, 2020 the pivotal trial evaluating Trodelvy was halted based on encouraging preliminary results and this has led to FDA approval.
According to the developer "the Phase 3 confirmatory ASCENT study of Trodelvy was stopped based on compelling efficacy across multiple study endpoints following unanimous recommendation from the independent Data Safety Monitoring Committee. The ASCENT study was designed to validate safety and efficacy data observed in a Phase 2 study of heavily pretreated patients with metastatic triple-negative breast cancer (mTNBC).
The initial NEJM publication reported the results of 108 women with metastatic TNBC - overall, 33% of these women responded to treatment with Trodelvy and the average duration of response and overall survival was ~8 and 13 months respectively.
About Trodelvy (sacituzumab govitecan (IMMU-132)
Trodelvy is a precision cancer medicine that is designed to deliver a toxic payload directly to the caner cells. The drug is a fusion of an antibody that recognizes a protein expressed by breast cancer cells known as trop2 and the metabolite of an established chemotherapy drug (irinotecan), SN-38. Trop-2, a calcium signal transducer that drives cancer cell growth in a majority of TNBC patients. SN-38 is the active anti-cancer metabolite of Irinotecan that is 1000 times more active than Irinotecan itself.
Results from an early-phase clinical trial that evaluated the safety and effectiveness of treatment with Trodevly in heavily pre-treated individuals with advanced TNBC were promising and led to the FDA "Breatkthrough Therapy" designation. In the early study Trodelvy was well tolerated and produced an overall response rate of 30% in patients that had failed an average of 5 previous therapies. Additionally, 45% of patients had stable disease, with 16% of the responses lasting for greater than 6 months.
Trodelvy Significantly Extends Survival in Phase 3 ASCENT Study of Metastatic Triple-Negative Breast Cancer
Results from the confirmatory Phase 3 ASCENT clinical trial were released at the European Society for Medical Oncology Virtual Congress 2020 in September and updated in April 2021 confirming that Trodelvy significantly extended overall survival and improved overall response rates when compared to standard single-agent chemotherapy in brain metastases-negative patients with mTNBC who had previously received at least two prior therapies for metastatic disease.
In the trial 500 patients with relapsed/refractory metastatic TNBC who had received two or more prior systemic therapies (including a taxane), at least one of them for metastatic disease were treated with either Trodelvy or a chemotherapy chosen by the patients' treating physicians and directly compared. The primary endpoint for the study is progression free survival, and secondary endpoints include overall survival and objective response rate, among others. (8)
Trodelvy produced a statistically significant and clinically meaningful improvement in OS with a median of 12.1 months versus 6.7 for chemotherapy.
Trodelvy also demonstrated a significant improvement in overall response rates; 35% compared to 5% with chemotherapy.
The main side effects reported in the trial were hair loss, diarrhea, and fatigue. The medication did not cause significant neuropathy.
About Triple Negative Breast Cancer
Triple-Negative Breast Cancer includes about 15% of all breast cancer types and has an annual incidence estimated to be about 40,000 people, with 20,000 diagnosed with metastatic TNBC, in the United States alone. As the name implies, Triple-Negative Breast Cancer does not express estrogen, progesterone or the HER2 receptor, and is, therefore, insensitive to most of the available targeted therapies for breast cancer treatment, including HER2-directed therapy.
Unfortunately, many available and effective treatment options for the majority of breast cancers block the growth stimulating effects of ER, PR and/or HER2; therefore, TNBC has limited therapeutic options. TNBC tends to be more aggressive and grow at a rapid rate.
There are no modifiable risk factors for TNBC. These cancers tend to occur more frequently in young premenopausal women, in African-American women, and in women who carry the abnormal inherited breast cancer susceptibility gene BRCA1. Novel treatment options for TNBC have lagged behind that of other types of breast cancers and are definitely needed.2
TNBC has a particularly aggressive course and currently there is no single standard chemotherapy to treat patients with relapsed/refractory metastatic TNBC. New treatment strategies are needed.
What do other studies show?
IMMU – 132 Antibody-Drug Conjugate Improves Responses In Metastatic Triple-Negative Breast Cancer
Treatment with Sacituzumab govitecan elicited an overall response rate of 34 percent in patients with heavily pretreated metastatic triple-negative breast cancer (TNBC), according to updated findings from a clinical trial recently presented at the 2017 San Antonio Breast Cancer Symposium.1
The study included 110 patients with TNBC that had failed two or more prior treatment regimens. IMMU-132 was administered on days one and eight of each 28-day cycle. Study patients received a median of 14.5 doses of the medication and the median duration of treatment was 4.9 months.
In addition to producing an overall response rate of 34% another 11% of patients had stable disease (SD) for 6 months or more resulting in an overall disease control rate of 45% Average overall survival was 12.7 months. The most common side effects were neutropenia, nausea, diarrhea, anemia, fatigue and vomiting. Those receiving prior checkpoint inhibitors had an overall response rate of 47% and responses were similar between those receiving treatment as a third-line therapy or beyond..
Immunomedics Press Release: Sacituzumab Govitecan Receives Breakthrough Designation for Triple-Negative Breast Cancer
The United States Food and Drug Administration (FDA) has designated the investigative agent, sacituzumab govitecan (IMMU-132), breakthrough designation for the treatment of triple-negative breast cancer.
The new FDA designation is for treatment of patients with advanced triple-negative breast cancer (TNBC) whose disease has progressed following 2 prior therapies.
According to Immunomedics Inc.'s press release announcing the update, breakthrough designation was developed by the FDA "to expedite the development and review of a drug that is intended, alone or in combination with one or more other drugs, to treat a serious or life-threatening disease or condition, and preliminary clinical evidence indicates that the drug may demonstrate substantial improvement over existing therapies on one or more clinically significant endpoints, such as substantial treatment effects observed early in clinical development."
Approximately 10-20% of breast cancers are referred to as triple-negative breast cancer (TNBC). These types of cancers are both hormone-negative and HER2-negative.
Hormone-negative breast cancer refers to a type of breast cancer that is both estrogen- and progesterone-receptor negative. This means that this type of cancer is not stimulated to grow from exposure to the female hormones estrogen and/or progesterone. Only about one-third or fewer breast cancers are hormone-negative.
Approximately 25-30% of breast cancers are referred to as human epidermal growth factor receptor (HER)2-positive, in which the cancer cells have a gene mutation that causes extra HER2 receptors to be present on the cell surface. Since the HER2 pathway is involved in cellular growth and replication, excessive HER2 receptors result in uncontrolled replication and spread of the HER2-positive cancer cells.
HER2-negative breast cancer refers to cancer that does not have a mutated HER2 pathway, and therefore, is not stimulated to replicate and spread through the activity of excessive HER2 receptors.
Many treatments are available specifically for hormone-positive breast cancers, as well as HER2-breast cancers. Since these treatments are ineffective in TNBC, research efforts are underway to find new treatment options or optimal combinations of agents for this type of breast cancer.
Standard treatment for TNBC typically consists of surgery, chemotherapy and/or radiation therapy. However, optimal chemotherapy regimens for TNBC continue to be explored.
IMMU-132 is referred to as an antibody-conjugate, and is still in investigate stages. It is comprised of an antibody that attaches to specific receptors called Trop-2 receptors. The antibody is attached to a drug that kills cancer cells, called SN-38.
Trop-2 receptors are often found in large numbers on the surface of cancer cells, but not healthy cells. Once IMMU-132 binds to the Trop-2 receptors, it delivers SN-38 into the cancer cell. This kills the cancer cell, while only affecting a small portion of healthy cells.
By targeting Trop-2 receptors, larger amounts of chemotherapy can be delivered to the cancer cells because healthy cells are largely spared from the cancer-killing effects of the treatment.
A recent clinical trial was conducted to further evaluate the effectiveness of IMMU-132 in patients with TNBC. The trial included patients with TMBC that had spread to distant sites in their body, and had received a median of 5 prior therapies. Final results from the trial are awaited to fully determine patient outcomes. Meanwhile, patient enrollment for continuing larger comparative trials with IMMU-132 in TNBC is ongoing.
IMMU-132 is also being evaluated in the treatment of other types of cancers in clinical trials.
Stay Current - Connect With Other Triple-Negative Breast Cancer Patients
Join The CancerConnect Community: Connect with others and receive regular updates
or
Sign up for the Triple-Negative Breast Cancer Newsletter Here
References:
Bardia et. al; GS1-07. Sacituzumab govitecan (IMMU-132), an anti-Trop-2-SN-38 antibody-drug conjugate, as ≥3rd-line therapeutic option for patients with relapsed/refractory metastatic triple-negative breast cancer (mTNBC): Presented at: 20167San Antonio Breast Cancer.
Bardia A, Diamond JR, Mayer IA, et al. Sacituzumab govitecan (IMMU-132), an anti-Trop-2-SN-38 antibody-drug conjugate (ADC) for the treatment of relapsed/refractory, metastatic triple-negative breast cancer (mTNBC): Updated results. Presented at: 2016 San Antonio Breast Cancer.
Immunomedics, Inc. Press Release. [U.S. Food and Drug Adminstration (FDA) Grants Breakthrough Therapy Designation to Immunomedics for Sacituzumab Govitecan for the Treatment of Patients with Triple-Negative Breast Cancer.. Available at: immunomedics.com/news-2016.shtml. Accessed February 8, 2016.
FDA Grants Accelerated Approval for Immunomedics' Trodelvy in Previously-Treated Metastatic Triple Negative Breast Cancer