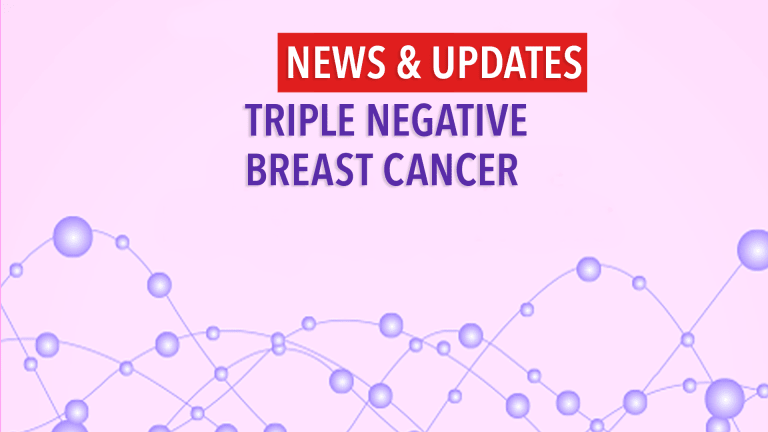 Keytruda & Other Checkpoint Inhibitors for Triple Negative Breast Cancer
Imfinzi, Tecentriq, Keytruda Immunotherapy Effective in TNBC with High PD-L1 expression - 2022 San Antonio Breast Symposia Update
by Dr. C.H. Weaver M.D. Update 12/2022
Approximately 12% of all breast cancers are triple negative breast cancers (TNBC), meaning that they are estrogen-receptor negative (ER-), progesterone-receptor negative (PR-), and human epidermal growth factor receptor 2-negative (HER2-). This means that TNBC is not stimulated to grow from exposure to the female hormones estrogen or progesterone, nor through an overactive HER2 pathway.
Unfortunately, many available and effective treatment options for the majority of breast cancers block the growth stimulating effects of ER, PR and/or HER2 therefore, TNBC has had limited therapeutic options. In addition, TNBC tends to be an aggressive type of cancer, is often diagnosed at a more advanced stage, and proportionately affects younger women more often than other breast cancers. Triple-negative breast cancer tends to be more common in people who are younger than 40 years of age, who are African American, or who have a BRCA1 mutation.
Novel treatment options for TNBC have lagged behind that of other types of breast cancers. A report on  the use of Keytruda immunotherapy was published in the February New England Journal of Medicine and suggests this represent a new standard treatment because it reduces cancer recurrences and prolongs survival.
PD-1 Checkpoint Inhibitors
The cancer immunotherapy strategy known as programmed cell death 1 (PD-1) has generated some excitement for its ability to help the immune system recognize and attack cancer. PD-1 is a protein that inhibits certain types of immune responses. Drugs that block PD-1 are called checkpoint inhibitors and may enhance the ability of the immune system to fight cancer. Some but not all clinical trials have shown that women with TNBC have a modest survival benefit from treatment. This is most pronounced with increasing CPS levels. The CPS measures the amount of PD-L1 expression on cancer cells.
Keytruda  Effective as Neoadjuvant Treatment for TNBC
Keytruda (pembrolizumab) is a fully humanized monoclonal antibody checkpoint inhibitor that binds with high-affinity to the PD-1 receptor. Results in advanced TNBC have been mixed. In heavily pretreated patients with recurrent or metastatic TNBC positive for PD-1 Keytruda has been reported to produce a response rate of 18.5%1 however a trial directly comparing single agent Keytruda to chemotherapy in recurrent TNBC found that Keytruda was no better.2
Chemotherapy administered before surgery with the goal of reducing the size of the cancer for surgical removal is called neoadjuvant chemotherapy. Use of Keytruda earlier in the adjuvant and neoadjuvant setting may hold more promise. Neoadjuvant Keytruda was reported to be significantly more effective than chemotherapy at eradicating cancer confined to the breast prior to surgery.3 These results are consistent with the ​I-SPY 2 clinical trial which demonstrated that Keytruda in combination with standard therapy as neoadjuvant treatment for patients with locally advanced TNBC increased the pathologic complete response (pCR) nearly threefold in patients with TNBC.5 
This was confirmed in the KEYNOTE 522 clinical trial which enrolled 1,174 patients with locally advanced TNBC to receive treatment with standard chemotherapy with or without the addition of Keytruda followed by definitive surgery and radiation therapy. After completion of local therapy patients were treated with additional Keytruda. Analyses revealed that Keytruda treated patents were less likely to have evidence of cancer in their surgically removed breast tissue and more likely to survive without evidence of cancer recurrence. Overall 65% off Keytruda treated patients had a pathologic complete remission compared to only 51 % of women not treated with Keytruda and 91% survived without evidence of cancer compared to 85% at the time of this analyses.10  Updated results at three years remain positive: 84.5% of patients treated with the Keytruda regimen survive without cancer progression compared to 76.8% of patients treated with chemotherapy and no Keytruda. The benefit seen with the Keytruda regimen was independent of PD-L1 expression and this lead to FDA approval.19
Imfinzi (durvalumab) Effective as Neoadjuvant Treatment for Stage I-III TNBC
The GeparNuevo clinical trial evaluated whether the addition of Imfinzi (durvalumab), a PD-L1 antibody, to neoadjuvant chemotherapy would increase the rate of pathologic complete response (pCR) in patients with early-stage TNBC. In this trial patients with stage I-III TNBC were treated with durvalumab or placebo, in combination with nab-paclitaxel plus epirubicin and cyclophosphamide chemotherapy. A numerical increase in the pCR rate was initially reported with durvalumab compared to placebo (53.4% vs. 44.2%, respectively). At the 2021 Annual Meeting of the American Society of Clinical Oncology, the investigators reported the results of longer-term outcomes. At a median follow-up of 43.7 months 85.6% of patients treated with durvalumab survived cancer free compared to 77.2% of those not receiving durvalumab. The addition of durvalumab also significantly improved the 3 year overall survival rate from 83% to 95%. Longer survival with durvalumab was observed regardless of PD-L1 status, stromal TILs, stage, age or pCR.20
First-Line Keytruda Plus Chemotherapy Improved PFS in PD-L1–Positive mTNBC
Results from the KEYNOTE-355 clinical trial in previously untreated advanced TNBC and some level of PD-L1 expression were initially released at the 2020 American Society of Clinical Oncology Annual Meeting and most recently updated in San Antonio 2021. Overall 847 patients were treated with Keytruda plus chemotherapy or chemotherapy alone and directly compared. Patients were evaluated based on their CPS which measures the amount of PD-L1 expression on cancer cells. In patients with the highest CPS of 10 or greater the addition of Keytruda to chemotherapy significantly prolonged survival without cancer progression to 9.7 months compared with 5.6 months for chemotherapy alone. At one year 39.1% of patients treated with Keytruda survived progression free compared with 23% for those treated with chemotherapy.  The combination of Keytruda and chemotherapy reduced the risk of death by 27% compared to chemo alone and the overall survival was 23 months with Keytruda compared to 16.1 months in the chemo-only arm12,13
Lenvatinib Plus Keytruda in Advanced TNBC
Keytruda combined with Lenvatinib has also shown promising activity, mainly in women with CPS of 10 or more in patients with previously treated advanced TNBC, according to data from the TNBC cohort of LEAP-005 presented at the 2020 Virtual San Antonio Breast Cancer Symposium.17
About Tecentriq (atezolizumab)
Tecentriq is a monoclonal antibody designed to target and bind to a protein called PD-L1 (programmed death-ligand 1), which is expressed on cancer cells and cancer-infiltrating immune cells. PD-L1 interacts with PD-1 and B7.1, both found on the surface of T cells, causing inhibition of T cells. By blocking this interaction, Tecentriq enables the activation of T cells, restoring their ability to effectively detect and attack cancer cells.
Tecentriq Combination Improves Survival in Advanced TNBC
Tecentriq when combined with Abraxane in women with advanced TNBC produced an anti-cancer response in 70.8% of patients. The combination of Tecentriq and Abraxane improved average survival duration from 15.5 to 25 months among patients with PD-L1–positive tumors compared to Abraxane alone, leading to accelerated FDA approval.8,9
The combination of Tecentriq immunotherapy and chemotherapy improved survival of women with TNBC as evidenced by the results from the IMpassion 130 clinical trial.1-3 The results of the IMpassion131 clinical trail released in August 2020 however were disappointing - Tecentriq when combined with paclitaxel was no better than paclitaxel alone.5 The FDA alerted health care professionals and oncology researchers that paclitaxel did not significantly reduce the risk for cancer progression or death among PD-L1-positive patients with previously untreated inoperable locally advanced or metastatic triple-negative breast cancer. Health care professionals should not replace nab-paclitaxel with paclitaxel in clinical practice, according to the alert.13-16
Over 900 women with previously untreated advanced TNBC were enrolled on the IMpassion130 clinical trial and treated with Nab Paclitaxel chemotherapy with or without Tecentriq immunotherapy and directly compared.13
Overall the addition of Tecentriq improved the "progression free survival" by 20%. When the researchers looked at a subgroup of patients who were PD-L1+, the addition of Tecentriq improved PFS by 38% and increased overall survival by the same percentage, offering patients an additional 10 months of life over those who received chemotherapy alone.
ASCO  Update Confirms Tecentriq Benefit in Advanced TNBC
Findings from the 2nd interim analyses were presented at the 2019 ASCO Annual Meeting and confirmed the clinically meaningful overall survival benefit for Tecentriq plus nab-paclitaxel in treatment-naïve patients with PD-L1–positive, metastatic triple-negative breast cancer.
Dr Schmid and his co-investigators confirmed there is a 10 month improvement in the average overall survival in PD-L1–positive patients. In 451 women with metastatic TNBC and PD-L1–positive cancers, the median overall survival was 25 months among patients with PD-L1–positive tumors compared to 15.5 months for treatment with Nab Paclitaxel alone.2,3
Other studies have suggested that PD-L1 may be a suitable target in TNBC as the protein can inhibit anti-cancer immune responses and it is expressed on tumor-infiltrating immune cells in patients with the disease.
IMpassion 131 Clinical Trial Fails to Improve Outcomes in Earlier Stage Disease
The IMpassion131 clinical trial compared Tecentriq in combination with paclitaxel, in to placebo plus paclitaxel, in people with previously untreated, inoperable, locally advanced or metastatic TNBC. The study enrolled 651 people who were randomised in a 2:1 ratio to receive Tecentriq or placebo plus paclitaxel. Tecentriq did not delay cancer progression or improve survival when add to paclitaxel when compared to paclitaxel alone when used as the initial treatment of people TNBC who were PD-L1-positive.16
According to the study authors in order "to improve the results of IMpassion130 further, the patient population needs to be better selected for those who are likely to benefit from immunotherapy the most. This means not just looking at PD-L1 expression, but also surrogates of immune response, tumor mutation burden, and microsatellite instability status, all of which have been observed to be altered in triple negative breast cancer patients."
Keytruda + Halaven
Researchers conducted an early-phase clinical trial to evaluate the safety and effectiveness of a treatment combination consisting of Keytruda plus Halaven. Keytruda is referred to as an anti-PD1 agent, and works to stimulate the immune system to identify cancer cells and mount an attack against them. It is currently approved for several different types of cancers; however, it is not approved for the treatment of breast cancer. Halaven is an agent that blocks the formation of certain components in cells that provide structural integrity to a cell, as well as other biologic systems that provide life-sustaining effects to cells. It is approved for the treatment of advanced breast cancer that has progressed following prior therapies.21
The data presented at this year's SABCS included interim data from 39 patients in the recent trial. All patients had advanced TNBC that had spread to distant sites in the body, and had progressed following at least two prior therapies – representing a very difficult stage of disease to treat. All patients received the combination of Keytruda and Halaven.
Approximately one-third of the patients achieved an anti-cancer response.
No patient died from side effects of therapy.
10 patients discontinued treatment due to side effects.
The researchers concluded that it appears that the combination of Keytruda and Halaven provides anti-cancer activity among this difficult-to-treat patient population. As these were only interim data, researchers await more mature data that include larger numbers of patients that are involved in the trial to truly determine the potential safety and effectiveness of the Keytruda/Halaven treatment combination.
Stay Current - Connect With Other Triple-Negative Breast Cancer Patients
Join The CancerConnect Community: Connect with others and receive regular updates
or
Sign up for the Triple-Negative Breast Cancer Newsletter Here
References:
Nanda R, Chow LQ, Dees EC, et al. A phase Ib study of pembrolizumab (MK-3475) in patients with advanced triple-negative breast cancer. Presented at the 2014 San Antonio Breast Cancer Symposium, December 9-13, 2014. San Antonio, Texas. Abstract S1-09.
pmlive.com/pharma_news/keytruda_monotherapy_fails_in_triple_negative_breast_cancer_1288830
Merck's KEYTRUDA® (pembrolizumab) in Combination with Chemotherapy Met Primary Endpoint of Pathological Complete Response (pCR) in Pivotal Phase 3 KEYNOTE-522 Trial in Patients with Triple-Negative Breast Cancer (TNBC)
Adams S, et al. Safety and clinical activity of atezolizumab (anti-PD-L1) in combination with nab-paclitaxel in patients with triple-negative breast cancer. Proceedings from the 2015 annual San Antonio Breast Cancer Symposium. Presented December 10, 2015. Abstract number: 850477.
Adams S, et al. Phase Ib trial of atezolizumab (anti-PD-L1) in combination with nab-paclitaxel in patients with triple-negative breast cancer. J Clin Oncol. 2016:34 (suppl: abst 1009)
Immunomedics, Inc. Press Release. U.S. Food and Drug Adminstration (FDA) Grants Breakthrough Therapy Designation to Immunomedics for Sacituzumab Govitecan for the Treatment of Patients with Triple-Negative Breast Cancer. Available at: immunomedics.com/news-2016.shtml.
von Minckwitz G, Loibl S, Schneeweiss A, et al. Early survival analysis of the randomized phase II trial investigating the addition of carboplatin to neoadjuvant therapy for triple-negative and HER2-positive early breast cancer (GeparSixto). Abstract: S2-04. Presented at the 2015 San Antonio Breast Cancer Symposium, San Antonio, TX. December 9, 2015.
N Engl J Med. Published on October 20, 2018. Abstract
Schmid P, Adams S, Rugo HS, et al. IMpassion130: updated overall survival (OS) from a global, randomized, double-blind, placebo-controlled, Phase III study of atezolizumab (atezo) + nab-paclitaxel (nP) in previously untreated locally advanced or metastatic triple-negative breast cancer (mTNBC). Presented at: the 2019 ASCO Annual Meeting; May 31-June 4, 2019; Chicago, IL. Abstract 1003.
Schmid P, Cortés J, Dent R, et al: KEYNOTE-522: Phase III study of pembrolizumab + chemotherapy vs placebo + chemo as neoadjuvant treatment, followed by pembrolizumab vs placebo as adjuvant treatment for early triple-negative breast cancer. ESMO Congress 2019. Abstract LBA8_PR. Presented September 29, 2019.
Steenbruggen TG, et al "High-dose chemotherapy with hematopoietic stem cell transplant in patients with high-risk breast cancer and 4 or more involved axillary lymph nodes -- 20-year follow-up of a phase 3 randomized clinical trial" JAMA Oncol 2020; DOI: 10.1001/jamaoncol.2019.6276.
Cortes J, Cescon DW, Rugo HS, et al. KEYNOTE-355: Randomized, double-blind, phase III study of pembrolizumab + chemotherapy versus placebo + chemotherapy for previously untreated locally recurrent inoperable or metastatic triple-negative breast cancer. Presented at: ASCO20 Virtual Scientific Program. J Clin Oncol. 2020;38(suppl):abstr 1000.
sabcs.org/portals/sabcs2016/2020/SABCS/Final/PDF/Docs/111620_All/PDF/File/No/Embargoed/Abstracts.pdf
European Society for Medical Oncology (ESMO) 2018 Congress. Presented October 20, 2018. Abstract LBA1.
Roche provides update on Phase III study of Tecentriq in combination with paclitaxel for people with metastatic triple-negative breast cancer
Chung HC, et al. Lenvatinib plus pembrolizumab for previously treated, advanced triple-negative breast cancer: early results from the multicohort phase 2 LEAP-005 study. Presented at: 2020 Virtual San Antonio Breast Cancer Symposium (SABCS); December 8-11, 2020. Abstract PS12-07.
Pembrolizumab versus investigator-choice chemotherapy for metastatic triple-negative breast cancer (KEYNOTE-119): a randomised, open-label, phase 3 trial. Lancet Oncol. 2021;22(4):499-511. doi:10.1016/S1470-2045(20)30754-3
https://www.merck.com/news/keytruda-pembrolizumab-plus-chemotherapy-before-surgery-and-continued-as-a-single-agent-after-surgery-showed-statistically-significant-event-free-survival-efs-result-versus-neoadjuvant-chemo/
Loibl S, Schneeweiss A, Huober J, et al. Durvalumab improves long-term outcome in TNBC: Results from the phase II randomized GeparNUEVO study investigating neoadjuvant durvalumab in addition to an anthracycline/taxane based neoadjuvant chemotherapy in early triple-negative breast cancer. J Clin Oncol. 2021;39:15_suppl,506.
Merck. News Release. Interim Results from Phase 1b/2 Study Evaluating the Combination of Merck's Keytruda® (pembrolizumab) and Eisai's Halaven® (eribulin mesylate) injection in Metastatic Triple-Negative Breast Cancer Presented at the 2016 annual San Antonio Breast Cancer Symposium. Available at: . Accessed December 21, 2016.