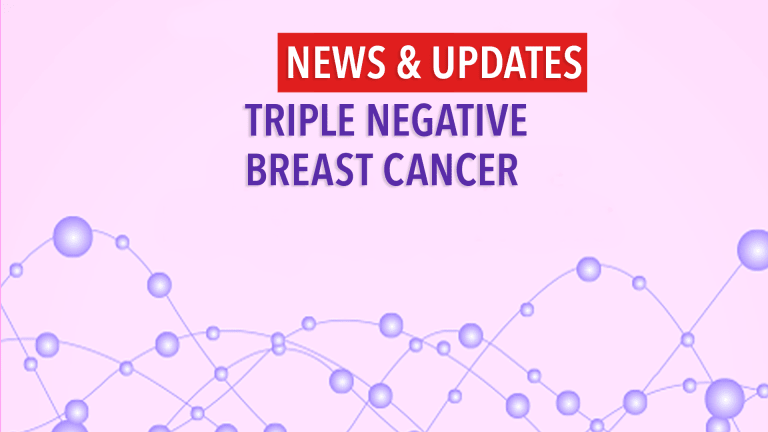 Datopotamab Deruxtecan Promising in Triple Negative Breast Cancer
Datopotamab, a novel antibody drug conjugate targets TROP2 on TNBC cells.
Data from the TROPION-PanTumor01 phase 1 clinical study were released at the 2021 European Society of Medical Oncology (ESMO) Breast Cancer Virtual Congress and updated in December 2021. The novel antibody drug conjugate (ADC) datopotamab deruxtecan (Dato-DXd) appears promising for the management of metastatic triple negative breast cancer (TNBC).
About triple-negative breast cancer
Approximately 12% of all breast cancers are TNBC, meaning that they are estrogen-receptor negative (ER-), progesterone-receptor negative (PR-), and human epidermal growth factor receptor 2-negative (HER2-). This means that TNBC is not stimulated to grow from exposure to the female hormones estrogen or progesterone, nor through an overactive HER2 pathway. Unfortunately, many available and effective treatment options for the majority of breast cancers block the growth stimulating effects of ER, PR and/or HER2; therefore, TNBC has had limited therapeutic options. In addition, TNBC tends to be an aggressive type of cancer, is often diagnosed at a more advanced stage, and proportionately affects younger women more often than other breast cancers. Novel treatment options for TNBC have lagged behind that of other types of breast cancers. 1,2,3
TROP2 (trophoblast cell-surface antigen 2) is a transmembrane glycoprotein that is over expressed in several types of cancers, including breast cancer.4 Research indicates that high TROP2 expression is associated with cancer cell growth and poor patient survival.4,5 TROP2 is over expressed in approximately 80% of patients with TNBC, making it a promising target for precision cancer medicines.5
About Datopotamab Deruxtecan (Dato-DXd)
Datopotamab deruxtecan is a precision cancer medicine known as an antibody drug conjugate (ADC). The anti-TROP2 (trophoblast cell-surface antigen 2) monoclonal antibody delivers topoisomerase I inhibitor cytotoxic chemotherapy ("payload") directly to cancer cells via a linker attached to the monoclonal antibody that binds to TROP2 on cancer cells. TROP2 is a transmembrane glycoprotein that is over expressed in many cancers and is associated with poor overall and disease-free survival in several cancers.
About the TROPION-PanTumor01Clinical Trial
The TROPION-PanTumor01 clinical trial was designed to evaluate the safety, tolerability, and preliminary effectiveness of datopotamab deruxtecan in patients with advanced cancers, including NSCLC and TNBC that are refractory to or relapsed from standard treatment or for whom no standard treatment is available.
An objective response rate of 34% was observed in 15 of 44 patients treated with datopotamab deruxtecan. Fourteen confirmed complete/partial responses (CR/PRs)  were reported after a median follow-up of 7.6 months (range, 4 – 13 months). The median duration of response was not reached (range, 2.7 – 7.4+ months) with the majority ongoing at the data cut-off of July 30, 2021.  In a subgroup of 27 patients with previously untreated disease a response rate of 52% was reported.
The safety profile of datopotamab deruxtecan seen in the TNBC is consistent with safety that has been previously reported with NSCLC. The most common side effects were nausea, mucositis, fatigue and anemia and hair loss.
Accrual of additional TNBC to the Datopotamab clinical study is ongoing to further confirm these encouraging results. Datopotomab may represent a significant advance in the management of TNBC.  
References:
1. American Cancer Society. Triple-negative breast cancer. Accessed April 19, 2021.
Sharma P. Oncologist. 2016;21:1050-1062.
National Cancer Institute. SEER cancer stat facts: female breast cancer subtypes. Accessed April 19, 2021.
Goldenberg D, et al. Oncotarget. 2018;9(48): 28989-29006.
Zaman S, et al. Onco Targets Ther. 2019;12:1781-1790
Bianchini G, et al. Nat Rev Clin Oncol. 2016;13:674-690.
Bray F, et al. CA Cancer J Clin. 2018;68:394-424.