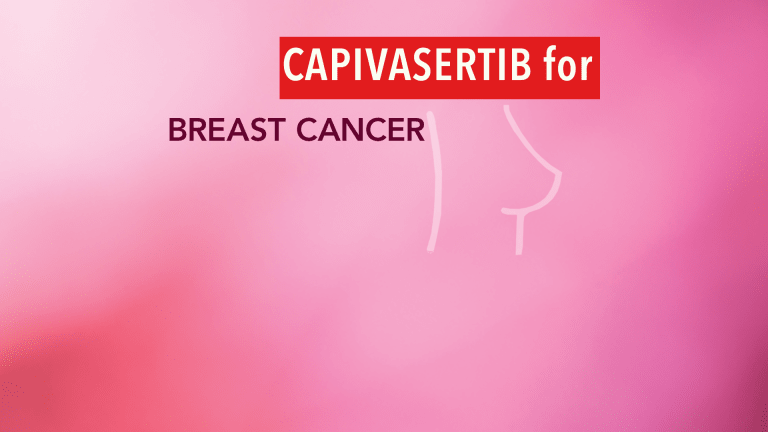 Capivasertib in Breast Cancer
Capivasertib precison cancer medicine is active in the treatment of women with TNBC & PIK3CA, AKT1 and/or PTEN mutations
The AKT inhibitor capivasertib when combined with existing chemotherapy and hormone therapy medications for the treatment of advanced breast cancer delays breast cancer progression and prolongs survival according to the results of clinical trials.
About Capivasertib
Capivasertib is an orally available precision cancer medicine that inhibits the serine/threonine protein kinase AKT. A wide range of cancers show dysregulated PI3K/AKT/mTOR signaling due to mutations in multiple signaling components. By targeting AKT, a key component in the PIK3/AKT signaling network, capivasertib can decrease cancer cell growth and spread. The PI3K/AKT pathway is frequently activated in Triple Negative Breast Cancer (TNBC) and is associated with resistance to chemotherapy
Capivasertib Delays Cancer Progression in Women with Advanced HR+ Breast Cancer
Approximately 70% of breast cancers are considered HR-positive and HER2-low or negative.1 Endocrine therapies are widely used for the treatment of HR-positive breast cancer, but many patients ultimately develop resistance to 1st-line CDK4/6 inhibitors and estrogen receptor-targeting therapies.2 Faslodex (fulvestrant) is widely used in women with recurrent disease.
About CAPItello-291
The CAPItello-291 clinical trial compared capivasertib in combination with Faslodex to Faslodex alone in 708 women with locally advanced (inoperable) or metastatic HR-positive, HER2-low or negative breast cancer whose disease has recurred or progressed during or after aromatase inhibitor therapy, with or without a CDK4/6 inhibitor, and up to one line of chemotherapy for advanced disease. 
The combination of capivasertib plus Faslodex significantly improved progression-free survival in patients with hormone receptor–positive/HER2-negative advanced breast cancer, including those with AKT pathway–altered tumors, according to data presented during the 2022 San Antonio Breast Cancer Symposium.
The capivasertib plus Faslodex combination doubled the response rate and improved survival duration without disease progression to 7.2 months compared to 3.6 months for treatment with faslodex alone. Capivasertib should become a new treatment option for patients whose cancer has progressed on a regimen containing an endocrine therapy.4
About the PAKT Clinical Trial
In this clinical study 140 women with previously untreated advanced TNBC received paclitaxel chemotherapy without or without capivasertib as their initial treatment and directly compared. The majority of women had previously failed adjuvant or neoadjuvant chemotherapy, including prior taxane-based therapy in over 50% of the patients.
With a median follow-up of 18.2 months the median duration of survival without cancer progression was 5.5 months for the capivasertib treated patients compared to 3.6 months for those treated with chemotherapy only. The average overall survival duration was 19.1 months in the capivasertib group compared with 12.6 months for those treated with chemotherapy without capivasertib.
Among the subgroup of women with PIK3CA/AKT1/PTEN-altered tumors the median time to cancer progression was 9.3 months with capivasertib compared to only 3.7 months for paclitaxel chemotherapy alone. The median duration of response was 13.3 months with capivasertib in women with PIK3CA/AKT1/PTEN mutations.
The addition of the AKT inhibitor capivasertib improves the outcome of first-line paclitaxel chemotherapy with the bulk of the benefit observed in patients with certain mutations in their tumor, including AKT, PIK3CA or PTEN.
References:
National Cancer Institute. Surveillance, Epidemiology and End Results Program. Available at https://seer.cancer.gov/statfacts/html/breast-subtypes.html Accessed October 2022.
Lin M, et al. Comparative Overall Survival of CDK4/6 Inhibitors Plus Endocrine Therapy vs. Endocrine Therapy Alone for Hormone receptor-positive, HER2-negative metastatic breast cancer. J Cancer. 2020; 10.7150/jca.48944.
Turner N, Oliveria M, Howell SJ, et al. Capivasertib and fulvestrant for patients with aromatase inhibitor-resistant hormone receptor-positive/human epidermal growth factor receptor 2-negative advanced breast cancer: results from the Phase III CAPItello-291 trial. Presented at the 2022 San Antonio Breast Cancer Symposium; December 6-10, 2022; San Antonio, TX. Abstract GS3-04.