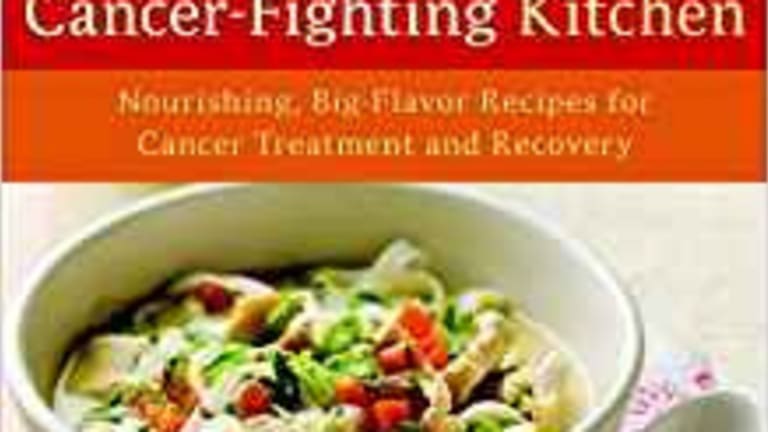 YUM…The Cancer Fighting Kitchen
And other reasons to love two new cookbooks that meet the needs of survivors and their caregivers
The Cancer-fighting Kitchen
Nourishing, Big-flavor Recipes for Cancer Treatment and Recovery
By Rebecca Katz with Mat Edelson
Rebecca Katz believes in "the power of yum," which, as she describes in the introduction to her new cookbook, The Cancer-fighting Kitchen, roughly translates as the concept that great nutrition and great taste can join together joyously on the same plate. And the recipes and the information included in this new book testify to her mastery of that concept.
The book's first chapter, the "Cancer-fighting Tool Kit," includes tips for managing side effects and a "Culinary Pharmacy" that outlines the healing properties of various foods. The treasure trove of delicious, nutrient-packed (and beautifully photographed) recipes that follows was created to bring both joy and optimal healing to readers. The recipes are divided into "Nourishing Soups and Broths," "Vital Vegetables," "Protein-building Foods," "Anytime Foods," "Tonics and Elixirs," "Dollops of Yum!" and "Sweet Bites" and include everything from Chicken Vegetable Soup with Ginger Meatballs to Mediterranean Lentil Salad to Coconut Rice Pudding. Each recipe includes a great intro, nutritional information, and clear, easy-to-follow instructions.
With a master's degree in nutrition and an active culinary practice specializing in meeting the needs of cancer patients, and through her work as senior chef at Commonweal Cancer Help Program, Katz has a wealth of information and experience on which to draw. These recipes, along with the practical, educational information also included, acknowledge the dietary and nutritional needs of survivors while honoring the universal desire for delicious, appealing food that sustains the body and the soul.
Chicken Vegetable Soup with Ginger Meatballs
If ever there was a dish that proved I wasn't Italian, it's meatballs. And that's kind of embarrassing because not only do I love to make Italian food, I even studied (okay, suffered, but it amounted to the same thing) under an Italian signora on the Isle of Elba. But no matter how hard I tried, I could never figure out how to keep my meatballs from falling apart—until I tried basmati rice. Now my meatballs not only taste great but they also don't disintegrate on the fork. These are actually mini-meatballs, closer to the Latin American version known as albondiguitas, with the ginger providing a little zing. If timing is an issue, these meatballs can be prepared ahead of time and refrigerated until you're ready to cook them. Also, this recipe makes twice as many meatballs as you'll need for the soup. To save the remainder for later, place them in the freezer for 1 hour to firm up, then transfer to an airtight container and refrigerate for up to five days or freeze for up to three months.
Meatballs
1 pound ground organic dark-meat turkey or chicken
2 teaspoons grated fresh ginger
1 teaspoon minced garlic
¼ cup finely chopped fresh parsley
½ teaspoon sea salt
Pinch of cayenne
1 egg, beaten
? cup uncooked white basmati or jasmine rice
Soup
2 tablespoons extravirgin olive oil
1 yellow onion, diced
Sea salt
1 large carrot, peeled and diced
1 large celery stalk, diced
2 cloves garlic, minced
1 teaspoon grated fresh ginger
8 cups Chicken Magic Mineral Broth or store-bought organic chicken broth
½ cup fresh or frozen sweet peas
¼ cup finely chopped fresh parsley
¼ cup finely chopped fresh basil
1 lime, cut into quarters, for garnish
To make the meatballs, line a sheet pan with waxed paper. Put the ingredients in a bowl and mix with your hands or a spatula until well combined. Don't overwork the mixture, or the meatballs will be tough.
Wetting the palms of your hands so the mixture doesn't stick, roll it into 1-inch balls and place them on the prepared pan.
To make the soup, heat the olive oil in a soup pot over medium heat, then add the onion and a pinch of salt and sauté until translucent, about 4 minutes. Add the carrot, celery, garlic, ginger, and ¼ teaspoon of salt and continue sautéing for about 3 minutes.
Pour in ½ cup of the broth to deglaze the pot and cook until the liquid is reduced by half. Add the remaining broth and another ¼ teaspoon of salt and bring to a boil. Lower the heat to maintain a vigorous simmer, then gently transfer half of the meatballs into the simmering broth. (Refrigerate or freeze the remainder to use later.) Cover and allow the meatballs to simmer for 15 minutes.
Add the peas and cook for 3 minutes more, then stir in the parsley and the basil. Serve each bowl garnished with a wedge of lime.
Prep time: 20 minutes
Cooking time: 35 minutes
Serves 4
Options
If you aren't a pea person, use this recipe as an opportunity to get some dark leafy greens into your life. Simply replace the peas with 1 cup of baby spinach leaves.
Nutritional Information per Serving
Calories: 210
Total fat: 7 grams (g) (1.6 g saturated, 3.4 g monounsaturated)
Carbohydrates: 23 g
Protein: 15 g
Fiber: 3 g
Sodium: 380 mg
What to Eat During Cancer Treatment
100 Great-tasting, Family-friendly Recipes to Help You Cope
By Jeanne Besser; Kristina Ratley, RD, CSO, LDN; Sheri Knecht, RD, CSO, CNSD, LDN; and Michele Szafranski, MS, RD, CSO, LDN
(American Cancer Society, 2009; $19.95)
Most survivors and caregivers will acknowledge that cancer treatment changes the way you think about food. No longer is eating only about what sounds good at any given time or a simple response to hunger; it's now about the nutritional value, the texture, the smell, and a number of other factors that specific treatments and individual reactions will dictate.
Rising to the challenge of meeting the changing dietary needs of survivors undergoing treatment, What to Eat During Cancer Treatment provides recipes that are organized by side effect: patients and caregivers seek out recipes based on how these foods can potentially help manage nausea, diarrhea, constipation, sore mouth and difficulty swallowing, taste alterations, and unintentional weight loss. Each simple, easy-to-follow recipe is coded with one or more colorful symbols indicating which side effects the dish is indicated for, and all include nutritional information and prep time.
As the authors state in their introduction, "each person is different, and your cancer experience is unique." What they offer here is a book that embraces all these different experiences and offers up healthy, tasty food to help patients and families through the challenge of treatment.
Brie and Apple Grilled Cheese
Sometimes a slight twist, like a special bread or an unexpected cheese, makes an ordinary sandwich suddenly appealing. In this heated sandwich, brie, a soft, creamy cheese, melts into a yummy puddle of comfort on raisin bread. You can substitute cheddar or another hard cheese for Brie if your doctor has advised you to avoid soft cheeses.
1½ ounces brie, white rind trimmed, or other cheese, at room temperature
2 slices raisin bread
2 to 3 thin slices peeled Granny Smith or other apple
1 teaspoon butter, softened
Spread the cheese on one side of each piece of bread. Place apple on top of the cheese on one slice and top with the other slice, cheese side down. Spread the butter on the other sides of the bread.
Place in a skillet over medium heat. Cook until the bottom is golden and the cheese begins to melt. Carefully turn the sandwich and cook until golden and the cheese has melted completely.
Prep and cooking time: 15 minutes or less
Options
Don't like raisins? You can substitute cinnamon swirl or any soft bread for this sandwich.
Nutritional Information per Serving
Calories: 310
Total fat: 17 g
Carbohydrates: 30 g
Dietary fiber: 2 g
Sugars: 9 g
Protein: 10 g
Sodium: 540 mg
Reprinted with permission from the American Cancer Society. Besser J, Ratley K, Knecht S, Szafranski M. What to Eat During Cancer Treatment: 100 Great-tasting, Family-friendly Recipes to Help You Cope Atlanta, Ga.: American Cancer Society, 2009: 11. Available at: . Accessed December 27, 2009.
Copyright © 2018 CancerConnect. All Rights Reserved.