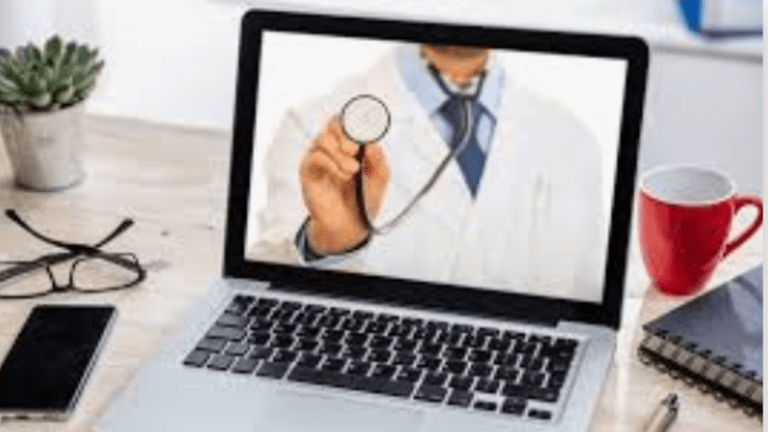 Telemedicine: Log on to Feel Better through Virtual Visits
Expanding online access points to care providers means more women are booking virtual visits.
by Dr. C.H. Weaver M.D. 5/2020
The COVID-19 pandemic has changed everyone's life. Nowhere is this more evident than the delivery of healthcare where the system has had to respond and adapt to the novel corona virus to protect the safety of patients and their health care providers. Fortunately, the under utilized field of Telemedicine was already in place and the pandemic removed the remaining barriers to its widespread adoption. Telemedicine will be part of the "new normal" and has changed health care for the better for patients with anything from the common cold to cancer.
Think about it. You've had a stuffy nose for about a week. It has become progressively more congested, and you now have some pretty significant sinus pain. It's feeling like a sinus infection, but you are just not sure. Dr. Google isn't meriting any new information. If it is a sinus infection, you know that a prescription for antibiotics would clear it up. But do you really want to get in the car, traipse across the city to urgent care, and wait for an hour to see a doctor? What if it's really just a stuffy nose?
We have all found ourselves in a similar scenario—a nagging cold, an annoying rash, symptoms that may or may not be a urinary tract infection—in need of professional medical advice but short on time and not ready to commit to the waiting room. Over the past several years an increasing number of individuals have been using telemedicine, and specifically virtual doctor visits, to get more-efficient care for a va­riety of common health concerns. Instead of spending hours traveling to, waiting for, and checking in and out for an in-person appointment with a physician, patients were logging on for diagnosis and care.
Historically cancer patients and individuals with more severe health conditions did not utilize telemedicine but the COVID-19 pandemic has accelerated the adoption its use. Telemedicine is no longer simply about convenience - it's now about safety as patients and their caregivers seek to avoid unnecessary exposure to the virus.
An Expanded Healthcare Landscape
Virtual visits with healthcare providers are one offering within the growing field of telemedicine. The term telemedicine, also referred to as telehealth, is used broadly to describe the exchange of medical information from one site to another via electronic communications—a definition that includes a wide range of technology and applications across video, e-mail, smartphone, and other telecommunications technology. (1)
Telemedicine has long been an important aspect of medical care delivery, enabling the transmission of information and images, continuing medical information for providers, and remote healthcare delivery, among other uses. Now, as telecommunications and healthcare technology advances intersect, opportunities for telemedicine to affect patient care are expanding.
Jonathan Linkous, chief executive officer of the American Telemedicine Association, says that "the use of video, advanced technology, and broadband is allowing telemedicine to expand into surprising areas, enabling greater access and helping improve care and lower costs." Prior to the pandemic, Linkous says, telemedicine was used in the healthcare of approximately 15 million Americans annually.
The wide availability and use of smartphones and Wi-Fi means that patients have the opportunity to use the technology at their fingertips to research and ac­cess medical care. According to the Pew Research Center, "62 percent of smartphone owners have used their phone in the past year to look up information about a health condition." (2) After finding information, the next logical step for consumers is to seek care using their smart­phone or laptop.
Virtual Visits, Real Benefits
Among the many services emerging in the telemedicine field, applications that connect patients with medical experts directly for virtual doctor visits are especially popular among consumers seeking efficient care in their busy lives and now as a way to avoid the risks of physically visiting a healthcare provider.
Mia Finkelston, MD, a primary care physician from Maryland who practices on Amwell, the direct-to-consumer telehealth service created by American Well, says that some of the wide-ranging health issues she addresses include urinary tract and yeast infections, questions related to symptoms of menopause, dermatologic issues like rashes, orthopedic injuries, and upper respiratory infections.
Dr. Finkelston says that while patients new to virtual care may worry that a video visit will not allow a thorough exam or an accurate diagnosis of physical symptoms, the reality is that the video interaction is surprisingly intimate. As she asks questions to establish medical history and understand her patients' current issue, Dr. Finkelston says she is also observing them carefully, as she would in an in-person visit: "I focus in on details in their appearance and environment," she says. "Are they in bed, or are they feeling well enough that they are up and dressed? Are they coughing through every other word?"
Dr. Finkelston says that in the comfort of their own homes, pa­tients are often very candid, and the environment visible in the back ground during the video chat can offer up important clues that add to her ability to get a full picture of their physical and emotional states. And, she says, she'll use the video technology to her best advantage, asking patients to bring the phone or microphone close to their mouth so she can hear them breathe, point it directly at the rash they are concerned about, or even observe them palpate their own stomach. "By demonstrating and offering careful instructions, you can really guide a patient to show you what you need to see and assess them accurately."
Dr. Finkelston is quick to point out, however, that there are limitations to virtual care delivery. "telehealth services are not meant to be a replacement for in-person care; it's meant to augment care—to provide additional access. Virtual visits should not be used to address symptoms like chest pain, neuro­logic pain, or signs of stroke, which should be seen in an emergency room." In general, she says, "patients are pretty smart about how to use our services and select themselves out for issues that require specialized care or are more serious."
Added Value: A Prescription for Peace of Mind
While getting a diagnosis and prescription online can offer a quick fix to many common health concerns, the value of these virtual visits can be more long lasting. Just as patients develop ongoing relationships with their primary care physicians, online providers can become trusted sources of information and support, offering continued benefit after patients log off.
Rebecca Callahan, NP, who sees patients through Maven, a digital clinic for women, says that one of the most rewarding aspects of her work is connecting with women and educating them about their health so that they can make informed decisions for the long term. Callahan addresses issues ranging from birth control to screening for postpartum depression to questions about diet and lifestyle changes. No matter what the topic, she says, her goal is to meet women where they are—emotionally and physically—and develop a trusting relationship. "Many people just want to be heard and understood," she says. "They are seeking accurate information, and I provide that information and empower them to take better care of themselves."
Dr. Finkelston agrees, noting that the opportunity to provide accurate, timely information and become a trusted source of support is one of the things she likes most about practicing online: "I love providing patient education and reassurance; the calming effect of information is an important aspect of telemedicine."
Care Comes Full Circle
While the rapidly evolving telemedicine space is offering up new options for access and treatment that reflect innovations in technology, for many the draw of a virtual visit is about the desire for a kind of care that is much older: the house call. This new iteration of that tradition has the potential to bridge a gap, providing patients with access to trusted providers on their own terms and in their own time.
Answering The Call:Insurance Provider Embraces Virtual Trends
Insurance providers had been slowly recognizing the interest among consumers for the access and efficiency that virtual visits provide. In April 2015, UnitedHealthcare expanded coverage options for virtual physician visits to self-funded employer customers through video visits with physicians from virtual care provider groups and will be offering coverage to 20 million members in 2016 but overall adoption has been slow as many insurers would not allow doctors to be compensated for virtual patient visits.
Karen Scott, senior director for product innovation at Unit­edHealthcare, says, "Demand among consumers, coupled with key guidance both from the American Medical Association and the Federation of State Medical Boards around virtual visits, led us to create a strategy to cover [virtual] visits for patients." Scott says the focus of the initial virtual visit offering was to provide coverage for "simple, nonemergency medical needs: things like colds, flu, basic upper respiratory infections, and some wom­en's health needs."
As part of its coverage of virtual visits, the company is work­ing to educate customers about how and when to use them. Scott says that these visits should be considered one addition­al place of service within the bigger landscape of healthcare: "They will not be appropriate for everything. What they be­come appropriate for will continue to expand as other technol­ogies expand."
Some of the emerging advances on the horizon that might expand virtual offerings include second opinions for complex diseases like cancer and the use of novel devices that can be plugged into smartphones to transmit vital signs, expanding the information available to the virtual provider. The technology is available now and is part of an exciting, evolving story: "I think what's so fascinating," Scott says, "is that you're never quite sure what the next piece will be that will leap-frog the market in what we can do in virtual care."
Basic Healthcare Services
Patients with on-demand access to video appointments can see doctors, nurse practitioners (who can also prescribe), mental health providers, midwives, doulas, lactation consultants, nutritionists, and physical therapists, many of whom specialize in women's health. This list also includes pediatricians and pediatric nurse practitioners, so women can call in about their children. There is usually someone available 24/7.
Second Opinions
Getting a second opinion is not only recommended for many individuals with significant conditions like cancer, it is an essential component for determining optimal treatment. Barriers to getting a second opinion include the cost and inconvenience of travel and insurance coverage for a second or sometimes third full evaluation of a patient. A second opinion is increasingly available and offered by many of the best cancer centers via a telemedicine appointment.
Researchers from Michigan conducted a study to evaluate potential changes in treatment choices among breast cancer patients who received a second opinion at a multidisciplinary cancer clinic and found that changes in recommendations for management occurred in 52% of patients. (5) Although not perfect for all situations these services expand the availability to be evaluated by an "expert" to patients who otherwise might not have access.
Second Opinions: Appointments at Leading Cancer Centers
BIDMC: CareConnection at 800-667-5356, Monday-Friday, 8:30-5.
The James OSU - the JamesLine 1-800-293-5066
RPCI: 1-800-ROSWELL (1-800-767-9355) to schedule appt/2nd opinion consult or RPCI request a consult online​
Cancer Screening
According to a study published in the Annals of Internal Medicine, a telephone support intervention improves the rates of screening for breast, cervical, and colorectal cancer among low-income women. Screening for early detection of cancer has improved survival for many types of cancer, including breast, cervical, and colorectal. Cervical and colorectal screening also offers the benefit of detecting precancerous changes. Treating these precancerous changes may prevent the development of cancer. (3)
In spite of the known benefits of cancer screening, many women are not screened at the recommended intervals or are not screened at all. This is a particular problem among low-income women who may experience many barriers to care. Researchers are therefore interested in identifying ways to decrease disparities in receipt of cancer screening. In order to evaluate the effect of telemedicine on screening rates for three types of cancer-breast, cervical, and colorectal-researchers conducted a randomized trial among women who received care at community and migrant health centers in New York City. The study enrolled a total of 1413 women between the ages of 50 and 69. All were overdue for at least one type of cancer screening. Half the women were assigned to receive the telephone support intervention, and half were assigned to receive usual care. The telephone support intervention consisted of a series of telemedicine appointments from a trained prevention care manager. The point of the visits was to identify and address each woman's barriers to screening.
Over an 18-month period, women in the intervention group received an average of four telemedicine visits and their rate of mammography, Pap testing, colon cancer screening all increased significantly compared to women screened using "usual care" leading researchers to conclude that"Telemedicine support can improve cancer screening rates among women who visit community and migrant health centers." This may be a useful strategy for reducing existing disparities in receipt of recommended screening tests.
Patients Report Same Satisfaction with Genetic Results via Telemedicine as in Person
According to results involving patients tested for BRCA1/2 mutations, which were published in Genetics in Medicine, patients are just as satisfied when given results of genetic testing for cancer risk via telemedicine appointments as in person in terms of anxiety and general well-being. Individuals with genetic mutations in the BRCA1 and/or BRCA2 genes have a significantly increased risk of developing various cancers, most notably breast or ovarian cancers. Therefore, women with a strong family history of breast or ovarian cancers or women whose family members have a known BRCA1 or BRCA2 mutation may elect to undergo genetic testing. If tests prove positive for one of these mutations, patients may then undergo preventive and/or increased screening for the type of cancer for which they are at an increased risk.As genetic profiling and genomics become more advanced and incorporation of results into clinical practice moves forward, genetic testing is increasingly an important component for identifying people at high risk of developing various cancers. (4)
Because patients may experience extreme anxiety when deciding whether to get tested, waiting for test results, and choosing options if they are found to be at a high risk for a specific cancer, researchers approach genetic testing with caution. Therefore, management of patient emotions and anxiety is an important part of genetic testing's progress in the field of oncology. Researchers conducted a clinical study to compare anxiety and general well-being of patients who are told of their genetic test results via a telemedicine appointment compared with those who were told in person. They found that here were no significant differences in anxiety among patients whose results were given via telemedicine compared with those whose results were given in person. Satisfaction was also similar between both groups of patients and telemedicine was associated with a significant reduction in cost compared with results given in person.
References
What is Telemedicine? American Telemedicine Association website. Available at: http://www.americantelemed.org/about-telemedicine/what-is-telemedicine#.VmR0H-wrLcs. Accessed January 18, 2016.
U.S. Smartphone Use in 2015. Pew Research Center website. Available at: . Accessed January 18, 2016.
Dietrich AJ, Tobin JN, Cassells A et al. Telephone Care Management to Improve Cancer Screening Among Low-Income Women: A Randomized Controlled Trial. Annals of Internal Medicine. 2006;144:563-571.​
Jenkins J, Calzone K, Dimond E, et al. Randomized comparison of phone versus in-person BRCA1/2 predisposition genetic test result disclosure counseling. Genetics in Medicine. 2007;9:487-95.
Newman E, Guest A, Helvie M, et al. Changes in Surgical Management Resulting from Case Review at a Breast Cancer Multidisciplinary Tumor Board. Cancer. 2006; 107:2346 – 2351.
Copyright © 2018 CancerConnect. All Rights Reserved.