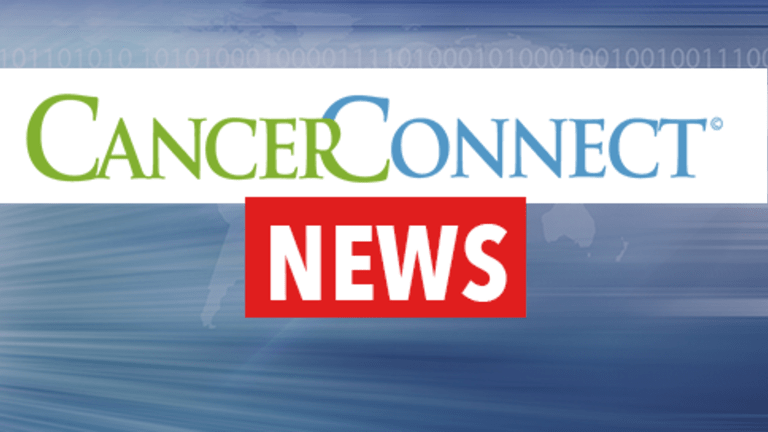 Taking a Stand Against Cancer
What does it really mean to stand up to cancer?
For Rusty Robertson, who together with co-founders Laura Ziskin, Lisa Paulsen, Kathleen Lobb, Sue Schwartz, Noreen Fraser, Ellen Ziffren, Katie Couric, and Sherry Lansing, created the groundbreaking grassroots advocacy movement Stand Up to Cancer (SU2C), it has come to mean that the impossible is possible. And this formidable group of women should know: Lining up a simultaneous, commercial-free primetime telecast across the three major networks? Check. Inspiring more than 100 celebrities to participate? Check. Raising more than $100 million for cancer research? Check. At the end of the day, Rusty says, the lesson for women and for the cancer community is clear: "You cannot dream too big, and you cannot dream too high. No matter what, there is no ceiling."
But for those facing cancer and the people who love them, standing up can seem a daunting task. Each of the SU2C founders is intimately aware of the challenge that the disease presents. Hollywood producer Laura Ziskin is a breast cancer survivor; Lisa Paulsen, president and CEO of the Entertainment Industry Foundation (EIF), lost both her parents to cancer; Kathleen Lobb, who runs EIF's New York office as well as its National Colorectal Cancer Research Alliance, lost two close friends to the disease; Sue Schwartz, co-founder with Rusty Robertson of the Robertson Schwartz Agency, lost her mother to multiple myeloma, has one sister who is both a breast cancer and an ovarian cancer survivor and another sister who is a breast cancer survivor; Noreen Fraser, television producer and founder with her husband, Woody, of the Noreen Fraser Foundation, lives with Stage IV breast cancer; philanthropy executive Ellen Ziffren's mother is a lymphoma survivor; news anchor Katie Couric lost her husband to colon cancer and her sister to pancreatic cancer; Sherry Lansing, former CEO of Paramount Pictures and founder of the Sherry Lansing Foundation, lost her mother to ovarian cancer; Rusty Robertson herself lost her mother to lung cancer.
The personal commitment to advocacy that all these women share brought them together, and their passion and skill in their respective fields created a movement that would inspire them beyond anything they could imagine. Their goal, when they finally  connected with one another through a series of introductions, was to create a populist fundraising and advocacy movement that would revolutionize the way people thought about cancer. "It wasn't easy in the beginning," Rusty says of creating the single movement from nine separate viewpoints. But at the core was their combined commitment to the cause. "We had one common goal, which was to make cancer a first-tier issue with the rest of the world. We wanted people to know that one person per minute is dying of cancer, that 1,500 people per day are getting diagnosed, and that there are 12 million survivors. We wanted to make every survivor a hero and everyone diagnosed a survivor."
Armed with their passion—and the formidable clout they had each earned in the entertainment industry—the nine women started knocking on doors. And they soon learned that the impact of their combined presence was impressive. "When the nine of us went into a meeting, people would say, 'I'm afraid now; I'm officially afraid,'" Rusty says. "But the greatest thing is that they also said yes."  Inspired and awed by the generosity of the community that came out in support of the idea, the group forged ahead, using their individual talents and learning to gel as a group. "I'm really proud of us as women and as a group because we learned who could do what really quickly and who could go after what," Rusty says. And the rest is history.

On September 5, 2008, the SU2C telecast aired on ABC, NBC, and CBS, reaching viewers in 170 countries. But SU2C did not start or end there. The movement's mission is much broader than a single event. "Stand Up to Cancer is more than a rallying cry," says co-founder Sue Schwartz. "It is a galvanizing movement created to urgently move cancer research forward." Through public service announcements, a Web site (www.standup2cancer.org), and ongoing fundraising efforts, SU2C continues to educate, build community, and realize the goal of funding innovative research.
The funding piece of the movement—the piece that all the other efforts support—is unique. The organization will fund "Dream Teams," or interdisciplinary, multi-institutional translational and clinical research teams, selected by SU2C's Scientific Advisory Committee. "We're bringing together the best and brightest minds in cancer research—those on the edge of accomplishment—investing in their projects and taking the bureaucratic obstacles out of their way," Sue says. She explains that the model is founded on the belief that "there is now sufficient knowledge of the basic science of cancer and that there are technologies available to allow the focused, practical application [of this knowledge]." What has been lacking up to this point is the rapid, large-scale funding that will allow the scientific and clinical research to make its way to patients quickly. The ultimate reward of the model, Sue says, will be "rapid advances in the treatment of patients and the prevention of cancer in those who are at risk."
The opportunity to move toward realizing this goal, among colleagues, survivors, and scientists who are equally committed to the idea, has been inspirational for both Sue and Rusty. "It has been one of the most gratifying, stressful, frustrating, and wonderful things that has happened to me. I feel so blessed that this door opened and that I walked in," Rusty says. "To see that you're making a difference," she says, is the ultimate reward. In fact, for Rusty, standing up to cancer has become her singular purpose: "Someone I really respect once told me, 'Once you get in it, you're never going to get out,'" and she knows now that they were right. The commitment that Rusty symbolizes, mirrored in each of the founders of SU2C, speaks to the power that this movement will have. There is no doubt that the energy and the passion that fuel SU2C will translate to historic progress in cancer research. And that's a future worth standing up for.