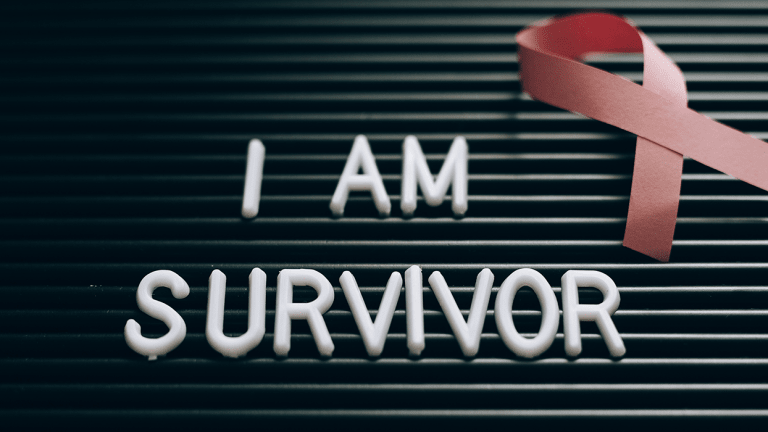 Survivors Shine
Businesses launched in the wake of a cancer diagnosis to serve other patients inspire the founders and their customers.
Alloro Collection
Christine Irvin and Laurel Kamen
As Laurel Kamen prepared herself in 2011 to undergo a double mastectomy to treat breast cancer, the former corporate executive was not only thinking about the surgery she would face; she was also thinking about what she would wear during recovery. As she considered what lay ahead, Laurel determined that following surgery she would work to create a line of clothing and accessories for breast cancer patients to help women thrive through recovery.
Lucky for Laurel, she had an enthusiastic business partner in her best friend, Christine Irvin, who jumped in to offer her expertise as an artist and a Wall Street veteran. Together the two women devised a business plan to create a fashion-forward line of comfortable, beautiful items that, as Laurel says, would "help women go back to their active lives after cancer—without sacrificing style."
As Laurel recovered, the two friends got busy laying the groundwork for their collection. "We spent months reading blogs and researching what women face during recovery and treatment for breast cancer," Laurel says. Their research led them to develop a line that would address 20 common challenges that survivors face, including loss of range of motion in the arms after surgery, skin sensitivity that can lead to burning and chafing if clothing is tightly fitted, neckline and fabric draping considerations for women who choose not to undergo reconstruction, the difficulty that buttons and other closures present for women dealing with neuropathy, and fabric weight and texture for women who experience severe hot flashes. In addition to these functional considerations, Laurel and Christine were determined to keep fashion front and center. "We wanted to offer a colorful and beautiful style that will enhance women's state of mind and their full recovery," Laurel says.
All of these factors and many more were included as the pair worked with experts in the fashion world to create the line. Though the two women had always followed fashion, they knew they needed to seek insight from fashion insiders. "We turned to designers, retail consultants, online fashion experts, and marketing experts to help us get up to speed," Laurel says. "And we had a secret ingredient: our chief designer is Roedean Landeaux—a New York couturier of many years and my cousin—who collaborated with us on every piece."
After almost two years' work, Laurel and Christine reached their goal when the Alloro Collection was launched in March 2013, with the tagline Recapture the Joy. Available online at alloro collection.com, the pants, tops, jackets, dresses, jewelry and scarves offer women a sophisticated—and comfortable—wardrobe of functional and beautiful options to help see them through recovery and beyond.
As the two friends further develop and promote the collection, they have had the opportunity to travel around the country and learn more about what women want and need. "We are inspired by the support and feedback, not only from women going through treatment now but from hundreds of women who have told us, 'I wish my grandmother or my mom could have had this thoughtful collection when she went through treatment,'" Laurel says.
The need for options such as those Alloro offers inspires Laurel and Christine to continue their efforts to expand the collection and their reach. "We want to be able to reach more women in all parts of the economic spectrum," Laurel says, "so we are exploring ways to find contributors to underwrite the distribution of clothing to underserved women or to offer gift certificates that can be given by religious organizations to women in their congregations who need extra assistance."
Fueled by their desire to bring joy and comfort to survivors, Laurel and Christine move forward, grateful for the opportunity to make a difference and, Laurel says, for the partnership they have created: "We feel fulfilled because we are best friends working together with many wonderful designers and volunteers to make this effort a success."
CureDiva
Efrat Roman
When Efrat Roman was going through chemotherapy to treat breast cancer, the 46-year-old mother of two from Israel found herself confronting a host of unanticipated side effects, many of which revolved around clothing options and other lifestyle changes. Having undergone a double mastectomy and still managing the lack of mobility that resulted from surgery, she was facing changes to her physical appearance that ruled out many of her standard wardrobe choices. "I was constantly uncomfortable and was always looking for all kinds of solutions to the changes that kept coming," she says.
But when she searched online for stylish comfortable clothing, accessories, and tools to help her manage treatment, she found the available resources lacking. "One of the most unexpected things I discovered upon my breast cancer diagnosis was that I was no longer a target customer for the fashion and lifestyle markets," Efrat says. "All of a sudden, all the sites that applied to me and my new needs were medical, conservatively pink, gloomy, or all of the above. It was like the world was telling me that I was not enough of a woman to warrant their attention."
It seemed incredibly unfair, she says, that women diagnosed with cancer not only had to cope with the physical challenges of the diagnosis but also were apparently relegated to a less-than-desirable status as consumers and customers. "It was clear," Efrat says, "that women facing breast cancer needed better solutions."
In 2013 Efrat co-founded CureDiva (curediva.com), a lifestyle and fashion hub offering women a stylish and easy-to-use shopping site and a virtual community. The focus from the beginning, she says, was to "bring women diagnosed with breast cancer an excellent and stylish shopping experience that would meet or exceed the standards they expected when they were healthy."
Alongside products that range from cosmetics and wigs to clothing and post-mastectomy bras, CureDiva provides support and resources in the form of the Diva's Lounge, a virtual community of survivors who share their experiences and provide tips and insights. This one-stop-shop experience reflects the founders' mission to provide women with all they need to be empowered and supported in the face of a diagnosis—and allow them to feel that they have not left their sense of style behind. "We want CureDiva to provide a home for women diagnosed with breast cancer, where they can find all they need—the best products, service, and pricing—as well as the best community resources and knowledge," Efrat says. "We want to reach every woman out there who is facing a breast cancer diagnosis."
By providing women with products and support to help manage the side effects and the emotional challenges of cancer treatment, Efrat hopes CureDiva empowers them in the face of the many unknowns on the journey ahead. "Breast cancer is a new and scary kingdom," she says. "We offer must-have recommendations of products, divided by different phases of treatment, allowing women to prepare in advance and gain some control over their lives."
And hearing from the women who benefit from the resources gathered in one place at CureDiva propels the site's founders in their mission to help women. "The most inspiring part of what we do is to read women's comments, e-mails, and messages," Efrat says. Whether customers are offering thanks or asking questions about how to tackle a specific challenge, "knowing we can provide them with some excellent products, tips, and friends to make sure they'll walk this journey with grace is the most exciting part of it all."
Radiant Wrap
Maria Lucas
The staff of the cancer treatment center where Maria Lucas underwent radiation therapy to treat breast cancer went out of their way to create a warm and welcoming experience for patients. "They treated me like a queen," says the 53-year-old from Napa, California. "I was given a parking pass for preferred parking; access to a waiting area with a lending library, a large-screen TV, and freshly baked cookies; and daffodils on Fridays." And yet, she says, no matter how well she was feeling when she entered the center, when it was time to put on the hospital-issued gown necessary to undergo radiation treatment, her spirits would plummet. Made from rough, faded cotton—and sometimes ripped or torn—and designed with an open back held together by a few ties, the gowns never failed to remind Maria exactly why she was there. "When I put that gown on, even though I had been my healthy vibrant and normal self all day, all of a sudden I was a sick patient again who had cancer," she says.
Having gone through the dispiriting process day after day, Maria decided there had to be a better option. She started researching alternatives to see what might replace the common hospital gown and came up empty handed. "I was unable to find anything specific for radiation treatments," she says. Determined to find a way, she met with doctors and radiation techs to learn what attributes were necessary, discussing accessibility, length, and material considerations. Then she got to work.
"On a Friday around my third week of treatment, I took a few hospital gowns home with me," Maria says. "I thought if I could cut up the gown I borrowed and design a one-piece wrap-around style that tied at the waist, I would have a beautiful alternative gown. And that's exactly what I did." She wore her new gown to her next radiation appointment, and the response from patients and her care team was positive. "It not only received rave reviews but it was functional as well," she says.
Inspired to share her design with other women, Maria worked with her son, Koray, a business major about to graduate from college; the mother/son team came up with a business plan to produce and market the gowns to cancer centers nationwide, under the brand Radiant Wrap. Now, two years later, Radiant Wrap can be found in 13 hospitals around the country and online at theradiantwrap.com. "We are selling our wraps to cancer centers and wellness boutiques, and to date we have provided more than 1,000 Radiant Wraps to female cancer patients," she says. "Our goal is to continue to grow and, by this time next year, to double the number of partners that we have."
The wraps, which are made from soft, silky polyester charmeuse, are available in a variety of colorful, stylish patterns. In addition to providing patients something that feels good and looks pretty, the design of the gowns makes them easy to wear and meets all the requirements of radiation treatment. "The wrap-around design completely covers a woman's front and back yet allows for easy access during treatment and exams," Maria says. "They are very easy to wear, as there are no Velcro patches, zippers, buttons, or extraneous ties."
As Maria and Koray continue to share the wraps, they are moved by the stories they hear from women who have benefited from their mission. "The most inspiring and humbling thing for me is when someone tells me that they love the gown," Maria says. "To have a woman who is going through treatment feel better because of something I created is the most incredible feeling I can ever ask for."