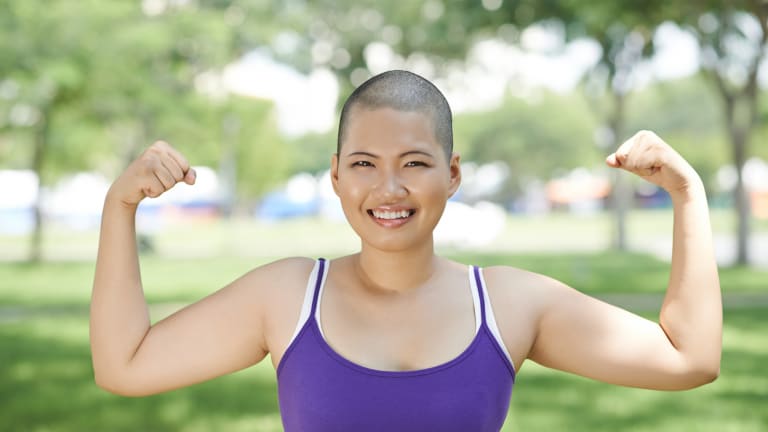 Survivors on the Move; Cancer Survivors Discuss the Benefits of Exercise
Reduced risk of recurrence and improved overall well-being are among the reasons more survivors are exercising.
by Dr. C.H. Weaver M.D. Updated 5/2022
Cancer survivors who have remained physically active throughout treatment or have started a fitness plan following a diagnosis don't need studies and statistics to tell them about the many benefits of exercise. Though the ever-growing body of research pointing to fitness as a way to reduce risk of recurrence and enhance overall well-being is indeed good news, it really just reaffirms what they're learning firsthand in the gym, on the trails, or wherever they go to strengthen their bodies and get their hearts pumping: that physical fitness is an integral part of a maintaining long-term, post-diagnosis health. Here two survivors tell us about the critical role that exercise plays in their long-term well-being and about what they're doing to help other survivors take action.
Wendy Rahn and Survivors' Training
A diagnosis of Stage I breast cancer prompted Wendy Rahn of Minneapolis, Minnesota, to investigate ways to improve her health and reduce the risk of recurrence. A researcher by nature and vocation (Wendy is a political science professor at the University of Minnesota), she was quick to discover relevant data such as a study published in the Journal of the America Medical Association that observed a reduced risk of recurrence among women who exercised following a breast cancer diagnosis.1
So Wendy, who describes herself at the time of diagnosis as a "lapsed exerciser," determined that she would incorporate a fitness plan into her recovery. "I initially made a psychological commitment [to exercise] before surgery," she says. So as treatment proceeded with a bilateral mastectomy and reconstruction, Wendy was determined to make good on her pledge to get active, even as she experienced a degree of depression following her surgery.
The benefits were almost immediate. "Within two weeks of exercising, the fog lifted and I felt more energetic and hopeful," she recalls, explaining that her fitness routine "really did pull me out of the funk I was in."
Wendy felt so much better once she became active that she was compelled to make sure information about the benefits of exercise for breast cancer survivors reached as many women as possible and that comfortable, safe fitness programs were made widely available among this population. She launched Survivors' Training, a nonprofit organization dedicated to promoting "awareness of the importance of exercise for healthy cancer survivorship." The organization's mission has been carried out through its fitness studio and various outreach efforts in the survivor community.
Wendy and Survivors' Training expanded their ability to reach more survivors with the release of a DVD, Celebrate Strength: A Fitness DVD Made for and by Breast Cancer Survivors. The video includes several exercise routines designed specifically for breast cancer survivors, interviews with leading oncologists, as well as discussion of other approaches to and aspects of exercise. Wendy explains that the DVD (made possible by a grant from Susan G. Komen for the Cure), not only has allowed the Survivors' Training message to reach more women but has also given survivors real-life, inspirational role models­: the women featured are actual survivors.
Wendy is inspired in her mission to share the benefits of exercise with more breast cancer survivors by the results she has personally experienced and that she sees among others. She watches participants in post-diagnosis fitness programs "always leave [exercise] with a smile and a renewed sense of hopefulness." And she reports seeing survivors gain notable physical strength, and those in active treatment maintain well-being during potentially taxing therapies like chemotherapy.
One participant in Survivors' Training, Becky Mendoza, explains that though she had never been a regular exerciser, once she started a program she experienced real results: "I couldn't believe how good I felt, both physically and emotionally, and that I actually was stronger." Becky, who was diagnosed with Stage IIA, HER2-positive breast cancer four years ago, says that not only have the benefits of fitness itself been important but also that she's benefited from the community of survivors who have gathered around this shared commitment to promote long-term health and well-being. "It was like a big support group, and many of the members have become very good friends.
Wendy's Tips
To get moving on low-energy days, Wendy recommends enlisting the help of caregivers and loved ones. First, she says, "educate caregivers about how important exercise is" and ask them to help you get moving when your motivation is low.
Make commitments to exercise ahead of time (such as scheduling group exercise), so that a workout is an established part of your routine, not an optional activity. And if you're committed to a group, you'll be motivated to show up so as not to let down your friends.
Create an online group (a "virtual studio") where members check up on one another's programs and share encouragement. This virtual group workout can help you stay motivated if you're unable to work out with friends in person, Wendy says, because that commitment to exercise among a group can be such as effective motivator.
Triathlete and Coach Nancy Reinisch 
A Stage II breast cancer diagnosis at age 53 was not going stop triathlete Nancy Reinisch from pursuing her active lifestyle. She recognizes such value in her exercise program, both during and after treatment, that she now encourages other cancer survivors to achieve and maintain fitness and, for those so inclined, to enjoy some healthy, friendly competition.
Though many survivors are beginning a fitness program in response to research pointing to its benefits following a cancer diagnosis, others, like Nancy, are determined to maintain an active lifestyle in spite of a diagnosis. "I pretty much continued my physical activity throughout my 16 rounds of [chemotherapy] and surgery," says Nancy, whose surgery involved a double mastectomy and reconstruction. She acknowledges that she made this goal realistic by aiming for moderation rather than maintaining her previous level of activity. By determining to "get out and walk at least a mile if I could every day," Nancy kept herself moving to the degree that she could handle during treatment.

A licensed social worker with a private practice in psychotherapy and a USA Triathlon level 1 coach, Nancy is also married, the mother of two grown sons, and the author of Chemosabee: A Triathlete's Journey Through the First Year of Breast Cancer.  With such a résumé, it's no surprise that this Glenwood Springs, Colorado, resident would not be slowed down by a cancer diagnosis. It's also apparent that Nancy's involvement in sports kept her looking—and moving—forward in the face of her diagnosis by helping her maintain physical and psychological well-being throughout treatment.
Nancy was also motivated by her commitment to support others in active endeavors as a coach for the Roaring Fork Women's Triathlon Team (RFWT), a training program that promotes fitness, health, and fun. "Something that was really my saving grace is that when I got diagnosed in April, and I started coaching my triathlon team in May," she says. "They were the carrot that kept me going that summer." Nancy says that by coaching and remaining a part of the sports community, she felt "like a regular person in the middle of all my cancer."
Several of the athletes whom Nancy coaches on the RFWT are also survivors, so she's able to witness the value of physical fitness following a cancer diagnosis both first- and secondhand. Though RFWT participants come from various athletic backgrounds, Nancy says that they all share "using exercise in some form to maintain sanity and physical fitness."
Heidi Halladay, a 51-year-old breast cancer survivor and RFWT member, confirms Nancy's observation: "I have found that exercise is something I do have control over in my life." And, as Heidi trains for half marathons as well as triathlons, she keeps in mind research results indicating a decreased risk of recurrence among survivors.
Tips From Nancy
Don't feel that you need to maintain a pre-diagnosis level of activity through treatment, Nancy stresses: "You can moderate your exercise to fit whatever ability you have." For example, she explains, "If you used to be a runner, you can become a walker." Find the level and the pace that best suits your current abilities and get moving because "the bottom line is do it."
"Celebrate your finish line" by honoring milestones along the way, whether it's an actual finish line or the completion of a treatment cycle.
"Use your team," which may be training partners or friends, family, and healthcare providers.
"Keep it light"—no matter what challenge you face, keep your sense of humor and surround yourself with positive people.
New Specialty Certification for Fitness Professionals
As more cancer survivors look to exercise as a way to improve and protect long-term health, the American Cancer Society (ACS) has recognized the need for official guidelines for fitness professionals working with this population. "We started seeing more and more interest from cancer survivors about exercise programs," says Colleen Doyle, director of nutrition and physical activity for ACS. But, she notes, although more survivor exercise programs began to emerge, there were no national quality standards for trainers. In response, the ACS has joined forces with the American College of Sports Medicine (ACSM) to create a specialty certification for health and fitness professionals who work with people affected by cancer. The designation was released earlier this year.
Colleen explains that this certification will allow survivors to seek out fitness trainers who understand the challenges and the concerns surrounding exercise programs following cancer diagnoses. For example, she says, there are precautions related to the particular diagnosis, side effects of treatment, and lymphedema, and survivors may face new challenges in areas such as balance and joint and muscle pain.
Importantly, the certification draws attention to the fact that many survivors can be physically active following a diagnosis, and fitness may be a vital component of long-term health. In addition, the benefits of fitness may extend beyond cancer-related wellness. Colleen reminds that exercise is also an important protective measure against heart disease, the number one killer in the United States. There are, she emphasizes, "many, many benefits from [physical fitness]—not just from a cancer perspective."
For more information about this specialty certification program for health and fitness professionals working with cancer survivors, visit ACS at www.cancer.org and ACSM at www.acsm.org.
Always consult your healthcare providers before beginning an exercise program or making significant changes to an existing program.