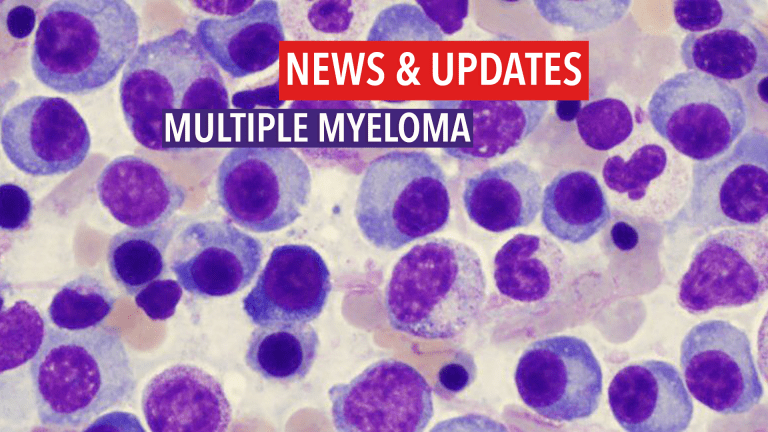 Support and Innovation
Blood cancer advocacy groups work to support and educate patients and to produce more-rapid treatment advances.
Multiple Myeloma Research Foundation
When Kathy Giusti was diagnosed in 1996 with multiple myeloma, a cancer of the plasma cell, she was discouraged by the lack of interest—financial and otherwise—in the disease. "There were no treatment innovations in the pipeline," Kathy says, "and little to no interest in research investment in the disease." As a former pharmaceutical executive with an MBA from Harvard Business School, Kathy joined forces with her identical twin sister, Karen, a lawyer, to step into the breach. "I knew I needed to do something—not only for myself and my family but for everyone else with this orphan cancer," she says.
The sisters' goal was to "build an innovative foundation that would break down each barrier slowing research and drug development and ensure faster delivery of treatments to patients." Twelve years later, the two women's efforts have resulted in an organization that does just that. The Multiple Myeloma Research Foundation (MMRF) has raised more than $120 million to fund 70 laboratories worldwide and has seen significant strides in research and treatment as a direct result of its work. Through strong collaborations with industry and academia, the MMRF helped bring four new treatments—Thalomid® (thalidomide), Revlimid®(lenalidomide), Velcade® (bortezomib), and Doxil® (pegylated liposomal doxorubicin)—to market in the past five years. In addition, 18 clinical trials of novel and combination treatments have been facilitated by the MMRF's sister organization, the Multiple Myeloma Research Consortium (MMRC), and 40 MMRF-supported compounds are now in preclinical studies and clinical trials.
The organization's ability to break down barriers in drug development and its focus on speed, innovation, and results have created a reputation for efficiency and effectiveness that has caused the scientific and medical communities to sit up and take note. The motivation behind the MMRF's success, Kathy says, is pretty simple: "My hope is to bring patients the next generation of treatments as quickly as possible—whether these are new drugs or combinations of drugs—that will buy time until a cure is found." And as Kathy marvels that she herself has gained so much time, the mission remains highly personal: "When I was diagnosed with multiple myeloma, I was told I would live only three years. To be here today, sharing memories with my family that I never even imagined, is just incredible. I was there when my daughter cheered at her first high school football game and when my son pitched in the Cal Ripkin World Series. We will soon start looking at colleges for my daughter, Nicole; and my son, David, will soon start high school. It's helping other families see milestones like this that drives our work."
Also driving Kathy today is her belief that the organization's work has reached a critical point: "We are truly at a turning point where we now have the knowledge, the team, and the tools to bring patients the next generation of treatments and to find a cure. But with funding for biomedical research diminishing, we will get there only with the support of everyone who is touched by the disease." To this end Kathy works closely with the MMRF Executive Committee to advance the organization's research portfolio with top cancer centers and researchers, and she works with pharmaceutical and biotech companies on active trials and to identify the next generation of promising treatments. In addition, she continues to work toward building strong alliances and partnerships to accelerate the delivery of new treatments, and she meets with donors and patients to help them better understand why their donations are so critical.
Through all these efforts, Kathy says, she has been accompanied by Karen who, in addition to co-founding the MMRF, also served as Kathy's donor when she had a stem cell transplant. "Karen and I have always pushed and supported each other. I am so blessed and forever grateful that she has been with me every step of the way." And now, not willing to rest on the laurels of their accomplishments to date, the sisters continue to move the organization forward, spurred on by both their success and by the work left to do: "Despite the progress we have made," Kathy says, "multiple myeloma remains incurable. The reality of relapse is a powerful motivator for all of us at the MMRF to work urgently, driven always by a culture of innovation, speed, and results."
For more information about the Multiple Myeloma Research Foundation, visit www.multiplemyeloma.org.
The Leukemia & Lymphoma Society
If your child is diagnosed with acute myeloid leukemia at 11 months, it's not exactly a topic that the other moms at playgroup are going to know a lot about. Where do you go for information and support? In Ruby Markley's case, the 33-year-old mother from Burke, Virginia, took advantage of the Leukemia & Lymphoma Society's First Connection program to reach out and connect with another family with a similar diagnosis. She was put in touch with Lori Ruderman, whose child underwent a similar experience.
"It was so helpful," Ruby says. "I got a great deal of information from her that I was able to go back to the doctor with to ask the right questions. And she gave me a lot of hope because her son went through the same thing and was doing well. At the time I was questioning everything, and she was so helpful." Ruby's daughter, now three years old, is through with her treatment and in good health.
The First Connection program, in which newly diagnosed patients are linked with peer volunteers who have experienced a similar diagnosis, is one of many patient support services that the Leukemia & Lymphoma Society (LLS) has created to serve people whose lives have been affected by a blood cancer diagnosis. Other critical elements of LLS's patient support program include family support groups; the Information Resource Center ([800] 955-4572), staffed by master's-level social workers, nurses, and public health educators; and an award-winning Web site (www.lls.org) that provides information ranging from the latest news on treatments, to guidance finding clinical trials, to listings and registration information for free educational webcasts and teleconferences offered by LLS.
In addition to the patient support services that provide invaluable resources, LLS is dedicated to identifying and funding critical blood cancer research. When Rudolph and Antoinette de Villiers founded the LLS in 1949 after losing their 16-year-old son to leukemia, they believed that a concerted partnership among public, academic, for-profit, and nonprofit sources was needed to fund cancer research. Sixty years later, the de Villierses' vision has proved correct. While pharmaceutical companies and government agencies provide significant funding for research, LLS and other large nonprofits play a critical role in identifying and helping support leading-edge science.

Some of the important blood cancer research that LLS has helped fund includes work toward chemotherapy, bone marrow and stem cell transplantation, and new, targeted oral therapies like Gleevec® (imatinib mesylate). Gleevec, which has become the frontline therapy for chronic myeloid leukemia, has been an especially exciting research project for LLS to be involved in, and its continued support of research was critical to the drug's development at each stage.
The funding for research and for programming comes from individual, foundation, and corporate donors who believe in LLS's mission to cure blood cancer and improve the quality of life of patients and their families. One of the most recognized of LLS's fundraising efforts is the Team In Training® (TNT) campaign, the world's first, biggest, and most successful sports training and fundraising program. Since its inception in 1988, TNT has prepared 389,000 participants to complete marathons, half-marathons, triathlons, 100-mile cycling events, and hiking adventures. Participants in turn have raised more than $950 million to fund cancer research and patient services. In exchange for raising funds, participants receive four to five months of personalized training by certified coaches, a supportive group of teammates, and travel arrangements to the event of their choice.
Programs like TNT, which exemplify the connection between research, fundraising, and patient support, are the hallmark of LLS. Through the work of its main office in White Plains, New York, and its 64 chapters across the United States and Canada, LLS strives to provide patients and researchers with the resources they need to face the challenges that blood cancers present while offering invaluable hope to all those touched by these diseases.
For more information about the Leukemia & Lymphoma Society, visit www.lls.org.
Lymphoma Research Foundation
If you have faced a cancer diagnosis—either your own or that of a loved one—you know that getting credible information about your diagnosis early on is invaluable.
For those searching to understand a lymphoma diagnosis, an excellent first stop is the Lymphoma Research Foundation (LRF), the nation's largest lymphoma-focused voluntary health organization devoted exclusively to funding lymphoma research and providing patients and healthcare professionals with critical information about the disease. Founded in November 2001 by the merger of the Cure for Lymphoma Foundation and the Lymphoma Research Foundation of America, LRF strives to fund cutting-edge lymphoma research and provide information and services to lymphoma patients and their loved ones.
Suzanne Bliss, president of the Lymphoma Research Foundation, says that newly diagnosed patients and family members are often most interested in the patient education programs and patient services programs offered by LRF. "The Foundation's Web site offers 24-hour access to information presented by the world's leading experts through our more than 70 webcasts and podcasts," she says. In addition, the Lymphoma Support Network, a national, one-to-one peer support program that matches lymphoma patients or caregivers with volunteers who have had similar lymphoma-related experiences, offers the opportunity for personal connection. These services are complemented by the foundation's in-person educational programs offered regionally and nationally, which, Suzanne says, "provide the opportunity to learn about the latest in lymphoma research and treatment options from the world's leading medical experts."
Often patients who have benefitted from the services that LRF provides remain engaged with the organization. "It's rare that people contact LRF just once," Suzanne says. "Once people feel they are in a place in their lives where they want to give back to the greater lymphoma community, they often do so by participating in our Public Policy and Advocacy Program, nationwide chapter network, non-competitive 5K Lymphomathon program, or a variety of other activities. These individuals often continue to seek services while giving back to the community from diagnosis through long-term survivorship."
The desire to give back on the part of survivors and their loved ones has been an integral part of the national advocacy work that LRF has carried out. Through the organization's Public Policy and Advocacy Program, LRF advocates work to increase federal funding for research and to ensure that patients have access to high-quality care. Suzanne says that through "mobilizing LRF chapter members and volunteers to engage in activities like writing and phoning their federal legislators," LRF educates policymakers and influences them to support policies and legislation that have a positive impact on the lymphoma community. The advocacy work provides a unique opportunity for members of the lymphoma community to make a difference in the lives of patients and survivors across the country, Suzanne says.
In addition to the patient education and support services and the advocacy work that LRF is engaged in, the organization contributes significantly to lymphoma-specific research through its fellowship grants. To date, LRF has funded more than $40 million in lymphoma research. Given the impact the organization has had on research and on many patients and families, it may come as a surprise to hear that Suzanne's ultimate goal for the foundation is to close its doors permanently: "to close the doors would mean that a cure for lymphoma has been discovered." Until that day arrives, she says, "we will continue funding cutting-edge lymphoma research; and we will be there, providing services for people with lymphoma and their loved ones."
For more information about the Lymphoma Research Foundation, visit www.lymphoma.org.
Copyright © 2018 CancerConnect. All Rights Reserved.