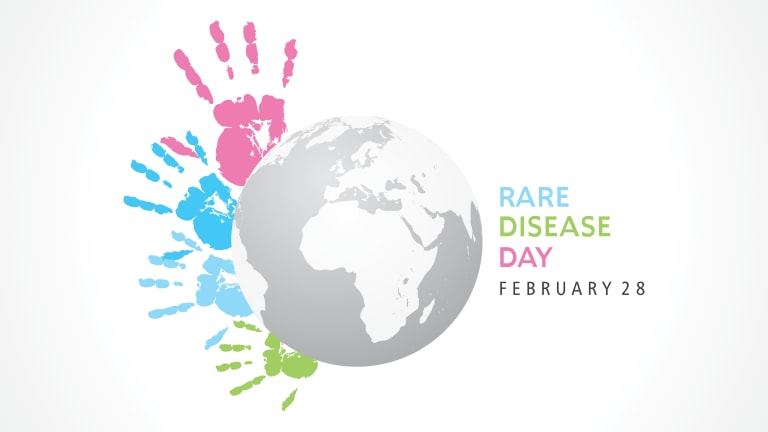 Rare Disease Day- Join the Conversation
February 28th is designated as Rare Disease Day.
by CancerConnect, Medically Reviewed by Dr. C.H. Weaver M.D. 01/2022
Managing a rare cancer diagnosis presents unique challenges. Join the conversation on CancerConnect, to share your experience and connect with others dealing with rare diagnoses: .
Rare Cancers Online Support Group
Also check out this informative article on Managing a Rare Cancer Diagnosis.
Orphan Drug Act: Rare Disease Patients Find Their "Voice," Fight for Innovation
Orphan Drug Act: Rare Disease Patients Find Their "Voice," Fight for Innovation
There Are More Patients Living with Rare Diseases Than the Combined Number of Patients Living With HIV, Heart Disease, Or Stroke.
A year before she was hitting the high notes on national television, Felicia Temple was feeling low. "I didn't really know what was going on with me, but I knew I didn't feel quite right," says the 28-year-old singer and former contestant on NBC's hit show, The Voice. "I was searching to figure out what exactly was wrong with me."
As a perioperative nurse, Temple knows the ins-and outs of successfully navigating the medical system. Perhaps more valuable than her medical training, Temple also developed a strong and forceful patient voice – what she describes as "the courage to speak up when the answers weren't quite right, or forthcoming."
Temple's persistence eventually led to the right diagnosis: a rare disease known as GEPNETS. "I became inducted as a zebra – that is what patients in the GEPNETS community call each other because it's rare and elusive," Temple shared prior to her performance at Patients Rising's Voices of Value: Spotlight on Rare Cancers, Orphan Drugs and Why Patients Need AIR. "After quite a bit of a journey, I was lucky enough to find a path to treatment."
Not all patients living with rare diseases are as lucky in obtaining the right diagnosis – right away. Even fewer rare disease patients have immediate access to a cure or life-saving treatment.
In an effort to give voice to the unique challenges and needs of the rare disease community, Patients Rising hosted a patient advocacy event at Piano Forte in Chicago. The forum kicked off the organization's national initiative, "Patients Need AIR," to address the importance of access, innovation and policy reforms for patients living with rare diseases.
Rare Diseases: 30 Million Patients Speak with One Voice
Heart disease. Breast cancer. Diabetes. It's easy to identify the most common diseases, but what's a rare disease?
Diseases are classified as rare when they affect fewer than 200,000 patients. Collectively, the rare disease community includes more than 30 million patients in the United States. There are more patients living with rare diseases than the combined number of patients living with HIV, heart disease, or stroke.
The patient journey for those living with rare diseases often begins with the difficult task of getting the right diagnosis. Due to their infrequency, rare diseases can be hard to spot for even the best-trained physicians. Patients typically go through a phase of trial-and-error as their medical provider works through a process of elimination to exclude more common diseases.
Dr. Mark Thornton, a clinical pharmacologist and co-founder of the Sarcoma Foundation of America, says that a successful diagnosis is almost immediately followed by fear.
"What the doctor just told them that they had, they've never heard of," he explains of a patient's thought-process. "When they talk to others that they know, they've never heard of that either."
Nearly thirty years ago, Dr. Thornton experienced this information deficit firsthand, when his three-year old son, Jeffrey, was diagnosed with a small sarcoma on his tongue.
"I'm a physician, and I had forgotten from med school what the heck sarcoma was," he recalls. "He had a rare subtype, so it was very tough to figure out what to do."
To help other sarcoma patients, Dr. Thornton and his wife, Patricia, joined with Dr. John Brooks to establish the Sarcoma Foundation of America, a national patient advocacy and research organization dedicated to sarcoma patients and their families. Though its focus is on sarcoma patients, the foundation's patient advocacy frequently emphasizes the challenges and needs of all the entire rare disease community.
Orphan Drug Act: Cures for Rare Diseases
Patients living with rare diseases insist that innovation is paramount. Of more than 7,000 rare diseases, only 5 percent have treatments. Far fewer have cures.
Paul Melmeyer, the director of federal policy at the National Organization for Rare Disorders, says that an overwhelming majority of rare disease treatments – as many as 600 orphan drugs – have been developed since passage of the Orphan Drug Act of 1983.
"Over the last 35 years, we have seen an incredible increase in the development of orphan drugs," he explains. "That is largely due, perhaps solely to the incentives that are within the Orphan Drug Act."
The Orphan Drug Act has accelerated progress in the fight against rare cancers by providing companies with a financial incentive to research treatments for diseases that had largely been ignored. A key provision of landmark patient-centered law provides a tax credit for investments in research and development.
"Those in the private sector, there is no financial incentive really for them to investigate those diseases," Melmeyer points out. "That's where the incentives that are included within the Orphan Drug Act are so, so important."
How Can Patients with Rare Diseases Fight Back Against Icer's Cost-Cutting Formulas?
A veteran of rare disease patient advocacy, Dr. Thornton of the Sarcoma Foundation of America believes that patients and their families must be vocal in standing up for patients' needs. He draws parallels to the early AIDS activists, who forced the Food and Drug Administration to speed up the approval process for new treatments.
"I remember my first years, and the AIDS activists were not appreciated with the FDA," he says. "They didn't care. They just yelled louder, and it worked."
Rare Cancers Support Groups