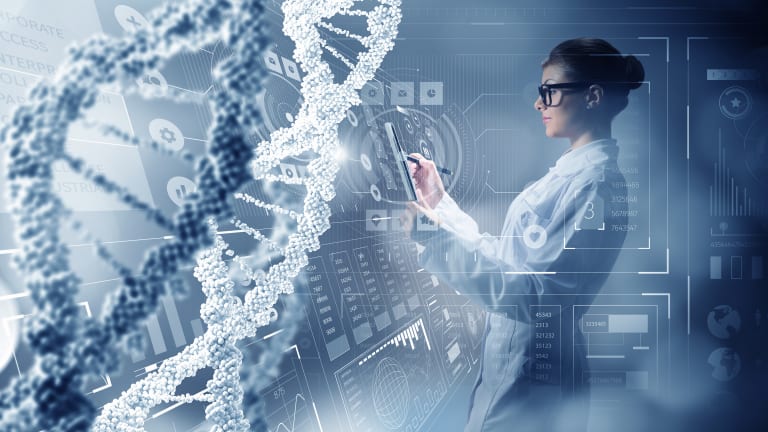 Personalized Medicine: Access Is Power
Personalized medicine has the potential to save women's lives, but not if they can't access it.
by CancerConnect, Medically Reviewed by Dr. C.H. Weaver M.D. 7/2022
One of the most exciting advances in health­care is the growing field of personal­ized medicine. Per­sonalized medicine involves identifying genetic and genomic information that helps predict a person's susceptibility to developing a particular disease, the possible course of that disease, and the disease's response to different treatments.1
Personalized medicine made it possible for Sarah Kelsey, a healthy 41-year-old woman living in Vir­ginia, to take control of her future.
Sarah's mother passed away from metastatic breast cancer in her early forties, and after several other maternal relatives were given the same devastating diagnosis, Sarah ultimately decided to have the genetic test that would deter­mine whether her genetic makeup included the BRCA mutation—an indicator of a strong likelihood of developing breast or ovarian cancer during one's lifetime.
A strong family history of breast cancer was enough for Sar­ah's insurer to cover the cost of genetic testing. After undergoing the genetic test, Sarah learned that she did carry the BRCA mutation. She worked with her care team to evaluate her options, which included vigilance, surgery, and specifically tailored drug therapy. The oncology team treating Sarah recommended close monitoring, which would con­sist of frequent clinical exams and magnetic resonance imaging (MRI), which is more accurate than mam­mography when it comes to detect­ing early-stage breast cancers in young women, who typically have dense breast tissue. This seemed to be a reasonable treatment plan given the positive test results for the BRCA mutation and considering that Sarah was not yet ready to undergo pre­ventive surgery.
When preparing to follow the pre­scribed testing, Sarah learned that her insurer would not cover the cost of repeat, non-diagnostic MRIs. Although she and her husband paid for the MRIs themselves for a while, the compounding expense was a factor in Sarah's ultimate decision to switch gears and undergo preven­tive surgery.
Limited Access to Personalized Medicine Affects Women
Although Sarah's family medi­cal history qualified her to receive BRCA testing through her insurer, many women still experience dif­ficulty in getting coverage of not only MRIs but also BRCA testing. This is despite the fact that BRCA testing is currently the only preven­tive genetic test endorsed by the US Preventive Services Task Force. The Patient Protection and Affordable Care Act (ACA) requires most plans to cover the cost of BRCA testing if a woman's family history indicates a higher-than-average risk for a BRCA mutation.
Many women also have difficulty accessing another area of person­alized medicine: treatments that are tailored to their unique genetic makeup. Pharmacogenetics, which is the study of how a patient's genes affect whether a treatment is likely to be effective, what the appropri­ate dose should be, and whether the patient is likely to experience a serious side effect,2 can assist in identifying the most appropri­ate treatment without requiring a woman to undergo ineffective treat­ment or endure unnecessary adverse effects. Theoretically, the ACA also requires most plans to cover phar­macogenetic testing because the ACA mandates coverage of labora­tory services that allow doctors to determine whether a medication is effective.
Insurers skirt these requirements, however, by exploiting loopholes in the ACA. They use burdensome cost containment policies, such as prior authorization, to make it harder to access innovative treat­ments and technologies.3
Prior authorization is a list of criteria that must be met before the technology will be considered med­ically necessary for disease diag­nosis or treatment. For example, insurers have instituted prior-au­thorization policies that require individuals see a genetic counselor before qualifying for BRCA testing, even though a patient's physician is fully capable of assessing whether the testing is medically necessary simply by determining that breast cancer runs in the family.4 Not only does this requirement result in additional out-of-pocket costs for the patient to see a genetic coun­selor but it may be particularly hard for women in remote areas to find a genetic counselor at all. These women must either travel long dis­tances to find a counselor or forgo the testing altogether because they do not meet the prior-authorization requirement.
States are beginning to enact laws that correct some access prob­lems, but most of these laws do not reach far enough. They often do not include any protections for testing technology. Far too many women find themselves in the same position as Sarah: in need of phar­macogenetic or diagnostic testing but ill equipped to implement their physician's recommendations and the medical community's widely accepted standard of care.
Take Empowering Action
So what can you do if your insurer denies access to the testing and treatments recommended by your physician and accepted as the estab­lished standard of care?
The first step is to appeal the decision. All insurers have appeals processes, and patients often win if they appeal a denied health claim. Work with your physician, who can send a letter on your behalf; and, if you need help with the process, contact a patient advocacy group, such as the Patient Advocate Foun­dation, that offers a variety of resources to help patients access care.
If you have exhausted the appeals process and still cannot access testing, file a complaint for unfair business practices with the state attorney general or insurance com­missioner. While personalized med­icine can offer lifesaving preventive and treatment approaches, it saves no lives if it cannot be accessed.
References:
Personalized Medicine. U.S. News and World Report. January 20, 2011. Available at: http:// health.usnews.com/health-conditions/cancer/per­sonalized-medicine/overview. Accessed July 24, 2016.
Drug-Gene Testing. Mayo Clinic website. Available at: http://mayoresearch.mayo.edu/cen­ter-for-individualized-medicine/drug-gene-test­ing.asp. Accessed July 24, 2016.
Hresko A, Haga SB. Insurance coverage poli­cies for personalized medicine. Journal of Person­alized Medicine. 2012;2(4):201-16. doi: 10.3390/ jpm2040201.
Maas A, UHC Fine-Tunes Policy on Genetic Counseling Prior to BRCA Test. AIS Health website. January 29, 2016. Available at: http:// aishealth.com/archive/nspn0116-04. Accessed July 24, 2016.
Stacey L. Worthy, Esq.,is the exec­utive director at Alliance for the Adoption of Innovations in Medi­cine (Aimed Alliance), a nonprofit organization that improves health­care in the United States by expand­ing access to evidence-based treat­ments and technologies. In this role, she provides unique legal insight through research and anal­ysis of laws, regulations, and leg­islation; develops policy; manages advocacy initiatives; and oversees coalition-building efforts of allied organizations focused on advanc­ing the common goal of improving provider-driven, patient-centered care. She is also a partner at DCBA Law & Policy in Washington, DC.