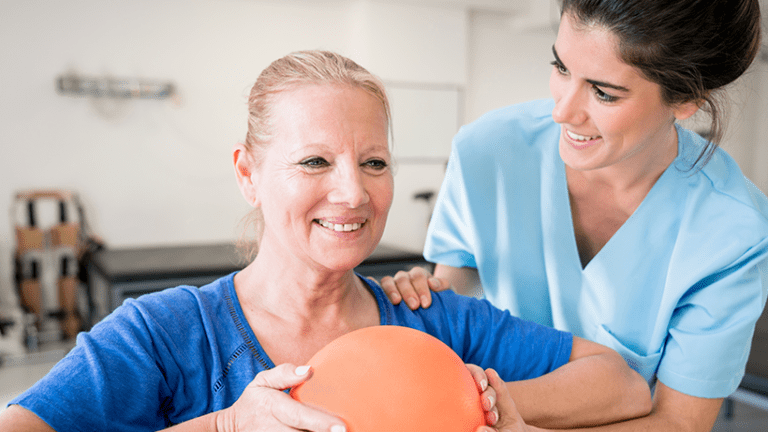 Newly Diagnosed With Cancer: Should You Consider Cancer Prehab?
Patients benefit from physical and emotional preparation for cancer treatment.
by Laurie Wertich
Patients benefit from physical and emotional preparation for cancer treatment. More than one in three women in the United States today will hear a doctor say, "You have cancer."1 What will happen next is changing for the better, due to an emerging medical field called "cancer prehabilitation," or cancer prehab.
Prehab itself is not a new concept; it is used to improve the health and the endurance of patients in anticipation of surgery or other major medical treatment, and it improves patient outcomes. For example, someone with severe arthritis who elects to undergo a knee replacement may be advised to attend a prehab program, sometimes called "joint camp." The goal of joint camp is to improve the likelihood that the surgery will go well—and literally get the patient back on her feet as soon as possible. Before surgery she would be taught various strengthening exercises, how to use a walker and a cane (as she transitions from one to the other after surgery) and how to recognize, and hopefully avoid, postoperative complications.
Fortunately for cancer patients, prehab is becoming integrated into cancer care, with the goal of preparing patients for rigorous treatments and decreasing the likelihood of post-treatment impairments.
What Is Cancer Prehab?
In its simplest form, cancer prehab can be thought of as medical interventions that help patients get physically and emotionally stronger before they start treatment. For example, swallowing exercises started prior to surgery and chemoradiation for head and neck cancer may improve a survivor's ability to swallow throughout treatment. This would enable the patient to eat, which in turn would prevent weight loss and improve energy and overall strength so that she can better tolerate the treatments.
In a scientific article published by the American Cancer Society in Cancer Journal for Clinicians, cancer prehabilitation was defined as "a process on the cancer continuum of care that occurs between the time of cancer diagnosis and the beginning of acute treatment and includes physical and psychological assessments that establish a baseline functional level, identify impairments, and provide interventions that promote physical and psychological health to reduce the incidence and/or severity of future impairments."
Different cancer prehab interventions can be combined to improve both the physical and the emotional health of the survivor. For instance, a woman with breast cancer who is scheduled to undergo a mastectomy and breast reconstruction may benefit from pretreatment support from an oncology mental health professional, who can teach her specific mind-body skills to decrease stress and anxiety about the surgery. A physical therapist can prescribe upper-body strengthening and range-of-motion exercises that may reduce the risk of postoperative pain and other complications such as "frozen shoulder." If the patient is a smoker, smoking-cessation counseling might help her quit prior to the operation, which is significant because people who are actively smoking at the time of their surgery tend to have more complications.
Navigating to Prehab
In many hospitals and cancer centers, nurse navigators are uniquely positioned to help identify which patients may benefit from prehab services. The role of nurse navigators is to help patients more easily access care in a complicated medical system. They often focus on "barriers" to care. For example, if a woman was just diagnosed with lung cancer and has health insurance but can't afford the co-pays associated with medical appointments, the navigator's job is to help identify other resources that might be willing to pay these fees (such as a local foundation or a hospital-based fund that is set up specifically for that purpose). Another example would be if the newly diagnosed patient were not able to get appointments scheduled with doctors or other healthcare providers. A navigator can often step in and help to get the appointments scheduled quickly and efficiently—alleviating considerable stress on the patient.

Nursing navigation is becoming an increasingly important part of survivorship care, and it often begins at diagnosis, with the oncologist and the nurse navigator working together to help a new patient begin the complicated journey through cancer treatment. Navigators can then facilitate prehab referrals and also conduct some of the assessments and interventions.
Lillie Shockney, RN, an associate professor, is the director of the Johns Hopkins Cancer Survivorship Programs and the founder of the Academy of Oncology Nurse Navigators. Lillie believes that prehab has an important role in the cancer care continuum. She says, "It has been illogical for decades to tell patients to anticipate and cope with side effects during their cancer treatment when, by being proactive, we can diminish or even prevent some of them."
A Window of Opportunity
Although some newly diagnosed cancer patients have urgent, life-threatening problems that require immediate surgery or other treatments, generally this is not the case. In fact, many cancers are first noticed on screening tests such as a mammogram or colonoscopy. As patients undergo biopsies and other tests to confirm the diagnosis or seek another opinion, they may wait days or weeks for treatment to start. This means that there is usually some time for cancer prehab to physically and emotionally prepare them for the start of treatment. On the other hand, unnecessary delays in cancer treatment, even for prehab, are usually not advisable, and it is important to follow a doctor's advice.
Beginning to Heal before Treatment Even Starts
A new cancer diagnosis is shocking and often puts the patient into an emotional tailspin, making her feel out of control, anxious, and scared. Cancer prehab can be a lifeline, offering both emotional and physical support at a critical juncture. Nancy Hutchison, MD, medical director of cancer rehabilitation, survivorship, and lymphedema at Allina Health in Minneapolis, Minnesota, notes that muscle weakness, fatigue, and difficulty with daily chores or work tasks are some of the main side effects of chemotherapy and radiation therapy. She says, "Patients who improve their fitness level prior to undergoing cancer treatment are better able to tolerate treatment and recover faster." Although cancer prehab is evolving, Dr. Hutchison believes that it will "become the norm" for many types of cancer in the future.
David Landay is the founding executive director of Survivorship AtoZ.org, which is an online resource that provides information and tools to empower cancer survivors. David says, "Prehab is like dressing in armor for the mind and the body—armor that prepares you for the battle ahead." Indeed, every newly diagnosed cancer survivor should be asking her healthcare team whether prehab will help her prepare for the upcoming battle.
Reference
1.
Copyright © 2018 CancerConnect. All Rights Reserved.