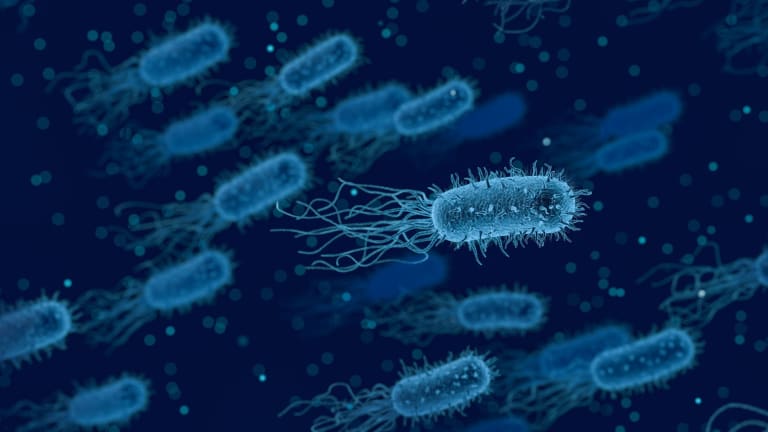 Can The Microbiome Influence Treatment Outcomes in Cancer Patients?
Increasing Evidence Suggests The Gut Microbiota Can Impact the Treatment of Prostate, Lung Cancer and Melanoma
by Dr. C.H. Weaver M.D. Updated 4/2022
Doctors increasingly believe that a patient's microbiome can influence the development of cancer and a patients response to treatment including side effects.
Research suggests that gut bacteria may fuel prostate and colon cancer and lung cancer patients on immunotherapy have vastly different microbiota than healthy individuals and may experience different side effects based on microbiota composition.2,3
What is the microbiome?
There's a community of 38,000,000,000,000 microorganisms (mostly bacteria) living in and on us. These bacteria are essential to our health. They digest our food, regulate inflammation, and synthesize key vitamins, metabolites, and neurotransmitters—in exchange for just a portion of our daily calories and a warm place to live. In an astonishing journey of symbiosis, microbes co-evolved with humans, carrying in their genes, and therefore in us, the entire history of the world. We are in essence our own, ecosystem.
A new era of research examines the role of the bacteria in our intestines (microbiota) as a potentially important regulator of health and a contributor to a variety of diseases. The bacteria in the gut, referred to as the gut microbiome, appears to play a significant role in disease.
Researchers have been looking at how to improve the bodies immune defenses against cancer for years. Evidence is increasing that the gut microbiome has a major influence on individuals overall health. 
Microbiome May Influence Response to Immunotherapy
The composition of the gut microbiota can influence whether patients with advanced cancer respond to ICIs,2 and treatment with antibiotics has been demonstrated to interfere with the clinical benefit of ICIs.  Metastatic cancer patients treated with immune checkpoint inhibitor therapy (ICIs), previously exposed to antibiotic therapy have been observed to have a lower response rate to treatment and worse overall survival.1
Doctors analyzed 196 patients treated with ICIs at 2 major cancer centers between in an attempt to determine whether prior or current use of antibiotics affected the response to ICI treatment of patients with advanced cancer, 29 had received prior and 69 concurrent antibiotic therapy.
The response rate for patients not receiving prior antibiotic therapy was nearly double that observed for patients treated with antibiotics before ICI therapy. Analysis showed that prior antibiotic therapy, but not concurrent antibiotic therapy was associated with worse overall survival. NSCLC, melanoma and other cancers not previously exposed to antibiotics survived 1-2 years longer on average.
There are several limitations to these studies including small sample size and no matched analyses of gut microbiota, however the findings are suggestive that maintenance of healthy gut microbiota can impact immunotherapy treatment. The study authors concluded that clinicians should carefully the weigh the pros and cons of prescribing broad-spectrum antibiotic therapy prior to ICI treatment.
Can Gut Bacteria Fuel Prostate Cancer?
Castration-resistant prostate cancers continue to grow and spread, even as their "fuel supply"—testosterone—is lowered by androgen deprivation therapy (ADT) - gut microbiota or "bugs in the gut," may be the culprits!
It turns out that when you start on ADT, bacteria in your gut can start making testosterone which can provide prostate cancer cells with an alternative "fuel supply," resulting in a cancer that can continue to grow.3
Studies in mice and in patients with prostate cancer, researchers demonstrated the complex relationships among gut bacteria, hormone levels, patient outcomes, and even antibiotic therapy. They found that patients with prostate cancer on ADT had higher amounts of certain types of bacteria (Akkermansia and Ruminococcus) that have the ability to make androgens. When  testosterone making bacteria were transplanted from patients with CRPC into mice with hormone-sensitive prostate cancer, the researchers saw tumors grow and become resistant to treatment. 
The researchers also tested the effect of antibiotics in mouse models of prostate cancer. Treating mice with antibiotics killed off gut bacteria…..and slowed tumor progression. 
Colon Cancer
Research suggests that the microbiome is able to have growth-suppressive effects on colon cancer cells, and that the compound reuterin, produced by Lactobacillus reuteri, is the metabolite most responsible for inhibition of colon cancer cell proliferation.4
Microbiome Differs Between Patient and May Impact Side Effects
Patients with lung cancer have significantly different microbiome composition compared with healthy subjects.
Researchers took swabs of patients' noses and mouths and stool samples to study the microbiome composition of 16 patients with lung cancer who had been previously treated with various anti-PD-1/PD-L1 immunotherapy both with and without chemotherapy and compared their microbiota to that of 8 healthy subjects.
They discovered vast differences in microbiota between lung cancer patients and the healthy individuals and patients with lung cancer who reported immunotherapy-related side effects were found to have more Anaerostipes and Eggerthella and fewer Lachnospira compared with other lung cancer patients who did not report treatment related side effects.2
A clinical study with Keytruda (pembrolizumab) in a novel untried combination is the first ovarian cancer clinical trial to incorporate gut flora analysis. Dr. Emese Zsiros, the study's Principal Investigator, explains a new, unique clinical trial investigating immunotherapy for patients with advanced ovarian cancer.
A new clinical study underway at Roswell Park Cancer Institute is the first to test the combination of the immunotherapy Keytruda with two other drugs as treatment for recurrent epithelial ovarian cancer, and is also the first ovarian cancer clinical trial to incorporate analysis of patients' microbiomes — the bacteria present in the human gut and other organs.
This new study, led by Dr. Zsiros Assistant Professor of Oncology in Roswell Park's Department of Gynecologic Oncology and Center for Immunotherapy is a phase II clinical trial that will enroll approximately 40 patients with recurrent epithelial ovarian, fallopian tube, or primary peritoneal cancer, and will evaluate the impact of the combination of the PD1-targeting antibody Keytruda with intravenous Avastin (bevacizumab) and oral Cytoxan (cyclophosphamide) on antitumor immune responses and on progression-free survival.
Keytruda has been approved by the U.S. Food and Drug Administration for treatment of advanced melanoma, some metastatic non-small cell lung cancers and recurrent squamous cell head/neck carcinoma, but has only been tested in a small number of ovarian cancer patients, as a single drug and showing modest response. The investigators say a strong scientific rationale supports their hypothesis that the combination of Keytruda with two other drugs that have already been approved to treat ovarian cancer — Avastin and low-dose oral cyclophosphamide — may have much broader benefit for patients.
"Our biggest hope is that by trying these three drugs in combination, we can significantly extend the lives of patients with recurrent ovarian cancer. We also hope to minimize the side effects associated with chemotherapy drugs, and to markedly improve the quality of our patients' lives," says Dr. Zsiros. "We will be looking at potential biomarkers that will tell us who can most benefit from this therapy combination and to better understand how cancer cells and immune cells communicate with one another so that we can design better medications to kill cancer efficiently."
As part of this study, the clinical team will analyze blood, tumor, stool, vaginal and skin microbiome samples, looking to identify possible associations between these markers with clinical outcomes and tumor response. The study, which is supported by a grant from Merck & Co. Inc., maker of Keytruda, will be one of the first to analyze these bacteria to determine possible associations with response to immunotherapeutic agents in patients with cancer.
"We're looking at how to improve our immune defenses to cancer, but we're looking at it from a variety of angles," says Dr. Zsiros. "There's a whole new area of research suggesting that what's going on in our gut, our gut flora, has a huge influence on your overall health and happiness, and this study will extend that work into some new directions."
References
Pinato DJ, Howlett S, Ottaviani D, et al.
Chau J, Yadav M, Furqan M, et al. Analysis of patient microbiome and its correlation to immunotherapy response and toxicity in lung cancer. Presented at: International Association for the Study of Lung Cancer (IASLC) 2019 North America Conference on Lung Cancer (NACLC 2019); October 10-12, 2019: Chicago, Illinois. Abstract OA03.04
https://www.science.org/doi/10.1126/science.abf8403