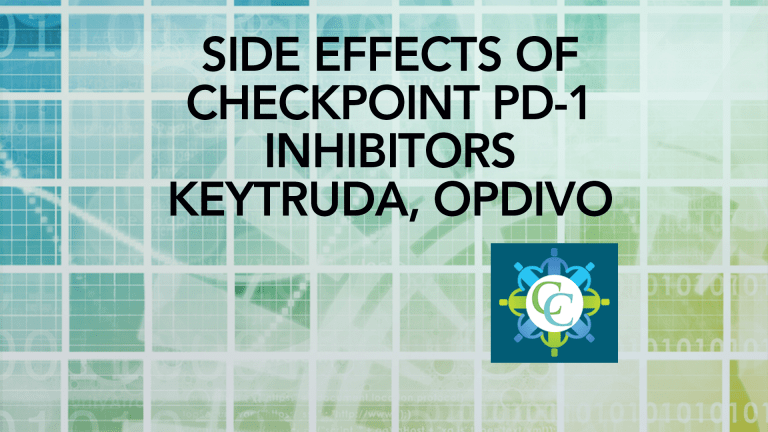 Immune Checkpoint Inhibitor Side Effects & Toxicity More Common Than Reported
Checkpoint inhibitor immunotherapy side effects - lung toxicity reported to be more common than previously thought.
by Dr. C.H. Weaver M.D. updated 7/2022
​Immune checkpoint inhibitors (ICI) are rapidly replacing chemotherapy treatment and have become the standard of care for the treatment of many types of cancer. With greater use and longer follow up a better understanding of their unique side effects is emerging. In addition to well know side effects checkpoint inhibitors also cause more immune mediated complications that patients and physicians alike need to be aware of.
Types of Checkpoint Inhibitors
Block PD-1 or PD-L1
Keytruda® (pembrolizumab)
Opdivo® (nivolumab)
Imfinzi® (durvalumab)
Tecentriq® (atezolizumab)
Bavencio® (avelumab)
Block cytotoxic T lymphocyte antigen 4 (CTLA-4)
According to the results of a study presented at the American Society of Clinical Oncology annual meeting, different PD-1 and PD-L1 inhibitors appear to have varying side effects. Researchers reported the results of a systematic review and meta-analysis of treatment-related side effects occurring with PD-1 and PD-L1 inhibitors in 125 clinical trials that together comprised 20,128 patients.1-4
The most frequently observed side effects were fatigue, itching, and diarrhea.
The most common endocrine immune-related side effects were hypothyroidism 6% and hyperthyroidism 3%.
Opdivo (nivolumab) was associated with more side effects than Keytruda (pembrolizumab).
PD-1 Inhibitors were associated with more side effects than PD-L1 inhibitors.
How common are immune mediated side effects?
The incidence of immune related side effects varies depending on the class of immune checkpoint inhibitor administered and the type of cancer. Side effects are reported to occur in 54% of patients receiving a CTLA-4 inhibitor, 27% receiving a PD-1 inhibitor, and 17% receiving a PD-L1 inhibitor. The combination of a CTLA-4 and PD-L1 inhibitor results in about 61% of patients developing an irAE.1-4
Serious side effects occur less frequently, in about 22%, 7%, and 6% of patients treated with a CTLA-4, PD-1, or PD-L1 inhibitor, respectively. Death occurs rarely, about 0.3% overall, with most deaths due to side effects affecting the colon or liver.4
What are the immune mediated side effects of Checkpoint Inhibitor Medications?
Checkpoint inhibitors are monoclonal antibodies that block inhibitors of immune T-cell activation and function. Immune checkpoints on T cells normally prevent autoimmunity by inhibiting dendritic cell-mediated T-cell activation (CTLA-4) or by inducing T-cell exhaustion at sites of inflammation (PD-1/PD-L1). By removing inhibition of T-cell function, checkpoint inhibitors facilitate T-cell–mediated actions on tumors. A consequence of improving T cell function however is that these drugs may also increase T-cell autoimmune activity against the patient. The known organ-specific inflammatory side effects were recently described in the Journal of the American Medical Association. Cancer patients and their doctors should watch for these symptoms while on treatment.5
Skin: 
Up to 30% of patients treated with ICIs experience skin toxicity. This include itching, an acneiform rash, and occasionally blisters and involvement of the deeper layers of the skin.
Colitis: 
 Inflammation of the colon is reported to occur in 25% of patients treated with Yervoy (ipilimumab) and < 5% of patients treated with anti–PD-1/PD-L1 therapy. Colitis may be life-threatening or mild watery diarrhea and patients should seek treatment early. Entyvio (Vedolizumab), is a monoclonal antibody medication that has gut-selective anti-inflammatory activity.
Lung inflammation or Pneumonitis 
Findings from a study of 205 patients with NSCLC treated with checkpoint inhibitors at Johns Hopkins Hospital in Baltimore, Maryland, between 2007 and 2017 have been reported and suggest that checkpoint inhibitor pneumonitis is much more common than previously thought. Overall it impacted 19% of patients, compared with 5% or fewer of patients in clinical trial settings.
Cough and shortness of breath and the main symptoms of pneumonitis and patients can also experience low blood levels of oxygen and visible infiltrates on chest x-ray. Almost all of the patients with serious toxicity experienced symptoms within 200 days of beginning treatment.
The pneumonitis can respond to treatment with steroids, however some patients develop difficulty breathing and require oxygen therapy and discontinuation of checkpoint inhibitor therapy.5
Endocrine Dysfunction:
Hypophysitis or inflammation of the pituitary gland is mainly a side effect of anti-CTLA-4 therapy (up to 10% incidence). Signs and symptoms are mainly those of adrenal insufficiency including low blood pressure and headache.
Hypothyroidism is reported to occur in up to 20% of individuals and is often preceded by symptomatic inflammatory thyroiditis and require thyroid hormone replacement.
Hepatitis occurs in 1% of patients prescribed anti‐PD1/PD‐L1 agents and 10% of patients prescribed anti-CTLA-4 agents.
Heart
Myocarditis occurs in less than 1% of patients and the main symptoms are fatigue, shortness of breath, chest discomfort, and arrhythmias.
Recent research suggests that 10% of patients treated with ICIs may experience significant cardiac side effects that occur on average 5 months from beginning therapy.   Side effects are more likely in individuals with other cardiovascular risk factors, including heart failure (HF) and valvular heart disease (VHD). It is believed that increased inflammation from ICI use leads to increased cardiovascular events. The exact mechanisms are not known however atherosclerosis is an inflammatory disease, and the hypothesis is that the increased inflammation from ICI treatment leads to increased atherosclerosis.
A thorough cardiovascular history including an ECG, and echocardiography should be considered before and after ICI treatment.12
These autoimmune mediated side effects associated with anti–CTLA-4 treatments tend to occur earlier, more frequently, and are more severe than those associated with anti–PD-1/PD-L1 checkpoint inhibitor therapy.
Inflammatory Arthritis
Inflammatory arthritis is a recognized side effect associated with immune checkpoint blockade. According to Johns Hopkins doctors , immune checkpoint inhibitor-induced inflammatory arthritis is under appreciated and may be clinically severe, rapidly destructive, disabling, and affect a patient's quality of life.6,7
Johns Hopkins rheumatologists reported a series of 13 patients who had developed rheumatologic complications while being treated with immune checkpoint blockade, of whom 9 had developed inflammatory arthritis. They estimate it may impact as many as 10% to 15% of patients being treated with a checkpoint inhibitor.
Joint pain and other inflammatory symptoms, such as joint stiffness after sleep or inactivity or an improvement in symptoms with movement or heat; and joint swelling appear to be the hallmarks of the condition and are categorized by severity into grades 1, 2, and 3.
If the symptoms are severe enough to affect the patient's activities of daily living, then additional tests may be warranted. These include blood tests for antinuclear antibody, rheumatoid factor, anticyclic citrullinated peptide, and human leukocyte antigen B27.
Patients with ICI associated arthritis however had and very low rates of seropositivity (RF 1.8%, CCP 5.5%, ANA 14.3%) or ESR or CRP elevations.
The doctors suggest similar management strategies to those used in the treatment of rheumatoid arthritis; non-steroidal anti-inflammatory drugs (NSAIDs) and steroids for mild cases and methotrexate and tumor necrosis factor inhibition for more severe symptoms. If the inflammation is severe, then a higher dose of steroid in oral form is suggested. In some cases, added immunosuppression may be used, in consultation with a rheumatologist, and in some situations, treatment with immune checkpoint blockade will have to be discontinued, if symptoms do not improve in 4 to 6 weeks. Importantly for cancer patients being treated with checkpoint inhibitors, they need to bring any symptoms of joint pain or stiffness to the attention of their treating physician.
How are immune mediated side effects of Checkpoint inhibitors managed?
Depending on the severity of the side effect the medication may need to be discontinued.
Treatment with low-dose prednisone is used for mild side effects, and high dose steroids are used for more severe side effects.
Individuals that don't respond to steroid treatment are considered for second-line immunosuppressive therapy with infliximab or mycophenolate mofetil.
For patients who discontinue immune checkpoint inhibition early, several small studies indicate that there was no difference in survival outcomes compared with patients who completed a full course.8,9
Can the Checkpoint inhibitor be continued once the side effect is resolved?
For patients whose immune checkpoint inhibitor was discontinued, a rechallenge with the same or another immune checkpoint inhibitor remains controversial. Some studies found a high rate of the same or new side effects, whereas others found low rates of upon rechallenge.10,11 More studies are needed to determine if a rechallenge with an immune checkpoint inhibition is safe.
When do ICI side effects occur and how long do they last?
Side effects may begin during treatment, occur almost anytime following treatment and persist for months. In the Johns Hopkins report 71% of individual experienced side effects at 3 months and 49% at 6 months after stopping therapy despite most patients (75%) receiving some form of immunomodulatory treatment with 80% receiving steroids.
References:
JAMA Oncol. 2019 Apr 25. Epub ahead of print
McGettigan S, Rubin KM. PD-1 inhibitor therapy: consensus statement from the faculty of the Melanoma Nursing Initiative on managing adverse events. Clin J Oncol Nursing. 2017;21(4 Suppl):42-51. doi: 10.1188/17.CJON.S4.42-51
El Osta B, Hu F, Sadek R, Chintalapally R, and Tang S-C. [Not all immune-checkpoint inhibitors are created equal: Meta-analysis and systematic review of immune-related adverse events in cancer trials](https://www.croh-online.com/article/S1040-8428(17%2930235-4/fulltext). Crit Rev Oncol Hematol. 2017;119:1-12.
jamanetwork.com/journals/jamaoncology/fullarticle/270172
Suresh K, Voong KR, Shankar B, et al. [Pneumonitis in non-small cell lung cancer patients receiving immune checkpoint immunotherapy: incidence and risk factors](https://www.jto.org/article/S1556-0864(18%2933118-6/fulltext) [published online September 26, 2018]. J Thorac Oncol. 2018;S1556-0864(18):33118-6. doi: 10.1016/j.jtho.2018.08.2035
Ann Rheum Dis.2016;76:43-50
Postow MA, Sidlow R, Hellmann MD. Immune-related adverse events associated with immune checkpoint blockade. N Engl J Med. 2018;378(2):158-168.
Martini DJ, Hamieh L, McKay RR, et al. Durable clinical benefit in metastatic renal cell carcinoma patients who discontinue PD-1/PD-L1 therapy for immune-related adverse events. Cancer Immunol Res. 2018;6(4):402-408.
Santini FC, Rizvi H, Wilkins O, et al. Safety of retreatment with immunotherapy after immune-related toxicity in patients with lung cancers treated with anti-PD(L)-1 therapy. J Clin Oncol. 2017;35(15_suppl). Abstract 9012.
Menzies AM, Johnson DB, Ramanujam S, et al. Anti-PD-1 therapy in patients with advanced melanoma and preexisting autoimmune disorders or major toxicity with ipilimumab. Ann Oncol. 2017;28(2):368-376.
https://ascopubs.org/doi/full/10.1200/JCO.21.01808