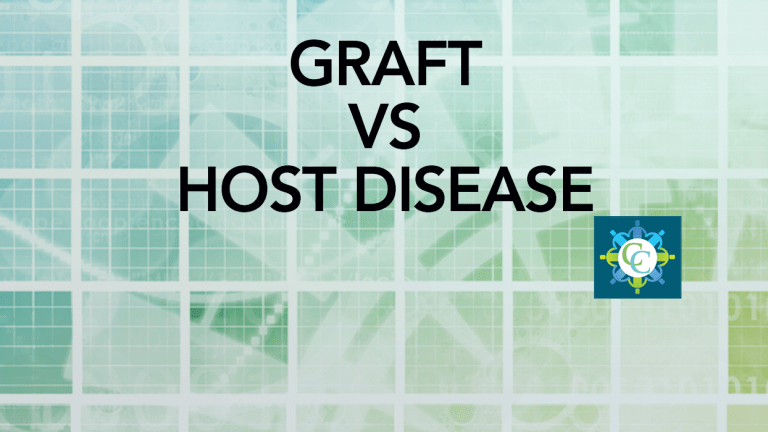 Graft-versus-Host-Disease (GvHD) in Depth
Understanding GVHD and its Management
Graft-versus-disease is a common complication after a bone marrow, stem cell or cord blood transplant using cells from a donor. GVHD may impact any organ system in the body for several years following transplant so transplant recipients any new signs or symptoms should bring them to the attention of their oncologist and transplant team. 
GVHD occurs when the donor's immune system (the graft) perceives the patient's organs and tissues (the host) as unfamiliar cells that should be destroyed. The cells that trigger this reaction are a type of white blood cell called T- cell lymphocytes. They are part of the immune system and help protect the body against infection and fight cancer. Lymphocytes from the donor attack cells in the body of the recipient especially in the skin, gastrointestinal tract, and liver. The common symptoms of acute graft-versus-host disease are skin rashes, jaundice, liver disease and diarrhea. Graft-versus-host disease also increases a patient's susceptibility to infection.
Graft-versus-host disease can develop within days or as long as 3 years after transplantation. Generally, graft-versus-host disease that develops within 3 months following transplantation is called acute graft-versus-host disease, whereas graft-versus-host disease that develops later is called chronic graft-versus-host disease. Doctors don't want to completely eliminate GVHD because it also has an anti-cancer effect. Donor lymphocytes also kill cancer cells and doctors refer to this as a graft-versus-cancer effect. Doctors try to maintain a delicate balance between optimizing the graft verses cancer effect while minimizing GVHD.
Between 20 and 50 percent of patients transplanted with donor cells develop graft-versus-host disease after transplant. The percentage is higher in:
Older patients
Patients who were transplanted with cells from an unrelated donor
Patients transplanted with peripheral blood stem cells, rather than bone marrow or cord blood.
There are two forms of GVHD: acute GVHD and chronic GVHD. Patients may develop one, both or neither. Each has a different effect on organs and tissues. Although acute and chronic GVHD usually occur during different time periods after transplant, it is possible to have both at the same time.
Acute Graft-versus-Host Disease (aGVHD)
Acute GVHD typically occurs during the first three months after transplant and the risk of developing acute GVHD is highest in patients who were transplanted with a mismatched or unrelated donor. Other factors that may increase the risk include:
Total body irradiation before transplant
Remale donor for a male patient
Type of drugs used to prevent acute GVHD
Prevention of Acute GVHD
To reduce the risk of developing aGVHD, patients are usually given medications to suppress the immune system starting a day or two before transplant. These may include….
Cyclosporine and methotrexate
Tacrolimus and methotrexate
Cyclosporine and mycophenolate mofetil (MMF)
Tacrolimus and sirolimus
Antithymocyte globulin (ATG)
At some transplant centers, the T-cells that cause GVHD are removed from the donor's cells prior to transplant. This procedure is called T-cell depletion. Recent trials suggest T Cell depletion may not be very effective.9
Patients typically continue taking these drugs for several months after transplant and your transplant team may give additional drugs after transplant to further reduce the risk of developing GVHD.
Acute GVHD Signs and Symptoms
Skin is the most common manifestation: a mild, faint rash on the back, shoulders, ears or neck or a rash may appear on the palms of the hands or soles of the feet
Gastrointestinal tract
Stomach and intestinal pain

Watery or bloody diarrhea
Nausea and/or vomiting
Loss of appetite
Liver, it can cause:

Elevated liver enzyme levels
Jaundice
Acute GVHD Treatment
An estimated 30% to 60% of patients develop aGVHD during transplantation. The upfront therapy for aGVHD is systemic corticosteroids, but approximately 50% of patients do not respond to this treatment and others lose their response over time. A treatment response of 70% to 80% has been seen in patients at standard risk, and a response rate of approximately 50% has been seen in those at increased risk.
Jakafi (ruxolitinib) is the only approved treatment for steroid refractory acute GVHD and it use has been demonstrated to improve survival.3
Antithymocyte globulin (ATG)
Rapamune® (sirolimus)
Gut microbiota dysbiosis is frequently observed in patients with gastrointestinal (GI) steroid refractory GVHD, creating opportunities for new therapies. Future treatment will likely involve strategies that combine immunosuppression and other agents, such as regenerative or tissue-repair adjunct therapies, to improve treatment response.
Microbiome dysbiosis appears to affect treatment response. Humans have a complex symbiotic relationship with microbes in the gut. When patients go through HSCT gut microbiome injury is common. Patients tend to have reduced microbiota diversity in the first 2 weeks following HSCT that tends to recover after neutrophil engraftment. Patients with low gut microbiota diversity have an increased risk of non-relapse mortality, and intestinal microbiota diversity is an independent predictor of mortality after HSCT.4,5

Fecal microbiota transplantation has shown promise as a way to manipulate the microbiome. This has been tried with success in the refractory setting. This research is just getting started and clinical trials of fecal transplantation in SR-GVHD are ongoing. Recovery of the microbiome might also improve response to therapy. It is possible that a healthy microbiome might be beneficial to other organs as well. Improving the microbiome might be upregulating an anti-inflammatory response that could go beyond the GI tract.
Chronic Graft-versus-Host Disease (cGVHD)
Chronic graft-versus-host disease develops in approximately 50 percent of patients who are transplanted with stem cells from a donor. Chronic GVHD is easier to treat if detected early so don't delay bringing any signs or symptoms to the attention of your doctor. Most cases of chronic GVHD are mild or moderate. However, 10-15 percent of patients develop symptoms that are more severe. Chronic GVHD occurs most often in patients who had acute GVHD, are older, had a mismatched or unrelated donor, are male and received cells from a female donor or received cells from a female donor who had previously borne children
Chronic GVHD most often affects the skin and nails, eyes, mouth, and liver, but can impact any organ including the lungs, intestines, joints, and nervous system.
Signs of Chronic GVHD
Skin discoloration or rash
Tightness or changes in texture of your skin
Thinning hair
Changes in texture of finger and toe nails
Dry eyes or blurred vision
Dry mouth
Vaginal dryness, or irritation
Penis irritation
Nausea, vomiting, diarrhea, anorexia, weight loss
Chronic cough, wheezing, shortness of breath
Difficulty extending fingers, wrists, or other joints
Chronic GVHD Treatment
If chronic GVHD is affecting only one or two organs a localized therapy, like a skin ointment, to manage your disease may be used. Chronic GVHD however typically affects many organs and a systemic treatment to suppress your immune system is usually required. Prednisone/prednisolone with or without cyclosporine or tacrolimus is typically the initial therapy. However newer medications like Jakafi and Rezurock have also become available for controlling chronic GVHD and may offer superior benefit.3
Jakafi® (ruxolitinib)
Rezurock (belumosudil)
Imbruvica® (ibrutinib)
Methotrexate
Mycophenolate mofetil (MMF, CellCept®)
Rapamune® (sirolimus)
Extracorporeal photopheresis (ECP)
National Cancer Institute Chronic GVHD Program
Individuals who develop chronic GVHD are typically best managed by the center where they received their transplant. These doctors are most familiar with the side effects and manifestations of GVHD associated with the specific type of transplant performed. Because people often travel a great distance this is not always possible; Another resource for people living with chronic GVHD is the National Cancer Institute's chronic GVHD program. Specialists familiar with how chronic GVHD affects every part of a patient's body conduct an examination and make recommendations on how best to manage the disease. The evaluation is free of charge and takes place at the National Cancer Institute in Bethesda, Maryland. For details phone 240-858-3681 or click here to view online.
Ongoing Research
Ontak® May be an Effective Treatment Option for Refractory GVHD
According to results recently published in the journal Blood, Ontak® (denileukin diftitox) may effectively treat acute graft-versus-host-disease that has stopped responding to standard therapy in some patients.
Ontak® is a biologic agent that is approved for the treatment of cutaneous T-cell lymphoma. Ontak® is a type of agent that is comprised of two separate proteins that have been fused together through laboratory processes. One of the proteins that make up Ontak® is a laboratory-derived poison (toxin) that is identical to the toxin produced by the bacteria Corynebacterium diphtheriae, commonly known as diphtheria. The other protein segment of Ontak® is called interleukin-2 (IL-2), which is a naturally occurring immune substance responsible for stimulating some immune processes. The IL-2 segment of Ontak® binds to IL-2 receptors (CD25 antigen) on lymphocytes, normal and cancerous, and then delivers the diphtheria toxin into the cell. Once inside, the toxin destroys the cell. Results from some smaller clinical trials have demonstrated that Ontak® may provide an effective treatment option for patients who have stopped responding to standard treatment, including steroids for GVHD.10
Researchers from Boston conducted a clinical trial to further evaluate Ontak® for the treatment of acute GVHD. This trial included 30 patients who had developed acute GVHD following an allogeneic stem cell transplant that had stopped responding to treatment with steroids. Following treatment with Ontak®, half (50%) of the patients achieved a complete resolution of GVHD and 21% achieved a partial resolution.
Rituxan® Effective in Chronic Graft-Versus-Host Disease?
Rituxan® (rituximab) appears effective and well tolerated in the treatment of chronic graft-versus-host-disease. Researchers from the Dana-Farber Cancer Institute, Stanford University, and Brigham and Women's Hospital conducted a clinical trial to evaluate Rituxan in the treatment of chronic GVHD. This trial included 21 patients who had steroid-refractory GVHD and were treated with 38 cycles of Rituxan.11
Rituxan produced responses to GVHD and was well tolerated:
70% of patients achieved a response against chronic GVHD.
Two patients achieved a complete disappearance of GVHD.
Activity of Rituxan was limited to patients with GVHD that affected the skin or muscular/skeletal systems.
The most common side effects associated with Rituxan were infection.
Responses to Rituxan lasted through one year following therapy.
One year after treatment with Rituxan, doses of the steroid prednisone were reduced approximately 75% in patients.
References
Ferrara JL., et al. Graft-versus-host disease. Lancet. 2009;373(9674):1550-1561.
Levine JE, Braun TM, Harris AC, et al; Blood and Marrow Transplant Clinical Trials Network. A prognostic score for acute graft-versus-host disease based on biomarkers: a multicentre study. Lancet Haematol. 2015;2(1):e21-e29. doi:10.1016/S2352-3026(14)00035-0
Zeiser R, von Bubnoff N, Butler J, et al; REACH2 Trial Group. Ruxolitinib for glucocorticoid-refractory acute graft-versus-host disease. N Engl J Med. 2020;382(19):1800-1810. doi:10.1056/NEJMoa1917635
Taur Y, Jenq RR, Perales M-A, et al. The effects of intestinal tract bacterial diversity on mortality following allogeneic hematopoietic stem cell transplantation. Blood. 2014;124(7):1174-1182. doi:10.1182/blood-2014-02-554725
Jenq RR, Taur Y, Devlin SM, et al. Intestinal Blautia is associated with reduced death from graft-versus-host disease. Biol Blood Marrow Transplant. 2015;21(8):1373-1383. doi:10.1016/j.bbmt.2015.04.016
Magenau JM, Goldstein SC, Peltier D, et al. α1-Antitrypsin infusion for treatment of steroid-resistant acute graft-versus-host disease. Blood. 2018;131(12):1372-1379. doi:10.1182/blood-2017-11-815746
Holtan SG, Hoeschen AL, Cao Q, et al. Facilitating resolution of life-threatening acute GVHD with human chorionic gonadotropin and epidermal growth factor. Blood Adv. 2020;4(7):1284-1295. doi:10.1182/bloodadvances.2019001259
US FDA grants full approval of REZUROCK (TM) (belumosudil) for the treatment of patients with chronic graft-versus-host disease (cGVHD). News release. Kadmon Holdings, Inc. July 16, 2021. Accessed July 16, 2021. https://bit.ly/3z14sTW

Pavletic S, Carter S, Kernan N, et al. Influence of T-cell depletion on chronic graft-versus-host disease: results of a multicenter randomized trial in unrelated marrow donor transplantation. Blood. 2005; 106: 3308-3313.

Ho V, Zahrieh D, Hochberg E, et al**.** Safety and efficacy of denileukin diftitox in patients with steroid-refractory acute graft-versus-host disease after allogeneic hematopoietic stem cell transplantation. Blood. 2004; 104: 1224-1226.

Cutler C, Miklos D, Kim H, et al. Rituximab for Steroid-Refractory Chronic Graft-Vs.-Host Disease. Blood. 2006. Early online publication. DOI 10.1182/blood-2006-01-0233.