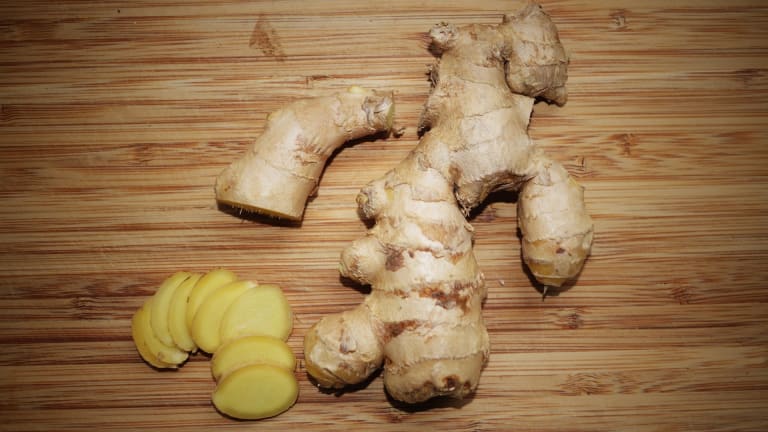 Ginger Supplements Reduce Chemotherapy-induced Nausea
Tips on how to prepare ginger tea and other recipes to prevent chemotherapy induced nausea.
C.H. Weaver M.D. 7/2021
According to the results of a study presented at the annual meeting of the American Society of Clinical Oncology (ASCO), use of ginger supplements in combination with conventional anti-nausea drugs reduces chemotherapy-induced nausea to a greater extent than anti-nausea drugs alone.
Chemotherapy-induced nausea and vomiting (CINV) is a common and potentially serious side effect of cancer treatment. CINV can be severely debilitating and not only interferes with quality of life but also can result in disruption of the treatment schedule.
The best way to manage nausea and vomiting is to prevent it from occurring in the first place. Many new and improved medications for controlling nausea and vomiting have been developed over the last several years. These drugs block the signal in the brain that causes nausea and vomiting. As a result of widespread use of these medications, nausea and/or vomiting are not as severe and do not occur as frequently as in the past.
In an effort to further control CINV, researchers continue to explore new approaches to treatment, including complementary and alternative treatments such as acupuncture and dietary supplementation.
Ginger is thought to have anti-inflammatory properties in the gastrointestinal tract. Previous studies of ginger for CINV have produced inconsistent results, but these studies assessed the effect of ginger given after the start of chemotherapy. Earlier use of ginger may provide more benefits.
To assess the effect of ginger supplementation given before and after the start of chemotherapy, researchers conducted a study among 644 patients. Patients were assigned to receive either a placebo or one of three doses of ginger given in capsule form (0.5g, 1.0g, or 1.5g). The placebo or ginger was divided into two doses given each day for six days, starting three days before chemotherapy. Patients also received traditional anti-nausea drugs.
Information about nausea was collected during the first four days of the chemotherapy cycle.
All three doses of ginger were more effective than the placebo at reducing nausea. The two lower doses (0.5g and 1.0g) appeared to have the greatest effect.
These results suggest that the addition of ginger supplements to conventional anti-nausea medications reduces chemotherapy-induced nausea. The researchers note, however, that patients should speak with their doctor before taking ginger or any other dietary supplement.
Ginger Tea and "Dishes" to Prevent Nausea
Apple Ginger Tea
The ginger in this hot drink helps to reduce nausea associated with cancer treatment.
½ apple, seeds removed
½-inch slice of raw ginger
6 ounces hot green tea
Juice the apple and ginger according to your juice machine's instructions.
Pour the juice into a mug and add hot green tea.
Drink immediately.
Makes 1 serving
Green Tea Miso Soup
4 cups strongly brewed green tea
3 tablespoons finely chopped scallions
Optional: 1 tablespoon nori flakes
4 tablespoons miso paste
In a large saucepan, gently heat the tea. Add the scallions and the nori flakes if desired. Nori adds minerals and a rich, salty flavor to soup.
Remove from heat and stir in miso. Serve immediately.
Makes 4 servings
Brewing Green Tea
Use one teaspoon of loose tea leaves for a small pot of tea. Use two teaspoons for a large pot of tea. Boil water, then pour into a porcelain teapot or mug and let cool for one minute. Add tea leaves and let brew for 1 to 3 minutes, depending on the desired strength. Serve or add to juice immediately.
Preparation Tip
The most important tip for steeping green tea is to use water that is just below the boiling point. Steep for under three minutes. This will draw out the maximum benefit from the tea and the least amount of caffeine.
References:
2009 ASCO Annual Meeting May 14 Presscast. Ryan JL et al. Ginger for chemotherapy-related nausea in cancer patients: A URCC CCOP randomized, double-blind, placebo-controlled clinical trial of 644 cancer patients. Abstract #9511.
Adapted from the What to Eat of You Have Cancer Cookbook, McGraw-Hill, 1997.