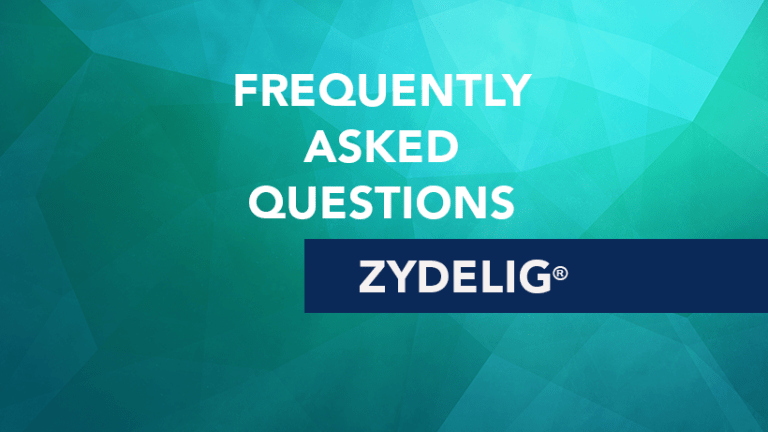 Frequently Asked Questions about Zydelig® (Idelalisib)
Understand the administration, side effects and answers to frequently asked questions about Zydelig®
Class: Biological Therapy
Generic Name: Idelalisib
Trade Name: Zydelig®
For which conditions is Zydelig® approved for? Zydelig is approved to treat patients with three types of blood cancers: chronic lymphocytic leukemia that has returned (relapsed), relapsed follicular B-cell non-Hodgkin lymphoma, and relapsed small lymphocytic lymphoma.
What is the mechanism of action? Zydelig is a kinase inhibitor. These drugs work by blocking the action of enzymes called kinases, which are involved in many cell functions, including cell signaling, growth, and division. These enzymes may be too active or found at high levels in some types of cancer cells, and blocking them may help keep cancer cells from growing. Specifically, Zydelig is an inhibitor of the PI3K? kinase, which is expressed in normal and malignant B-cells.
How is Zydelig typically given (administered)? Zydelig is taken orally as a tablet, two times a day, with or without food. The tablets must be swallowed whole; not crushed or chewed.
How are patients typically monitored? During treatment with Zydelig, patients are monitored for severe skin reactions, allergic reactions, liver problems, lung breathing problems, and will have blood counts taken to monitor for neutropenia (low count of neutrophils, a type of white blood cell that helps fight off infections).
What are the common (occur in 30% or more of patients) side effects of treatment with Zydelig?
Fever
Neutrophil count decreased
High triglyceride levels
High blood sugar
Abdominal pain
Nausea
Vomiting
Diarrhea
Fatigue
Joint pain
Cough
What are the less common (occur in 10% to 29% of patients) side effects of treatment with Zydelig?
Low blood sugar
Headache
Chills
Rash
Pneumonia
Lymphocyte count increased
Lymphocyte count decreased
Hyponatremia (low blood sodium)
Peripheral edema
Upper respiratory tract infection
Difficult or labored breathing
Night sweats
Insomnia
Headache
Decreased appetite
This is not a complete list of side effects. Some patients may experience other side effects that are not listed here. Patients may wish to discuss with their physician the other less common side effects of this drug, some of which may be serious.
Some side effects may require medical attention. Other side effects do not require medical attention and may go away during treatment. Patients should check with their physician about any side effects that continue or are bothersome.
What can patients do to help alleviate or prevent discomfort and side effects?
Take Zydelig only as your doctor tells you to take it.
Do not change your dose or stop taking Zydelig without first talking to your doctor.
Do not miss a dose of Zydelig. If you miss a dose by less than six hours, take the missed dose right away. Then take your next dose as usual. If you miss a dose by more than six hours, wait and take the next dose at your usual time.
Tell your doctor about all of your medical conditions, particularly if you have liver problems or lung or breathing problems.
Tell your doctor about all the medicines you take, including prescription and over-the-counter medicines, vitamins, and herbal supplements. Zydelig and certain other medicines may affect each other. Know the medicines you take. Keep a list of your medicines and show it to your doctor and pharmacist when you get a new medicine.
Are there any special precautions patients should be aware of before starting treatment?
Tell you doctor if you are pregnant or plan to become pregnant. Zydelig may harm your unborn baby.
Women who are able to become pregnant should use effective birth control during treatment with Zydelig and for one month after stopping treatment.
Tell your doctor right away if you become pregnant during treatment with Zydelig.
Tell your doctor if you are breastfeeding or plan to breastfeed. It is not known if Zydelig passes into your breast milk. You and your doctor should decide if you will take Zydelig or breastfeed. You should not do both.
When should patients notify their physician? Contact your doctor right away if you have signs or symptoms of:
Liver problems. These include: yellowing of your skin or the white part of your eyes (jaundice), dark or brown (tea colored) urine, pain in the upper right side of your stomach area (abdomen), and bleeding or bruising more easily than normal.
Severe diarrhea. Tell your doctor right away if the number of bowel movements you have in a day increases by six or more.
Lung or breathing problems. This includes new or worsening cough, shortness of breath, difficulty breathing, or wheezing.
Tear in the intestinal wall (perforation). Tell your doctor or get medical help right away if you get new or worsening stomach area (abdomen) pain, chills, fever, nausea, or vomiting.
What is a package insert?
A package insert is required by the FDA and contains a summary of the essential scientific information needed for the safe and effective use of the drug for healthcare providers and consumers. A package insert typically includes information regarding specific indications, administration schedules, dosing, side effects, contraindications, results from some clinical trials, chemical structure, pharmacokinetics and metabolism of the specific drug. By carefully reviewing the package insert, you will get the most complete and current information about how to safely use this drug. If you do not have the package insert for the drug you are using, your pharmacist or physician may be able to provide you with a copy.