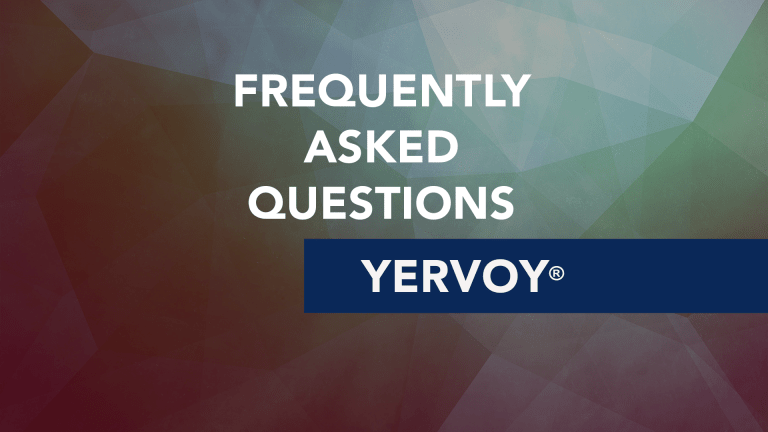 Frequently Asked Questions About Yervoy® (ipilimumab)
Understand the administration, side effects and answers to frequently asked questions about Yervoy®
Updated 8/29/20
Class: Biological Therapy
Generic Name: ipilimumab
Trade Name: Yervoy®
For which conditions is Yervoy approved for? Yervoy is approved to treat:
Melanoma
Patients with melanoma that has spread or cannot be removed by surgery
Patients with surgically removed melanoma involving the lymph nodes or metastatic disease in the adjuvant setting
Renal Cell Carcinoma (RCC)
Patients with intermediate or poor risk, previously untreated advanced RCC in combination with Opdivo (nivolumab)
chemotherapy.
Colorectal Cancer
In combination with Opdivo in patients with microsatellite instability-high (MSI-H) or mismatch repair deficient (dMMR) metastatic colorectal cancer that has progressed following treatment.
Hepatocellular Carcinoma (HCC)
In combination with Opdivo for HCC previously treated with Nexavar (sorafenib)
Non-Small Cell Lung Cancer (NSCLC)
Patients with metastatic NSCL expressing PD-L1 as first-line treatment in combination with Opdivo. PD-L1 expressing must be determined by an FDA-approved test, with no EGFR or ALK genomic tumor aberrations.
Patients with metastatic or recurrent NSCLC with no EGFR or ALK genomic tumor aberrations as first-line treatment in combination with Opdivo and 2 cycles of platinum-based chemotherapy.
What is the mechanism of action? Yervoy works by blocking the action of CTLA-4. Because CTLA-4 inhibits certain types of immune responses, drugs that block it may enhance the ability of the immune system to fight cancer by activating T cells so that they can multiply and attack melanoma cells.
How is Yervoy typically given (administered)? Yervoy is given as an intravenous infusion. The schedule and dose of Yervoy varies by approved indication.
How are patients typically monitored? Yervoy is designed to work with your immune system to attack cancer, but it can also cause your immune system to attack normal organs and tissues. Your doctor will monitor you (using blood tests and exams) for these complications: lung, intestinal, liver, kidney, and thyroid problems. Your doctor will also monitor you for infusion-related reactions.
What are the most common side effects of treatment with Yervoy**?**
As a single agent:
Fatigue
Diarrhea
Rash
Colitis
Itchy Skin
Nausea
Vomiting
Headache
Weight Loss
Fever
Decreased appetite
Insomnia
In combination with Opdivo:
Fatigue
Diarrhea
Rash
Itchy skin
Nausea
Muscle, join and bone pain
Fever
Cough
Decreased appetite
Vomiting
Abdominal pain
Shortness of breath
Upper respiratory tract infection
Headache
Hypothyroidism
Decreased Weight
Dizziness
In combination with Opdivo and platinum-doublet chemotherapy:
Fatigue
Muscle, join and bone pain
Nausea
Diarrhea
Rash
Decreased appetite
Constipation
Itchy skin
What are the less common but serious side effects of treatment with Yervoy?
Lung problems (pneumonitis)
Intestinal problems (colitis)
Liver problems (hepatitis)
Hormone gland problems
Kidney problems
Skin problems
Inflammation of the brain (encephalitis)
Nerve problems that can lead to paralysis
Problems in other organs
Severe infusion reactions
Eye problems
Complications after receiving a stem cell transplant with donor stem cells
This is not a complete list of side effects. Some patients may experience other side effects that are not listed here. Patients may wish to discuss with their physician the other less common side effects of this drug, some of which may be serious.
Some side effects may require medical attention. Other side effects do not require medical attention and may go away during treatment. Patients should check with their physician about any side effects that continue or are bothersome.
What can patients do to help alleviate or prevent discomfort and side effects?
Keep your scheduled appointments for blood work or other laboratory tests that are used to monitor your health during treatment.
Are there any special precautions patients should be aware of before starting treatment?
Tell your doctor about all of your medical conditions, particularly the following:
Immune system problems such as Crohn's disease, ulcerative colitis, lupus or sarcoidosis
If you've had an organ transplant
Liver problems
Tell your doctor if you are pregnant or plan to become pregnant. Yervoy can harm your unborn baby, so you should not become pregnant during treatment with Yervoy. If you become pregnant during treatment or think you may be pregnant, tell your healthcare provider right away.
Women who are able to become pregnant should use effective birth control during treatment with Yervoy and for one month after the last dose.
Tell your doctor if you are breastfeeding or plan to breastfeed. It is not known if Yervoy will pass into your breast milk. You and your healthcare provider should decide if you will take Yervoy or breastfeed—you should not do both.
Tell your healthcare provider about all the medicines you take, including prescription and over-the-counter medicines, vitamins, and herbal supplements. Keep a list of the medicines you take and show them to your healthcare providers and pharmacist when you get a new medicine.
When should patients notify their physician? Contact your doctor if you experience any of the following:
Signs of infusion reaction (chills, shaking, itching, rash, flushing, difficulty breathing, dizziness, fever, feel like passing out)
Signs of intestinal problems (diarrhea or more bowel movements than usual; blood in your stools or dark, tarry, sticky stools; severe stomach pain or tenderness)
Signs of liver problems (yellowing of your skin or the whites of your eyes; severe nausea or vomiting; pain on the right side of your stomach-area; drowsiness; dark urine; bleeding or bruise more easily than normal; feeling less hungry than usual)
Signs of kidney problems (decrease in the amount of urine; blood in your urine; swelling in your ankles; loss of appetite)
Signs of hormone gland problems (headaches that will not go away or unusual headaches; weight gain or weight loss; changes in mood or behavior, such as decreased sex drive, irritability, or forgetfulness; hair loss; dizziness or fainting; feeling cold; constipation; deepening voice)
Signs of lung problems (new or worsening cough, chest pain, shortness of breath)
Sign of brain inflammation (headache, fever, weakness, confusion, memory problems, sleepiness, hallucinations, seizures, stiff neck)
Signs of other problems, including: rash with or without itching, mouth sores, skin blisters, skin peeling, blurry vision, double vision, vision problems, eye pain or redness)
What is a package insert?
A package insert is required by the FDA and contains a summary of the essential scientific information needed for the safe and effective use of the drug for healthcare providers and consumers. A package insert typically includes information regarding specific indications, administration schedules, dosing, side effects, contraindications, results from some clinical trials, chemical structure, pharmacokinetics and metabolism of the specific drug. By carefully reviewing the package insert, you will get the most complete and current information about how to safely use this drug. If you do not have the package insert for the drug you are using, your pharmacist or physician may be able to provide you with a copy.
Important Limitations of Use
The information provided above on the drug you have selected is provided for your information only and is not a substitute for consultation with an appropriate medical doctor. We are providing this information solely as a courtesy and, as such, it is in no way a recommendation as to the safety, efficacy or appropriateness of any particular drug, regimen, dosing schedule for any particular cancer, condition or patient nor is it in any way to be considered medical advice. Patients should discuss the appropriateness of a particular drug or chemotherapy regimen with their physician.
As with any printed reference, the use of particular drugs, regimens and drug dosages may become out-of-date over time, since new information may have been published and become generally accepted after the latest update to this printed information. Please keep in mind that health care professionals are fully responsible for practicing within current standards, avoiding use of outdated regimens, employing good clinical judgment kin selecting drugs and/or regimens, in calculating doses for individual patients, and verifying all dosage calculations.
DISCLAIMER OF WARRANTIES
CANCERCONNECT SPECIFICALLY DISCLAIMS AND EXCLUDES ALL EXPRESSED OR IMPLIED WARRANTIES, INCLUDING ANY IMPLIED WARRANTIES AS TO QUALITY, ACCURACY (INCLUDING TYPOGRAPHICAL ERRORS), MERCHANTABILITY, OR FITNESS FOR ANY PARTICULAR PURPOSE OF THE INFORMATION CONTAINED HEREIN. CANCERCONNECT DISCLAIMS ALL LIABILITY OR DAMAGES ARISING FROM ANY USE OF THE INFORMATION.