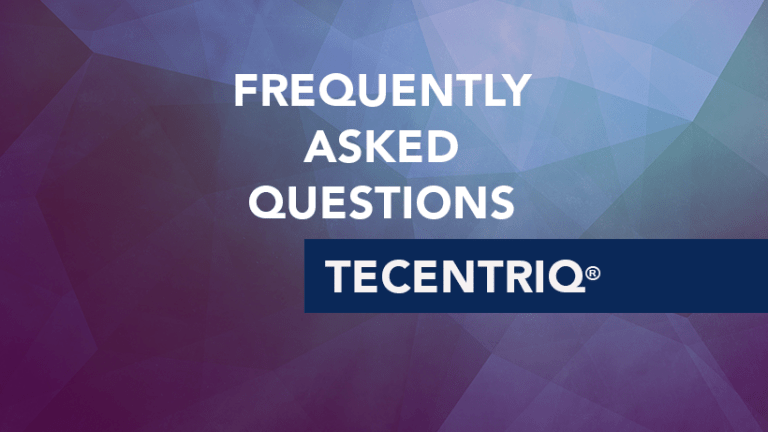 Frequently Asked Questions about Tecentriq (atezolizumab)
Understand the administration, side effects and answers to frequently asked questions about Tecentriq
Class: Biological Therapy
Generic Name: atezolizumab
Trade Name: Tecentriq®
Tecentriq is approved for the first-line treatment of adult patients with metastatic non-small cell lung cancer (NSCLC). Patients with EGFR or ALK gene abnormalities may receive Tecentriq if FDA-approved therapies for these conditions are no longer working. Tecentriq is also approved for patients with advanced urothelial carcinoma (bladder cancer) whose disease has progressed during or following therapy with a platinum agent.
What is the mechanism of action? Tecentriq is an agent that creates its anti-cancer effects by blocking a specific protein, PD-L1, that is used by cancer cells to escape an attack by the immune system. Once PD-L1 is blocked, cells of the immune system are able to identify cancer cells as a threat, and initiate an attack to destroy the cancer.
How is Tecentriq given (administered)? Tecentriq is administered by intravenous infusion over 60 minutes every 3 weeks. If Tecentriq is well tolerated, infusion time may be adjusted to 30 minutes.
How are patients monitored? Patients will meet with their healthcare provider while they are being treated with Tecentriq. Typically, radiographic imaging may be ordered for signs of immune-related pneumonitis, and blood will be drawn to monitor functions of some organ systems, such as liver, thyroid, and adrenals. Patients may also undergo physical additional examinations, scans, or other measures to assess side effects and response to therapy.
What are the most common side effects of treatment with Tecentriq?
Fatigue
Nausea
Decreased appetite
Urinary tract infection
Constipation
Fever
What are some of the less common but potentially serious side effects of Tecentriq?
Immune-related pneumonitis, hepatitis, and colitis
Immune-related endocrinopathies such as thyroid disorders, hypophysitis, adrenal insufficiency, and new onset diabetes
Menegitis/encephalitis
Motor and sensory neuropathy such as Gullian Barré syndrome or myasthenia gravis
Pancreatitis
Severe infections
Infusion related reactions
Immune-mediated Nephritis Reported to Occur with Tecentriq®
Enough patients have developed immune-mediated nephritis which has been biopsy-confirmed in many cases that the manufacturer of Tecentriq now considers this to be an important adverse reaction. The assessment was based on evaluation of approximately 17,215 clinical trial patients and 20,783 post-marketing patients that have been exposed to Tecentriq® to date. Nephritis is a general term given to inflammation of the spaces between the renal tubules of the kidneys which can lead to inflammation, swelling and a decrease in kidney function. There are a number of causes of nephritis one of which is an "immune system" related inflammation or reaction in response to a specific drugs or medication.
Blood in the urine.· Pain in the pelvis or lower back.· Decreased urine output and weight gain. · Nausea, vomiting.· Rash.· Swelling of any area of bodyPatients being treated with Tecentriq should ensure they are aware of this side effect of treatment and the development of any of these signs or symptoms should be brought to the attention of their doctor.
This is not a complete list of side effects. Some patients may experience other side effects that are not listed here. Patients may wish to discuss with their physician the other less common side effects of this drug, some of which may be serious.
Some side effects may require medical attention. Other side effects do not require medical attention and may go away during treatment. Patients should check with their physician about any side effects that continue or are bothersome.
Are there any special precautions patients should be aware of before starting treatment?
Tell your doctor about all of your medical conditions, particularly the following:
Immune system problems such as Crohn's disease, ulcerative colitis, or lupus
If you've had an organ transplant
Lung or breathing problems
Liver problems
Nervous system condition such as myasthenia gravis or Gullian Barré
If you are being treated for an infection
Tell your doctor if you are pregnant or plan to become pregnant. Tecentriq can harm your unborn baby, so you should not become pregnant during treatment with Tecentriq. If you become pregnant during treatment or think you may be pregnant, tell your healthcare provider right away.
Women who are able to become pregnant should use effective birth control during treatment and for at least 5 months after the last dose of Tecentriq.
Women should avoid breastfeeding as it is not known if Tecentriq passes into the breast milk.
Tell your healthcare provider about all the medicines you take, including prescription and over-the-counter medicines, vitamins, and herbal supplements.
When should patients notify their physician?
Contact your healthcare professional immediately in case of any of the following:
Lung problems:
New or worsening cough
Shortness of breath
Chest pain
Liver problems:
Yellowing of skin or eyes
Severe nausea or vomiting
Pain on right side of stomach area
Drowsiness
Dark urine
Easy bleeding or bruising
Loss of appetite
Intestinal problems:
Diarrhea
Blood in stool
Severe stomach area pain or tenderness
Hormone gland problems:
Unusual or lasting headaches
Extreme fatigue
Weight gain or loss
Feeling more hungry or thirsty as usual
Hair loss
Mood or behavior changes
Feeling cold
Constipation
Deeper voice
Frequent urination
Nausea or vomiting
Nervous system problems:
Severe muscle weakness
Numbness or tingling in hands or feet
Fever
Confusion
Extreme sensitivity to light
Neck stiffness
Eye problems:
Blurry or double vision
Eye pain or redness
Severe infections:
Fever
Cough
Frequent urination
Flu-like symptoms
Pain when urinating
Severe infusion reactions:
Chills or shaking
Itching or rash
Flushing
Shortness of breath or wheezing
Dizziness
Fever
Feel like passing out
Back or neck pain
Facial swelling
These symptoms could be a sign of pneumonitis, hepatitis, colitis, hormone problems, nervous systems problems, and life-threatening infections.
What is a package insert?
A package insert is required by the FDA and contains a summary of the essential scientific information needed for the safe and effective use of the drug for healthcare providers and consumers. A package insert typically includes information regarding specific indications, administration schedules, dosing, side effects, contraindications, results from some clinical trials, chemical structure, pharmacokinetics and metabolism of the specific drug. By carefully reviewing the package insert, you will get the most complete and current information about how to safely use this drug. If you do not have the package insert for the drug you are using, your pharmacist or physician may be able to provide you with a copy.
Important Limitations of Use
The information provided above on the drug you have selected is provided for your information only and is not a substitute for consultation with an appropriate medical doctor. We are providing this information solely as a courtesy and, as such, it is in no way a recommendation as to the safety, efficacy or appropriateness of any particular drug, regimen, dosing schedule for any particular cancer, condition or patient nor is it in any way to be considered medical advice. Patients should discuss the appropriateness of a particular drug or chemotherapy regimen with their physician.
As with any printed reference, the use of particular drugs, regimens and drug dosages may become out-of-date over time, since new information may have been published and become generally accepted after the latest update to this printed information. Please keep in mind that health care professionals are fully responsible for practicing within current standards, avoiding use of outdated regimens, employing good clinical judgment kin selecting drugs and/or regimens, in calculating doses for individual patients, and verifying all dosage calculations.
DISCLAIMER OF WARRANTIES
CANCERCONNECT SPECIFICALLY DISCLAIMS AND EXCLUDES ALL EXPRESSED OR IMPLIED WARRANTIES, INCLUDING ANY IMPLIED WARRANTIES AS TO QUALITY, ACCURACY (INCLUDING TYPOGRAPHICAL ERRORS), MERCHANTABILITY, OR FITNESS FOR ANY PARTICULAR PURPOSE OF THE INFORMATION CONTAINED HEREIN. CANCERCONNECT DISCLAIMS ALL LIABILITY OR DAMAGES ARISING FROM ANY USE OF THE INFORMATION.
The prescribing physician is solely responsible for making all decisions relating to appropriate patient care including, but not limited to, drugs, regimens, dose, schedule, and any supportive care.