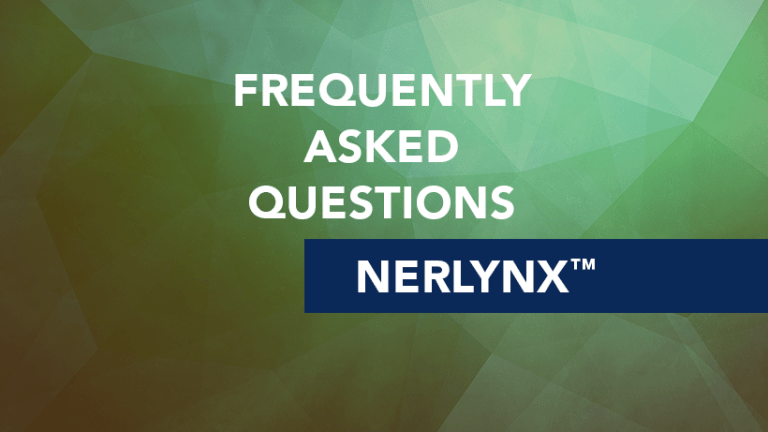 Frequently Asked Questions about NERLYNX™ (neratinib)
Understand the administration, side effects and answers to frequently asked questions about NERLYNX
Generic Name: neratinib
Trade Name: NERLYNX™
For which conditions is NERLYNX approved for? NERLYNX is indicated for use in adult patients with early-stage. HER2 positive breast cancer following treatment with Herceptin (trastuzumab).
What is the mechanism of action? NERLYNX is a kinase inhibitor. A kinase is a type of protein in the body that helps control cell division. Cancer cells grow in an uncontrolled fashion, and NERLYNX works by interfering with the kinase to stop cancer cells from dividing and growing**.** NERLYNX is targeted against several biochemical pathways implicated in the growth and spread of cancer. Specifically, neratinib is targeted against the HER1, HER2 and HER4 pathways.
How is NERLYNX typically given (administered)? NERLYNX is taken orally with food, once daily at approximately the same time every day for one year. If a dose is missed, do not replace the missed dose, resume NERLYNX the following day with the next scheduled dose.
How are patients monitored? Patients will usually have scheduled meetings with their healthcare provider while they are being treated with NERLYNX. Typically, blood will be drawn before and after treatment to check levels of blood cells and to monitor functions of some organ systems, such as the kidneys or liver. Patients may also undergo physical examinations, scans, or other measures to assess side effects and response to therapy. NERLYNX can harm an unborn baby, so women should not become pregnant while taking this drug and for 1 month after your last dose of NERLYNX. Do not breastfeed during treatment with NERLYNX and for at least 1 month after the last dose of NERLYNX. Men who are taking NERLYNX should use effective birth control during treatment and for 3 months following the last dose of NERLYNX.
What are the most common (occur in 20% or more of patients) side effects of treatment with NERLYNX?
· Diarrhea
· Nausea
· Abdominal pain
· Fatigue
· Vomiting
· Rash
· Inflamed and sore mouth
· Decreased appetite
· Muscle spasms
· Impaired digestion (dyspepsia)
· Abnormal liver enzymes levels (AST or ALT increase)
· Nail disorder
· Dry skin
· Abdominal distention
· Weight loss
· Urinary tract infection
This is not a complete list of side effects. Some patients may experience other side effects that are not listed here. Patients may wish to discuss with their physician the other less common side effects of this drug, some of which may be serious.
Some side effects may require medical attention. Other side effects do not require medical attention and may go away during treatment. Patients should check with their physician about any side effects that continue or are bothersome.
What can patients do to help alleviate or prevent discomfort and side effects?
NERLYNX may interact with many drugs. Tell your healthcare provider about all the medicines you take, including prescription and over­-the-counter medicines, vitamins, and herbal supplements.
Are there any special precautions patients should be aware of before starting treatment?
Because NERLYNX may cause diarrhea which can be severe in some cases, at the first sign of loose stools, talk to your doctor about initiating antidiarrheal therapy and further instructions and follow up. You should increase your intake of oral fluids. Avoid grapefruit and grapefruit products while taking NERLYNX. Talk to your doctor about gastric acid reducing agents as NERLYNX may interact with these medications.
When should patients notify their physician?
Tell your doctor if you experience any side effects that bother you or don't go away. Contact your healthcare professional right away if you experience any of the following:
Diarrhea/loose stools
Diarrhea associated with weakness, dizziness or fever
Sign and symptoms of liver dysfunction
You become pregnant.
What is a package insert?
A package insert is required by the FDA and contains a summary of the essential scientific information needed for the safe and effective use of the drug for healthcare providers and consumers. A package insert typically includes information regarding specific indications, administration schedules, dosing, side effects, contraindications, results from some clinical trials, chemical structure, pharmacokinetics and metabolism of the specific drug. By carefully reviewing the package insert, you will get the most complete and current information about how to safely use this drug. If you do not have the package insert for the drug you are using, your pharmacist or physician may be able to provide you with a copy.
Important Limitations of Use
The information provided above on the drug you have selected is provided for your information only and is not a substitute for consultation with an appropriate medical doctor. We are providing this information solely as a courtesy and, as such, it is in no way a recommendation as to the safety, efficacy or appropriateness of any particular drug, regimen, dosing schedule for any particular cancer, condition or patient nor is it in any way to be considered medical advice. Patients should discuss the appropriateness of a particular drug or chemotherapy regimen with their physician.
As with any printed reference, the use of particular drugs, regimens and drug dosages may become out-of-date over time, since new information may have been published and become generally accepted after the latest update to this printed information. Please keep in mind that health care professionals are fully responsible for practicing within current standards, avoiding use of outdated regimens, employing good clinical judgment kin selecting drugs and/or regimens, in calculating doses for individual patients, and verifying all dosage calculations.
DISCLAIMER OF WARRANTIES
CANCERCONNECT SPECIFICALLY DISCLAIMS AND EXCLUDES ALL EXPRESSED OR IMPLIED WARRANTIES, INCLUDING ANY IMPLIED WARRANTIES AS TO QUALITY, ACCURACY (INCLUDING TYPOGRAPHICAL ERRORS), MERCHANTABILITY, OR FITNESS FOR ANY PARTICULAR PURPOSE OF THE INFORMATION CONTAINED HEREIN. CANCERCONNECT DISCLAIMS ALL LIABILITY OR DAMAGES ARISING FROM ANY USE OF THE INFORMATION.
The prescribing physician is solely responsible for making all decisions relating to appropriate patient care including, but not limited to, drugs, regimens, dose, schedule, and any supportive care.