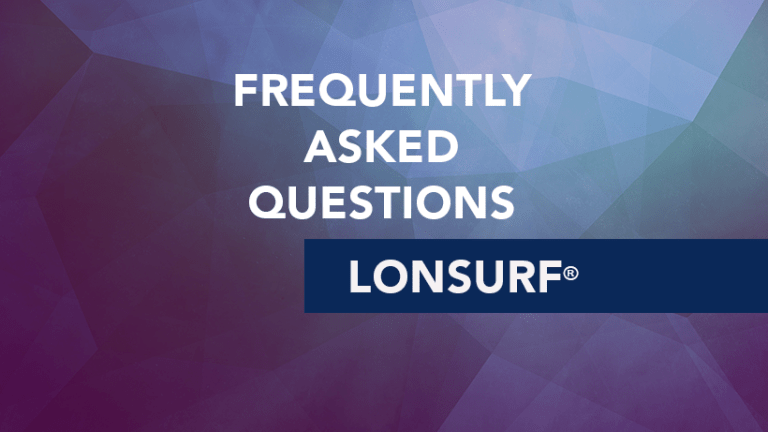 Frequently Asked Questions about Lonsurf® (Trifluridine and Tipiracil)
Understand the administration, side effects and answers to frequently asked questions about Lonsurf
Class: Chemotherapy
Generic Name: Trifluridine and Tipiracil
Trade Name: Lonsurf®
For which conditions is Lonsurf approved for? Lonsurf is approved for the treatment of adult patients with colon or rectal cancer that has spread to other parts of the body and who have been previously treated or cannot receive certain chemotherapy medicines.
What is the mechanism of action? The two active drugs in Lonsurf, trifluridine and tipiracil, work together to stop cancer cells from growing and might also help kill cancer cells.
How is Lonsurf typically given (administered)? Lonsurf comes in a pill and is taken by mouth.
How are patients typically monitored?
Treatment with Lonsurf can cause blood counts to become severely low. During treatment your doctor will check your levels of white blood cells, red blood cells, and platelets. If counts become too low, your doctor may lower your dose of Lonsurf or have you stop treatment.
What are the common (occur in 30% or more of patients) side effects of treatment with Lonsurf?
Nausea
Diarrhea
Fatigue
Decreased appetite
Anemia (low red blood cell count)
Neutropenia (low white blood cell [neutrophil] count)
Thrombocytopenia (low platelet count)
What are the less common (occur in 10% to 29% of patients) side effects of treatment with Lonsurf?
Vomiting
Stomach pain
Fever
This is not a complete list of side effects. Some patients may experience other side effects that are not listed here. Patients may wish to discuss with their physician the other less common side effects of this drug, some of which may be serious.
Some side effects may require medical attention. Other side effects do not require medical attention and may go away during treatment. Patients should check with their physician about any side effects that continue or are bothersome.
What can patients do to help alleviate or prevent discomfort and side effects?
Take Lonsurf exactly as your doctor tells you to take it.
Take Lonsurf within one hour after eating your morning or evening meals.
Your caregiver should wear gloves when handling Lonsurf tablets.
If you miss a dose, call your doctor and ask for instructions. Do not take an additional dose to make up for the one you missed.
Wash your hands after handling the Lonsurf tablets.
Are there any special precautions patients should be aware of before starting treatment?
Tell your doctor if you have kidney problems.
Tell your doctor about all the medicines you take, including prescription and over-the-counter medicines, vitamins, and herbal supplements.
Tell your doctor if you are pregnant or plan to become pregnant. Lonsurf can harm your unborn baby.
If you're a woman who can become pregnant, use effective birth control during treatment with Lonsurf. Tell your doctor right away if you become pregnant.
Men who are taking Lonsurf should use a condom when they're having sex with a woman who could become pregnant. Use a condom during treatment and for three months after the last dose. Tell your doctor right away if your partner becomes pregnant while you are taking Lonsurf.
Women should not breastfeed during treatment with Lonsurf and for one day after the last dose. It is not know if this medication passes into breast milk.
When should patients notify their physician? Tell your doctor right away if you experience:
Fever
Chills
Body aches
Nausea, vomiting, or diarrhea that is severe or that does not go away
Any side effects that bother you or don't go away
What is a package insert?
A package insert is required by the FDA and contains a summary of the essential scientific information needed for the safe and effective use of the drug for healthcare providers and consumers. A package insert typically includes information regarding specific indications, administration schedules, dosing, side effects, contraindications, results from some clinical trials, chemical structure, pharmacokinetics and metabolism of the specific drug. By carefully reviewing the package insert, you will get the most complete and current information about how to safely use this drug. If you do not have the package insert for the drug you are using, your pharmacist or physician may be able to provide you with a copy.