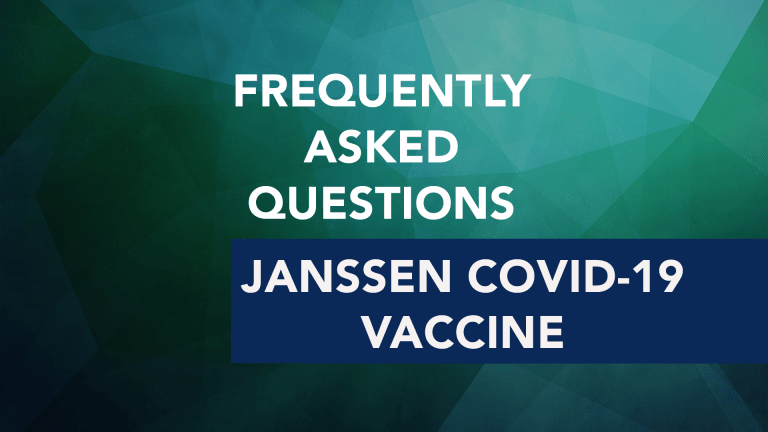 Frequently Asked Questions About Janssen COVID-19 Vaccine (Ad26.COV2-S)
Understand the administration, side effects and answers to frequently asked questions about Janssen COVID-19 Vaccine
Class: Biological Therapy
​Generic Name: Ad26.COV2-S
Name: Janssen COVID-19 Vaccine
For which conditions is Janssen COVID-19 Vaccine used? The U.S. Food and Drug Administration (FDA) has issued an Emergency Use Authorization (EUA) for the Janssen COVID-19 Vaccine for immunization to prevent COVID-19 in individuals 18 and older. The EAU permits the emergency use of the vaccine although it has not been FDA approved. There are currently no FDA approved vaccines to prevent COVID-19.
What is the mechanism of action? The Janssen COVID-19 Vaccine is a viral vector vaccine that works by using a harmless adenovirus that has been engineered to carry genetic code (DNA) to initiate the body to create a protein from the virus which then promotes an immune system response to recognize the virus and learn to attack the virus.
How is the Janssen COVID-19 Vaccine typically given (administered)? Janssen COVID-19 Vaccine is an intramuscular injection given in one dose. There is no data to support interchangeability of this vaccine with other COVID-19 vaccines to complete a vaccination series started with another COVID-19 vaccine.
How are patients typically monitored? Patients will be monitored for immediate allergic reactions after receiving the Janssen COVID-19 Vaccine.
What side effects have been reported? Side effects that have been reported include the following:
Injection site pain
Headache
Fatigue
Muscle pain
Nausea
Fever
Injection site redness
Injection site swelling
It is important to report side effects to your healthcare provider. Some patients may experience other side effects that are not listed here and additional side effects may become apparent with more widespread use of the Janssen COVID-19 Vaccine.
What can patients do to help alleviate or prevent discomfort and side effects?
If you have a history of severe allergic reaction to any component of the Janssen COVID-19 Vaccine, tell your healthcare provider and do not receive the vaccine. Components of the Janssen COVID-19 Vaccine include virus particles, citric acid monohydrate, trisodium citrate dihydrate, ethanal, HBCD, polysorbate-80, sodium chloride and residual host cell proteins.
Are there any special precautions patients should be aware of before receiving the Janssen COVID-19 Vaccine?
Tell your vaccination provider if any of the following apply to you: Have any allergies Have a fever Have a bleeding disorder or are on a blood thinner Are immunocompromised Are on a medicine that affects your immune system Are pregnant or plan to become pregnant Are breastfeeding Have received another COVID-19 vaccine
Tell your healthcare provider if you have a history of a severe allergic reaction to any component of the Janssen COVID-19 Vaccine.
Individuals who are immunocompromised, should be aware that they could have a diminished immune response to the vaccine.
The Janssen COVID-19 Vaccine may not protect all vaccine recipients from contracting COVID-19.
At this time, the vaccine-associated risks are unknown in individuals who are pregnant or breastfeeding.
The EUA of the Janssen COVID-19 Vaccine does not include use in individuals younger than 18.
When should patients notify their physician? Notify your physicians of any signs of severe allergic reaction that include difficulty breathing, swelling of your face and throat, rapid heartbeat, rash, dizziness and weakness. You should also notify your physician of any side effects that bother you or do not go away.
What is a package insert?
A package insert is required by the FDA and contains a summary of the essential scientific information needed for the safe and effective use of the drug for healthcare providers and consumers. A package insert typically includes information regarding specific indications, administration schedules, dosing, side effects, contraindications, results from some clinical trials, chemical structure, pharmacokinetics and metabolism of the specific drug. By carefully reviewing the package insert, you will get the most complete and current information about how to safely use this drug. If you do not have the package insert for the drug you are using, your pharmacist or physician may be able to provide you with a copy.
Last updated on 2/27/21.
Important Limitations of Use
The information provided above on the drug you have selected is provided for your information only and is not a substitute for consultation with an appropriate medical doctor. We are providing this information solely as a courtesy and, as such, it is in no way a recommendation as to the safety, efficacy or appropriateness of any particular drug, regimen, dosing schedule for any particular cancer, condition or patient nor is it in any way to be considered medical advice. Patients should discuss the appropriateness of a particular drug or chemotherapy regimen with their physician.
As with any printed reference, the use of particular drugs, regimens and drug dosages may become out-of-date over time, since new information may have been published and become generally accepted after the latest update to this printed information. Please keep in mind that health care professionals are fully responsible for practicing within current standards, avoiding use of outdated regimens, employing good clinical judgment kin selecting drugs and/or regimens, in calculating doses for individual patients, and verifying all dosage calculations.
DISCLAIMER OF WARRANTIES
CANCERCONNECT SPECIFICALLY DISCLAIMS AND EXCLUDES ALL EXPRESSED OR IMPLIED WARRANTIES, INCLUDING ANY IMPLIED WARRANTIES AS TO QUALITY, ACCURACY (INCLUDING TYPOGRAPHICAL ERRORS), MERCHANTABILITY, OR FITNESS FOR ANY PARTICULAR PURPOSE OF THE INFORMATION CONTAINED HEREIN. CANCERCONNECT DISCLAIMS ALL LIABILITY OR DAMAGES ARISING FROM ANY USE OF THE INFORMATION.
The prescribing physician is solely responsible for making all decisions relating to appropriate patient care including, but not limited to, drugs, regimens, dose, schedule, and any supportive care.