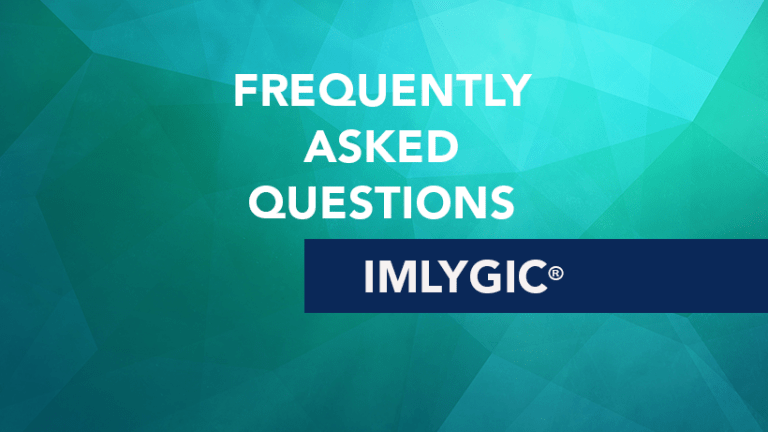 Frequently Asked Questions about Imlygic® (Talimogene Laherparepvec)
Understand the administration, side effects and answers to frequently asked questions about Imlygic®
Class: Biological Therapy
Generic Name: Talimogene Laherparepvec
Trade Name: Imlygic®
For which conditions is Imlygic approved for? Imlygic is approved to treat patients with advanced melanoma that has come back after initial surgery.
What is the mechanism of action? Imlygic is a type of immunotherapy that uses a specially designed virus to destroy cancer cells. The virus is a genetically modified version of the herpes simplex virus type 1. Imlygic is injected directly into the tumor, from where it prompts an immune response against cancer cells elsewhere in the body.
How is Imlygic typically given (administered)? Imlygic is given in an injection directly into the tumor or tumors. Your healthcare provider will give the injection over as long as tumors are present. You'll receive the second injection three weeks after the first treatment and injections every two weeks after that.
How are patients typically monitored? During treatment with Imlygic, your doctor will check you for the following conditions:
Herpes infections
Injection site complications
Immune-mediated events (inflammation and other symptoms caused with the immune system isn't functioning normally)
Plasmacytoma (tumor composed of abnormal plasma cells)
What are the common (occur in 30% or more of patients) side effects of treatment with Imlygic?
Fatigue
Chills
Fever
Flu-like illness
Injection-site pain
Nausea
What are the less common (occur in 10% to 29% of patients) side effects of treatment with Imlygic?
Vomiting
Diarrhea
Constipation
Muscle pain
Joint pain
Headache
This is not a complete list of side effects. Some patients may experience other side effects that are not listed here. Patients may wish to discuss with their physician the other less common side effects of this drug, some of which may be serious.
Some side effects may require medical attention. Other side effects do not require medical attention and may go away during treatment. Patients should check with their physician about any side effects that continue or are bothersome.
What can patients do to help alleviate or prevent discomfort and side effects?
Avoid direct contact with injection sites, dressings, or body fluids of patients.
Wear gloves when changing dressing.
Avoid touching or scratching injection sites.
Keep injection sites covered for at least the first week after each treatment or longer if the injection site is weeping or oozing.
Replace dressing if it falls off.
Dispose of used dressings and cleaning materials in household waste in a sealed plastic bag.
Tell your healthcare provider about all the medicines you take, including prescription and over-the-counter medicines, vitamins, and herbal supplements.
Before getting Imlygic, tell your healthcare provider if you: Are taking steroids or other medicines that suppress your immune Are taking antiviral medicines to treat or prevent herpes, such as acyclovir.
Tell your doctor if you have or have ever had medical conditions such as: HIV infection or AIDS Blood or bone marrow cancer Autoimmune disease Other medical conditions that can weaken your immune system
Tell your doctor if you have close contact with someone who has a weakened immune system or is pregnant.
Are there any special precautions patients should be aware of before starting treatment?
Tell your doctor if you are pregnant or plan to become pregnant. Imlygic may harm your unborn baby.
Talk to your doctor about effective birth control methods to use during treatment. You should not become pregnant while you are receiving Imlygic.
Tell your doctor if you breastfeeding or plan to breastfeed. It is not known if Imlygic passes into your breast milk. You should not breastfeed during treatment.
Close contacts who are pregnant or have weakened immune systems should not change your dressings or clean your injection site.
Imlygic contains a version of the herpes virus and can spread to other parts of your body or to your close contacts. Take these precautions to avoid spreading the virus: Avoid direct contact between your treatment sites, dressings, or body fluids and close contacts. For example, use condoms during sexual activity and avoid kissing if you or a close contact has an open mouth sore. Wear gloves when putting on or changing your dressings. Keep treatment sites covered with airtight and watertight dressings for at least one week after each treatment (or longer if the treatment site is weeping or oozing). If the dressing comes loose or falls off, replace it right away with a clean dressing. Place all used dressings and cleaning materials in a sealed plastic bag and throw them away in the garbage. Do not touch or scratch the treatment sites.
If you accidently expose another area of your body to Imlygic or if a caregiver is exposed, clean the exposed area with soap and water and/or a disinfectant.
When should patients notify their physician?
If you have or a close contact has a suspected herpes infection, have a doctor examine the lesions. In addition, report suspected herpetic lesions Amgen at 1-855-IMLYGIC (1-855-465-9442).
Tell your doctor right away if you get any of these signs and symptoms of herpes infection: Pain Burning Tingling in a blister around the mouth or genitals or on the fingers or ears Eye pain, sensitivity to light, discharge from the eyes, or blurry vision Weakness in arms or legs Extreme drowsiness (feeling sleepy) Mental confusion
What is a package insert?
A package insert is required by the FDA and contains a summary of the essential scientific information needed for the safe and effective use of the drug for healthcare providers and consumers. A package insert typically includes information regarding specific indications, administration schedules, dosing, side effects, contraindications, results from some clinical trials, chemical structure, pharmacokinetics and metabolism of the specific drug. By carefully reviewing the package insert, you will get the most complete and current information about how to safely use this drug. If you do not have the package insert for the drug you are using, your pharmacist or physician may be able to provide you with a copy.