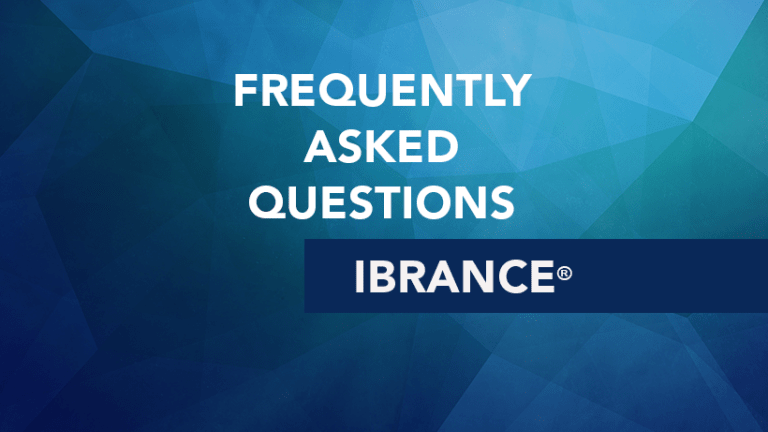 Frequently Asked Questions about Ibrance (palbociclib)
Understand the administration, side effects and answers to frequently asked questions about Ibrance
Generic Name: palbociclib
Trade Name: Ibrance®
For which conditions Ibrance drug approved? Ibrance is indicated for the treatment of hormone receptor (HR)-positive, HER2-negative advanced or metastatic breast cancer in combination with:
An aromatase inhibitor as initial endocrine based therapy in postmenopausal women, or
Fulvestrant in women with disease progression following endocrine therapy
What is the mechanism of action? Ibrance is a cyclin-dependent kinase (CDK) 4 and 6 inhibitor. A kinase is a type of protein in the body that helps control cell division. Cancer cells grow in an uncontrolled fashion, and Ibrance works by interfering with the kinase to stop cancer cells from dividing and growing.
How is Ibrance typically given (administered)? Ibrance is taken orally with food once daily in combination with either an aromatase inhibitor or fulvestrant. You should take Ibrance at approximately the same times every day and swallow whole. If you miss a dose or vomit following a dose, take the next prescribed dose at the usual time.
How are patients monitored? Patients will usually have scheduled meetings with their healthcare provider while they are being treated with Ibrance. Typically, blood will be drawn before and after treatment to check levels of blood cells and to monitor for low white blood cell counts and infections. In addition, patients may undergo physical examinations, scans, or other measures to assess side effects and response to therapy. Ibrance can harm an unborn baby, so women should not become pregnant while taking this drug. Do not breastfeed during treatment with Ibrance and for 3 weeks following the last dose of Ibrance.
What are the most common (occur in 10% or more of patients) side effects of treatment with Ibrance?
Neutropenia
Infections
Decrease in white blood cells (leukopenia)
Fatigue
Anemia
Nausea
Mouth sores
Alopecia
Diarrhea
Decrease in platelets (thrombocytopenia)
Decreased appetite
Rash
Vomiting
Weakness
Fever
This is not a complete list of side effects. Some patients may experience other side effects that are not listed here. Patients may wish to discuss with their physician the other less common side effects of this drug, some of which may be serious.
Some side effects may require medical attention. Other side effects do not require medical attention and may go away during treatment. Patients should check with their physician about any side effects that continue or are bothersome.
What can patients do to help alleviate or prevent discomfort and side effects?
Tell your healthcare provider about all the medicines you take, including prescription and over­-the-counter medicines, vitamins, and herbal supplements.
Are there any special precautions patients should be aware of before starting treatment?
Tell your healthcare provider right away of you have signs and symptoms of low white blood cell counts or infections. Avoid grapefruit and grapefruit products while taking Ibrance. Also avoid strong CYP3A inhibitors or inducers.
When should patients notify their physician?
Tell your doctor if you experience any side effects that bother you or don't go away. Contact your healthcare professional right away if you experience any of the following:
Fever
Chills
Dizziness
Feeling very tired
Bleeding or bruising more easily than normal
Shortness of breath
Chest pain
Rapid breathing
Rapid heart rate
You become pregnant.
What is a package insert?
A package insert is required by the FDA and contains a summary of the essential scientific information needed for the safe and effective use of the drug for healthcare providers and consumers. A package insert typically includes information regarding specific indications, administration schedules, dosing, side effects, contraindications, results from some clinical trials, chemical structure, pharmacokinetics and metabolism of the specific drug. By carefully reviewing the package insert, you will get the most complete and current information about how to safely use this drug. If you do not have the package insert for the drug you are using, your pharmacist or physician may be able to provide you with a copy.