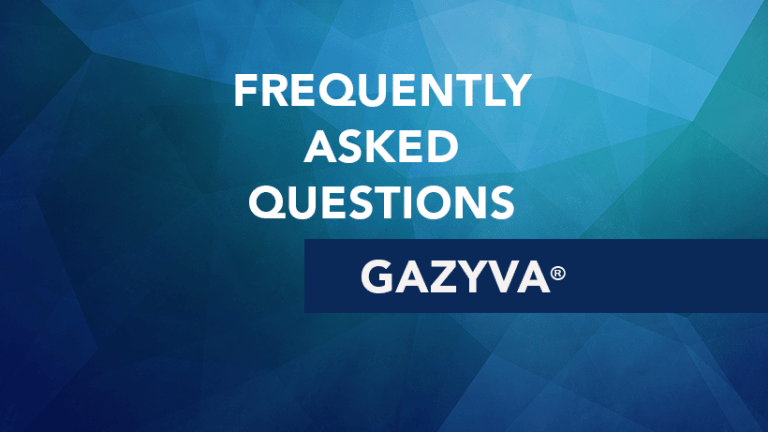 Frequently Asked Questions about Gazyva® (Obinutuzumab)
Understand the administration, side effects and answers to frequently asked questions about Gazyva
Class: Biological therapy
Generic Name: Obinutuzumab
Trade Name: Gazyva®
For which conditions is Gazyva approved for? Gazyva is approved for the treatment of patients with previously untreated chronic lymphocytic leukemia (CLL) in combination with the chemotherapy drug Leukeran® (chlorambucil). Gazyva is also indicated for patients with follicular lymphoma (FL) in combination with Treanda® (bendamustine), followed by therapy with Gazyva alone. This regimen is for adults with FL who did not respond to a rituximab-containing regimen, or whose FL returned after such treatment.
What is the mechanism of action? Gazyva works by helping certain cells in the immune system attack cancer cells. Specifically, by targeting an antibody known as CD20, which is found on B-cells, Gazyva helps the immune system recognize and destroy cancer cells.
How is Gazyva typically given (administered)? Gazyva is given as an intravenous (into the vein) infusion over the course of several cycles.
How are patients typically monitored? During treatment with Gazyva, your doctor will watch for the following:
Infusion reaction. Your doctor can help lower this risk by treating you with a glucocorticoid, acetaminophen, and anti-histamine before the infusion.
Tumor lysis syndrome, which is a group of metabolic abnormalities. To lower your risk of tumor lysis syndrome, your doctor can give you drugs to control the amount of uric acid in your blood and make sure you are well hydrated, that your electrolyte levels are normal, and that your kidneys are functioning properly.
You'll also be watched for infection as a result of low levels of white blood cells called neutrophils (a condition known as neutropenia) and low levels of blood platelets (a condition known as thrombocytopenia), which can cause bleeding into the tissues, bruising, and slow blood clotting after injury.
What are the common (occur in 30% or more of patients) side effects of treatment with Gazyva?
Infusion-related reactions
Neutropenia
What are the less common (occur in 10% to 29% of patients) side effects of treatment with Gazyva?
Thrombocytopenia
Anemia
Fever
Cough
This is not a complete list of side effects. Some patients may experience other side effects that are not listed here. Patients may wish to discuss with their physician the other less common side effects of this drug, some of which may be serious.
Some side effects may require medical attention. Other side effects do not require medical attention and may go away during treatment. Patients should check with their physician about any side effects that continue or are bothersome.
What can patients do to help alleviate or prevent discomfort and side effects?
Tell your healthcare provider if you have recently received or are scheduled to receive a vaccine. You should not receive live vaccines during treatment with Gazyva.
Have your blood counts checked regularly during treatment with Gazyva.
Are there any special precautions patients should be aware of before starting treatment?
Tell your doctor if you are pregnant, plan to become pregnant, or are breastfeeding. Gazyva may harm your unborn baby. Talk to you doctor about the risks of receiving Gazyva while you are pregnant. If you do become pregnant or have a baby during treatment with Gazyva, talk to your doctor or your child's doctor about when and if it's safe for your infant to receive live vaccines.
It is not known if Gazyva passes into your breast milk. Tell your doctor if you are breastfeeding before you start treatment with Gazyva.
Patients with a history of hepatitis B infection (based on the blood test) should be monitored and may need to be treated for their hepatitis.
When should patients notify their physician?
Tell your doctor if you experience the following:
Signs and symptoms of infusion reactions. These include dizziness, nausea, chills, fever, vomiting, diarrhea, breathing problems, or chest pain.
Symptoms of tumor lysis syndrome. These include nausea, vomiting, diarrhea, and lethargy.
Symptoms of hepatitis. These include worsening fatigue or yellow discoloration of skin or eyes.
New or changes in neurological symptoms. These include confusion, dizziness or loss of balance, difficulty talking or walking, or vision problems.
What is a package insert?
A package insert is required by the FDA and contains a summary of the essential scientific information needed for the safe and effective use of the drug for healthcare providers and consumers. A package insert typically includes information regarding specific indications, administration schedules, dosing, side effects, contraindications, results from some clinical trials, chemical structure, pharmacokinetics and metabolism of the specific drug. By carefully reviewing the package insert, you will get the most complete and current information about how to safely use this drug. If you do not have the package insert for the drug you are using, your pharmacist or physician may be able to provide you with a copy.