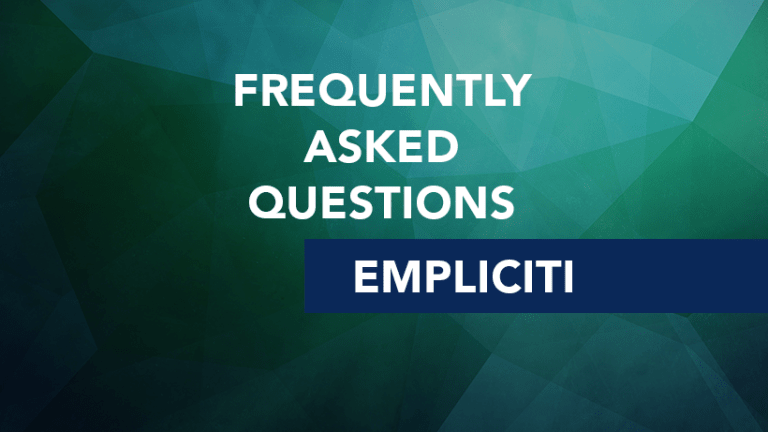 Frequently Asked Questions About Empliciti (Elotuzumab)
Understand the administration, side effects and answers to frequently asked questions about Empliciti
Class: Biological Therapy
Generic Name: Elotuzumab
Trade Name: Empliciti®
For which conditions is Empliciti approved for? Empliciti is approved to treat patients with multiple myeloma who have received one to three prior treatments. Empliciti is given in combination with the medicines Revlimid® (lenalidomide) and dexamethasone.
What is the mechanism of action? Empliciti belongs to a class of drugs known as monoclonal antibodies. It binds to a protein known as SLAMF7, which is commonly found on the surface of myeloma cells. In doing so, Empliciti activates the body's immune system to attack and kill multiple myeloma cells.
How is Empliciti typically given (administered)? You'll receive Empliciti as an intravenous (into the vein) infusion along with Revlimid and dexamethasone. You'll also receive premedication (before the infusion) with dexamethasone, diphenhydramine, ranitidine, and acetaminophen to lower your risk of infusion reactions. Empliciti is given in 28-day cycles. Your doctor will decide how many cycles you should receive.
How are patients typically monitored?
During treatment with Empliciti, your doctor will check you for the following:
Infusion reactions
Infections (fever and other signs of infection)
New cancers
Hepatotoxicity (liver damage)
What are the common (occur in 30% or more of patients) side effects of treatment with Empliciti?
Fatigue
Diarrhea
Fever
Constipation
Cough
What are the less common (occur in 10% to 29% of patients) side effects of treatment with Empliciti?
Peripheral neuropathy (damage to peripheral nerves, causing weakness, numbness, and pain)
Nasopharyngitis (inflammation of the nasopharynx)
Upper respiratory tract infection
Decreased appetite
Pneumonia
Pain in extremities
Headache
Vomiting
Weight loss
Lymphopenia (low level of lymphocytes in the blood)
Cataracts
Oropharyngeal (tongue, the tonsils, the soft palate, and the walls of the pharynx) pain
This is not a complete list of side effects. Some patients may experience other side effects that are not listed here. Patients may wish to discuss with their physician the other less common side effects of this drug, some of which may be serious.
Some side effects may require medical attention. Other side effects do not require medical attention and may go away during treatment. Patients should check with their physician about any side effects that continue or are bothersome.
What can patients do to help alleviate or prevent discomfort and side effects?
Before you receive Empliciti, tell your doctor about all of your medical conditions. Be especially sure to tell your doctor if you have an infection.
Tell your healthcare provider about all the medicines you take, including prescription and over- the-counter medicines, vitamins, and herbal supplements.
Try not to miss any of your appointments to receive your Empliciti infusions.
Are there any special precautions patients should be aware of before starting treatment?
Tell your doctor if you are pregnant or plan to become pregnant. It is not known if Empliciti can harm your unborn baby. In addition, Revlimid (which is given with Empliciti) may cause birth defects or death of an unborn baby.
Before receiving Empliciti with Revlimid and dexamethasone, both men and women must agree to follow the instructions of the Revlimid Risk Evaluation
and Mitigation Strategy (REMS) program. These instructions include specific requirements about birth control (contraception), pregnancy testing, blood donation, and sperm donation that anyone taking Revlimid needs to follow.
Tell your doctor if you are breastfeeding or plan to breastfeed. It is not known if Empliciti passes into breast milk. You should not breastfeed during treatment with Empliciti and Revlimid and dexamethasone.
When should patients notify their physician?
Tell your doctor right away if you have an infusion reaction while receiving Empliciti. Symptoms of an infusion reaction include: Fever Chills Rash Trouble breathing Dizziness Light-headedness
Tell your doctor right away if you have signs and symptoms of an infection. These include: Fever Fu-like symptom Cough Shortness of breath Burning with urination A painful skin rash
Tell your doctor right away if you have signs and symptoms of liver problems. These include: Tiredness Weakness Loss of appetite Yellowing of your skin or eyes Color changes in your stools Confusion Swelling of the stomach area
What is a package insert?
A package insert is required by the FDA and contains a summary of the essential scientific information needed for the safe and effective use of the drug for healthcare providers and consumers. A package insert typically includes information regarding specific indications, administration schedules, dosing, side effects, contraindications, results from some clinical trials, chemical structure, pharmacokinetics and metabolism of the specific drug. By carefully reviewing the package insert, you will get the most complete and current information about how to safely use this drug. If you do not have the package insert for the drug you are using, your pharmacist or physician may be able to provide you with a copy.