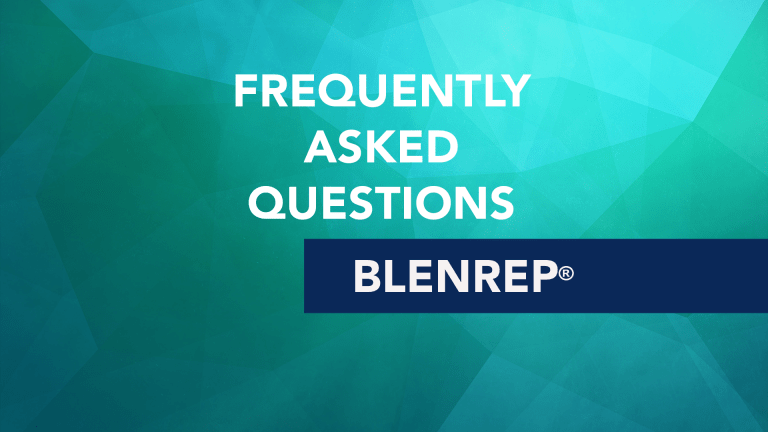 Frequently Asked Questions About Blenrep® (belantamab mafodotin-blmf)
Understand the administration, side effects and answers to frequently asked questions about Blenrep
Generic Name: belantamab mafodotin-blmf
Trade Name: Blenrep®
How is Blenrep used? Blenrep is approved to treat adults with relapsed or refractory multiple myeloma who have received at least four prior therapies including ta proteasome inhibitor, an immunomodulatory agent and an anti-CD38 monoclonal antibody. This approval is under accelerated approval based on response rate; continued approval may be contingent upon efficacy verification in ongoing clinical trials.
Blenrep labeling contains a boxed warning to alert healthcare professionals and patients about the potential severe ocular toxicity which can result in changes in vision.
What is the mechanism of action? Blenrep is an antibody-drug conjugate (ADC). ADCs are a type of targeted cancer medicine that deliver cytotoxic chemotherapy ("payload") to cancer cells via a monoclonal antibody that binds to a specific target expressed on cancer cells. Blenrep targets the B-cell maturation antigen (BCMA) on the surface of myeloma cells and delivers monomethyl auristatin F (MMAF) which can kill myeloma cells.
How is Blenrep given (administered)? Blenrep is administered intravenously.
How are patients monitored? Patients will usually have scheduled meetings with their healthcare provider while they are being treated with Blenrep. Typically, blood will be drawn to check levels of blood cells and platelets and to monitor functions of some organ systems, such as the kidney or liver. Patients will also be monitored with eye exams before treatment, during each infusion and at the sign of any eye problems. Patients may also undergo physical examinations, scans or other measures to assess side effects and response to therapy.
What are the most common side effects of treatment with Blenrep?
Vision or eye changes
Decreased vision or blurred vision
Nausea
Low blood cell counts
Decrease in platelets
Fever
Infusion-related reactions
Tiredness
Changes in kidney or liver function blood tests
This is not a complete list of side effects. Some patients may experience other side effects that are not listed here. Patients may wish to discuss with their physician the other less common side effects of this drug, some of which may be serious.
Some side effects may require medical attention. Other side effects do not require medical attention and may go away during treatment. Patients should check with their physician about any side effects that continue or are bothersome.
What can patients do to help alleviate or prevent discomfort and side effects?
Pay careful attention to your healthcare provider's instructions and inform your doctor of any side effects.
Take Blenrep exactly as prescribed.
Use lubricant eye drops at least 4 times per day during treatment as instructed by your healthcare provider.
Avoid wearing contact lenses during treatment with Blenrep.
Are there any special precautions patients should be aware of before starting treatment?
Patients should inform their physician about all medical conditions including bleeding problems or recent or active infections.
Patients should inform their physician of any other medication or supplement they are taking (whether prescription or over-the-counter).
Patients should inform their physician if they are pregnant, breastfeeding, or planning a family in the near future. Blenrep can harm an unborn baby.
Use caution when driving or operating machinery due to the possibility of vision problems.
Talk to your doctor if your partner is pregnant or planning to become pregnant. If a man's sexual partner is not pregnant but could become pregnant, effective birth control should be used during treatment and for six months after treatment ends. Females should use an effective method of birth control during treatment and for 4 months after the last dose of Blenrep.
Do not breastfeed during treatment or for 3 months after the last dose of Blenrep.
Blenrep may affect fertility in males and females.
When should patients notify their physician?
Tell your doctor if you experience any side effects that bother you or don't go away. Also tell your doctor if you experience any of the following:
Symptoms of decreased platelets: bleeding or bruising
Symptoms of infusion reactions: chills, shaking, flushing, dizziness, feel like passing out, itching, rash, tiredness, shortness of breath, cough , wheezing, fever, facial swelling, heart palpitations
Symptoms of eye problems.
What is a package insert?
A package insert is required by the FDA and contains a summary of the essential scientific information needed for the safe and effective use of the drug for healthcare providers and consumers. A package insert typically includes information regarding specific indications, administration schedules, dosing, side effects, contraindications, results from some clinical trials, chemical structure, pharmacokinetics and metabolism of the specific drug. By carefully reviewing the package insert, you will get the most complete and current information about how to safely use this drug. If you do not have the package insert for the drug you are using, your pharmacist or physician may be able to provide you with a copy.
Last updated on 04/21.