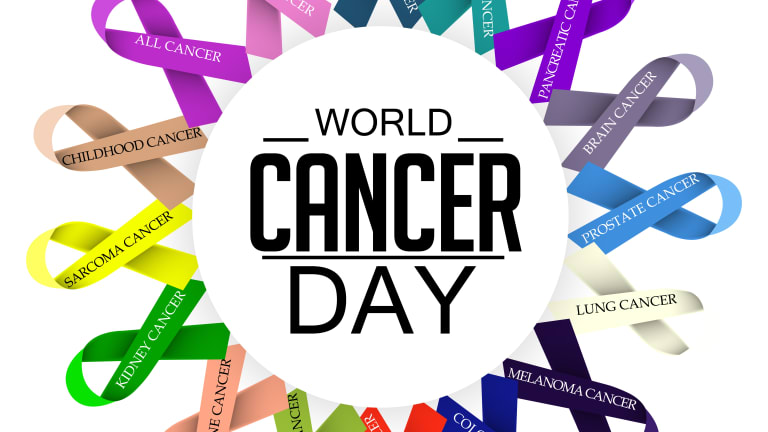 February 4th is World Cancer Day
Cancer has the single biggest economic impact of any cause of death-early detection can improve survival & reduce costs
by CancerConnect, Medically Reviewed by Dr. C.H. Weaver M.D. 01/2022
Feb 4 is World Cancer Day!
The charity behind the annual "World Cancer Day" event, Union for International Cancer Control, is in its second of a three-year-long campaign to raise awareness of the importance of catching the disease early. They estimate that almost 5 million of the 18 million people diagnosed with cancer could have benefited from early detection and therefore treated more effectively.
The way we think about cancer is changing. Cancer is a term used to describe more than 200 different diseases that occur when normal cells grow abnormally. Cancer driving mutations are increasingly identified and can be treated with newer precision cancer medicines and mortality is declining from the disease in the United States according to a recent report but globally when compared to the economic impact of premature death and disability of all causes of death, cancer continues to have the greatest cost worldwide.1
Cancer care costs are a financial burden to patients, their families, and society as a whole. Medical expenses from cancer care in the United States alone estimated to exceed $125 billion. As the population ages, costs are expected to continue to increase as cancer prevalence rises. In addition, expensive precision cancer immunotherapy and targeted treatment strategies are becoming the standard of care and will most likely increase cancer costs.
Early Detection is Part of the Solution
In a recent study, researchers evaluated data on death and disability from illness from the WHO and analyzed it in order to come up with a measure describing the overall burden of disease in terms of a disability-adjusted life year (DALY). To determine economic burden, researchers estimated the economic value of a year of healthy life. Data were analyzed for 17 types of cancer and 15 leading causes of death. In addition, countries worldwide were classified by income.
The cost of premature death and disability but not direct medical costs from cancer exceed $975 billion worldwide and is greater than heart disease
Word wide, cancer results in greatest cost from premature death and disability of all causes of death
Lost productivity and lost years of life are responsible for cancer's largest drain on economy
Lung, colorectal and breast cancer are associated with greatest cost worldwide due to death and disability
In poorer countries, head and neck cancers, cervical cancer and breast cancer are associated with the greatest cost due to death and disability
The researchers concluded that these data support the need for global health strategies to improve cancer treatment and prevention, particularly in poorer countries in order to improve health outcomes and decrease the global economic impact of cancer. The agenda of the Global Task Force on Expanded Access to Cancer Care and Control in Developing Countries (GTF.CCC) which was recently convened in 2009 will hopefully make a worldwide impact on cancer through developing and implementing strategies to provide poorer countries with cancer prevention and treatment.
References:
John R and Ross H. The Global Economic Cost of Cancer. American Cancer Society and the LIVESTRONG organization.