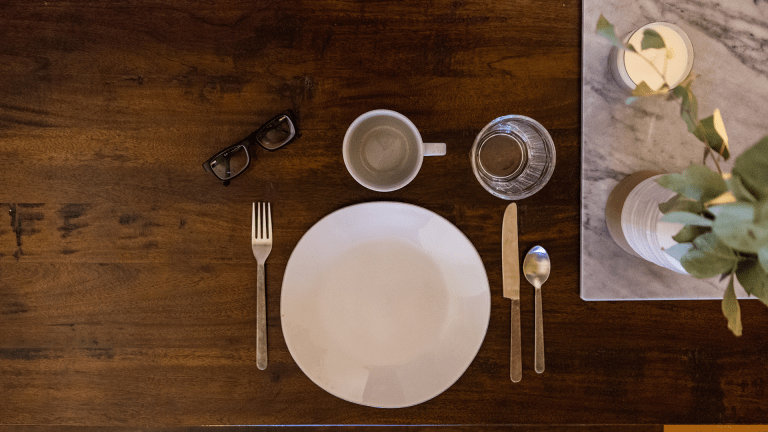 Don't Let Cancer Derail Dinner
Find the time—or ask a friend—to prepare healthy meals in spite of cancer.
With or without cancer, managing family life today is often a juggling act. Between soccer practice, piano lessons, carpools, homework, laundry, grocery shopping, and cleaning, it can be difficult to find time to prepare healthy dinners. Throw cancer treatment into the schedule, and meal planning becomes even more of a challenge.
When one family member is diagnosed with cancer, the entire family is struck by the disease. Most cancer survivors will attest, however, that once the initial shock of the diagnosis wears off, that pile of laundry still needs to be washed and hungry kids still need to be fed.
How do you juggle cancer treatment and still manage to get dinner on the table? It's not easy, but it is possible with a little planning. In other words, the best defense is a good offense.
Keep It Healthy
Because your family has been touched by cancer, you're likely more focused than ever on choosing healthy foods. But with the plethora of information (and misinformation) out there, it can be overwhelming and difficult to discern the health from the hype.
Don't despair. Just follow the simplest rule of healthy eating: eat real food—you know, the kind that occurs in nature. Potatoes? Yes. Fresh fruit? Absolutely. Whole grains? You bet. That box of chicken-flavored crackers? Not so much.
This is a time to get back to the basics. Daniella Chace, MS, CN, a certified nutritionist and the author of several cancer nutrition books including The What to Eat If You Have Cancer Cookbook, suggests eating food in its most natural form and avoiding refined and highly processed foods. In addition, strive for a wide variety, ensuring that you are getting the macronutrients (protein, fat, and carbohydrates) and the micronutrients (vitamins and minerals) that your body needs.
When you walk the aisles of the grocery store, do so with these guidelines in mind: Shop the perimeter, where you'll find fresh produce and natural foods. Reach for whole grains such as quinoa or brown rice instead of refined and processed foods such as white flour, chips, and other boxed items. Fill your basket with fresh fruits and vegetables, nuts, seeds, legumes, whole grains, organic dairy products, and lean meats or fish.
If you're battling cancer, Chace says, you may also want to increase your protein intake. "Protein is necessary for healing and providing the essential amino acids for optimal immune function," she explains. Protein helps repair body tissue, strengthen the immune system, and ensure growth. Good sources of protein include fish, poultry, dairy products, lean meat, nuts, and legumes. Chace suggests also incorporating protein powder, which is easy to digest and can be added to a smoothie.
Be Prepared
So now you know what to eat, but how can you make the time to create all these healthy meals? Sunday afternoons can be a great time to plan ahead to ensure that you and your family eat well for the week. Spend a few hours preparing, and weeknight meals will come together quickly. Try these strategies to help you make the most of your time:
Start by making a menu and a grocery list for the week. This will not only help you prepare but also allow you to see if you are meeting your nutritional needs. Be sure to include a variety of choices from different food groups.
That first hour home from the grocery store is your window of opportunity. Before you put away the carrots and the celery, how about washing and chopping them up so that they are ready for a grab-and-go snack?
Take the time to make as many components of upcoming dinners as you can. For example, brown rice is a delicious and healthy addition to many meals, but it takes almost an hour to cook and not many kids can wait that long for dinner to be ready. Instead, make a large pot of brown rice on Sunday afternoon and keep it in the refrigerator to use throughout the week. That way the base of your meal will be ready and you can build around it.
If possible, make meals ahead of time that you can throw in the oven after a long day, such as lasagna or enchiladas. While you're at it, make two and freeze one to use later.
Keep It Simple
Meals do not have to be elaborate gourmet events to be delicious and healthy. Use simple ingredients and keep it basic. A crock-pot is a great tool for preparing quick, easy meals that are also packed with nutrients. Throw some fresh veggies, potatoes, broth, and lean red meat into the crock-pot as you leave in the morning and come home to a delicious and nutritious stew.
Think outside the box. Cancer treatment, busy schedules, and picky eaters can make it hard to plan sit-down meals. When it's not possible to gather at the table, something fast and nutritious, like a smoothie, might be the best option. "Smoothies are an easy and quick way to provide a nutrient-dense meal for a child," Chace says. "Even the most finicky eaters will drink a protein shake or smoothie."
Enjoy!
Remember, gathering together as a family and enjoying healthy food is a pleasure and a blessing. A shared meal that provides your family with the nutrition you all need and allows you to spend time together is an opportunity to fuel your body and your spirit.
If You're Not Able to Cook for Yourself
If your treatment has you sidelined and unable to devote energy to cooking, hand this information off to your caregiver or to friends and family members who want to help. They'll be glad you asked, and you'll be able to rest and know that your family is eating well.
Make a list of food allergies, likes, and dislikes so that friends dropping off meals can be sure to include foods your family will eat.
Make a master grocery list and ask friends or family to shop for you.
Put someone in charge. Often one friend can create a master calendar and coordinate meal deliveries. A little planning and communication will ensure that you don't receive six tuna casseroles in a row.
Ask friends to drop off meals that can be easily frozen.
Ask people to drop off perishable items that have been washed and chopped so that you can easily grab healthy snacks.
Provide recipes. If you don't have the energy to make your kids' favorite dish, don't be shy—share the recipe with a friend. They'll be happy to know how to help.
Ask for single servings of things that can be used for healthy lunches for you or to go in your child's lunchbox.
Steps for Simple Meal Planning
If you are scrambling to get dinner on the table every night, you're likely making less-than-ideal choices when it comes to nutrition and cost. Ready to make a change that will benefit your health and your wallet? Consider planning your weekly meals.
While creating several days' or weeks' worth of meals may seem overwhelming, when you break it down it can be quite simple. And if you plan well, you'll save time and money.
If you find yourself heading to the grocery store at least a few nights a week, that's a lot of time spent in the aisles. So, while sitting down to plan meals ahead may seem daunting, it will likely take less time—as little as half an hour or so (once you're in the swing)—to plan a week of meals.
In addition to the time saved, planning meals ahead can cut costs. When you end up at the grocery store multiple times per week, you're more likely to buy things you don't need: it has been reported that you make one to three impulse buys every time you go to the store. That's no big deal if you shop once a week, but if you're at the market three or four times in a week, you're potentially buying up to 12 unnecessary items and therefore spending more money. And those little extras tend not to be healthy; they're more likely to be chips, candy, cookies, and the like.
Finally, if you're not shopping for dinner multiple times a week, you may be eating out or order­ing take-out—both of which are far more expensive than cooking at home and usually higher in fat, sodium, and calories.
The bottom line: planning meals saves time and money while offering the healthiest options. Ready to sit down and make a plan? Read on for tips and strategies.
Cooking for One? Planning Is Still Important
Cooking for one is sometimes challenging. It is im­portant to eat nutritiously, but you don't always feel like cooking a big meal for just yourself and then eating the leftovers every day for a week.
To make getting a healthy, individual meal on the table eas­ier, try this: Make two or three nights a week "cook nights." Using the meal-planning strategies in the main article, plan for two or three meals. On those nights make enough to freeze two or three meals' worth of leftovers. You can use zip-top freezer bags, freezer-safe containers, or vacuum-sealed bags. On the nights of the week you didn't plan to cook, simply choose from your selection of homemade frozen meals. Casseroles, soups, stews, and chili lend themselves well to freezing. Now you can enjoy a different home-cooked meal every night of the week. The first week or two you may want to make and freeze more than two or three meals so that you can build up your freezer stock and have a good variety of meals from which to choose.
Step 1: Get Organized
Before you start planning, it's a good idea to have a system in place to keep track of shop­ping lists and recipe ideas. This can be as simple or as high tech as you choose to make it. For low tech, a spiral notebook works well, as does a whiteboard calendar. For techies, a note-keeping app on your smartphone or tablet is a good meth­od—or create a separate calendar on your device's calendar app. You can also search meal planning on­line, where you'll find an infinite source of ideas.
Step 2: Look Ahead
Once you've decided on your meth­od for keeping a meal calendar, it's time to start planning. Start out slowly if you've never done this be­fore; you don't need to plan seven meals on the first go. Aim to plan three to four meals per week for the first few weeks. Begin by look­ing at the upcoming week on your calendar. Are there nights you have plans that will affect the time you'll have to prepare a meal? Make note of those activities and for those eve­nings consider simple, quick meals or slow-cooker meals that can be eaten when you're ready.
Step 3: Research Recipes
These days sources for meal ideas are virtually unlimited. A great place to start is by thinking about your family's favorite foods. List all of your classic go-to meal ideas, along with the ingredients that each requires (and there's no need to in­clude staple ingredients you always have on hand like oil, spices, and seasonings). Simply jot down the ingredients you'll need to buy to make these family favorites. (These mini ingredients lists will come in handy later.)
Next, branch out from your stan­dard list and get inspired. Consider some of these sources:
Cookbooks. Your own shelves are a great foundation, but you can also check the local library's cookbook section and ask friends what their favorite, most-used cookbooks are.
Popular collection apps and web­sites. Pinterest and Facebook are re­plete with images of delicious foods with links to their recipes.
Recipe websites. There are too many to count, but a few good ones are allrecipes.com, taste of home. com, and cookinglight.com. And the boom in food blogging means there are endless personal sites de­voted to meals.
Food companies. Most food com­panies publish recipes that feature their products. Check the labels or websites of some of your favorite brands for their recipes.
Step 4: Jump In
You have a system; you have recipe ideas. Next step: create your first weekly meal calendar. Start by de­ciding on the entrées—the main part of the meal. Ask yourself: How many days do I want chicken, sea­food, or beef? Do you want a sim­ple sandwich night or some meat­less meals? Once you decide that, you'll know what types of recipes to search for.
Next, start filling in your calen­dar with the meals you've selected. If the recipes are casseroles or one-pot dinners that include protein (meat or plant-based), starch (pasta, rice, and other grains), and vegetables, you're done. For dinners that are simple proteins (a chicken breast or a piece of fish, for example), you'll need to choose a starch and some vegetables to round out the meal.
A good tip is to combine easy and complex recipes in a single meal. You don't want each component of the meal to take an hour or more and use three different pots. Pair simple grilled chicken or broiled fish with a slightly more complicated pasta salad, or have roasted brocco­li as your vegetable on nights you're cutting, seasoning, and sautéing a more complicated entrée.
Step 5: Make Your Grocery List
Once you've chosen your meals or as you're filling the calendar, make your grocery list. Write down all the ingredients you'll need. Just like you did for the family favorites, in­clude only items you need to buy.
Now you're almost ready to shop. The final step is to go through your pantry, refrigerator, and cup­boards, with your ingredient list as a reference, to confirm what you have on hand. Add to the shopping list whatever staple items you're running low on and you're ready to go. You've compiled an ingre­dients list of everything you need to make a week's worth of healthy and delicious meals, instead of just a random list of foods you and your family like that may or may not go together to form a meal.
Step 6: Get the Goods
Well-armed with your carefully considered list, you're ready to hit the store (or farmer's market for seasonal goods, if that's an option). Stick to your plan and you'll arrive home with all you need—no more getting home from the market only to find you have nothing to make for dinner.
Quick Tip:
Consider organizing your grocery list to coordinate with the store's aisles: Aisle 1 at top of the list, aisle 2 next, and so on. This will help you shop more smoothly and efficiently.
Nutritious Grab-and-go Snacks
Celery sticks and almond butter
Carrot sticks and hummus
Apple slices and peanut butter
Grapes
Trail mix
Granola bars
Hard-cooked eggs
Healthy Alternatives When You're On the Go
Recipes
Minestrone Soup
From The Cancer Nutrition Center Handbook by Carolyn Katzin, MSPH, CNS
1 cup white beans, soaked
½ tablespoon olive oil
1 medium onion, chopped
2 cloves garlic, crushed
2 stalks celery, chopped
3 medium carrots, diced
1 green bell pepper, diced
8 cups water
1 teaspoon salt
½ teaspoon black pepper
½ teaspoon rosemary
½ teaspoon thyme
½ teaspoon oregano
½ teaspoon marjoram
½ cup cooked pasta shells
½ cup frozen chopped green beans
½ cup frozen green peas
Rinse the beans and boil for 20 minutes. Heat the oil in a nonstick skillet and sauté the onion and garlic for 3 to 4 minutes. Add the celery, carrots, and green pepper and continue to cook for 1 to 2 minutes. Add the water, salt, and pepper and bring to a boil. Add the herbs, then cover and simmer for 15 minutes. Add the pasta shells, green beans, and peas and continue to cook for 10 minutes. Serve hot.
Granola Bars
From The What to Eat If You Have Cancer Cookbook by Daniela Chace
½ cup honey
½ cup barley malt syrup
2 cups oats
1 cup chopped walnuts
¾ cup chopped almonds
? cup flaxseeds
¼ cup sunflower seeds
¾ cup raisins
¾ cup dried cherries
½ teaspoon cardamom
¼ teaspoon cinnamon
Preheat oven to 350º. In a medium saucepan, combine honey and barley malt syrup and cook at a low boil for 5 minutes. Remove the pan from the heat and immediately add the rest of the ingredients. Mix well.
Line a 9-by-13-inch baking pan with waxed paper and pour in the mixture, making sure it is evenly distributed across the pan. Bake for 14 minutes or until golden brown. Let cool for 30 minutes. Cut into squares and serve.