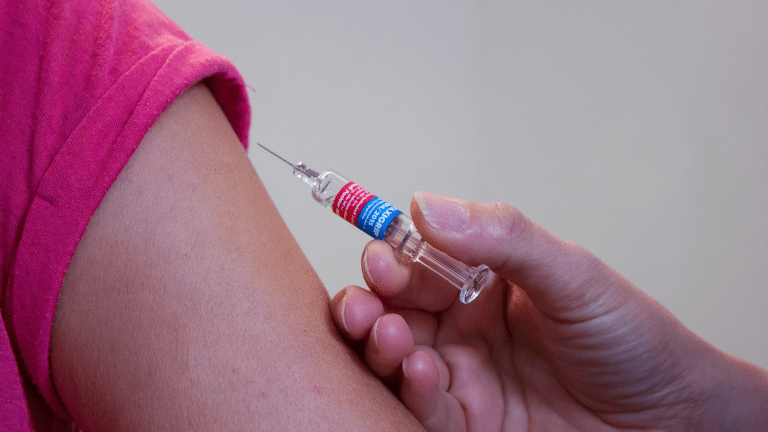 COVID-19 Vaccines and Cancer
COVID-19 vaccination answers to frequently asked questions about vaccination and cancer-updated April 23rd
COVID-19 vaccination answers to frequently asked questions about vaccination and cancer-updated April 23rd
COVID-19 Vaccines
The Pfizer-BioNTech COVID‐19, Moderna and Johnson & Johnson vaccine have received emergency use authorizations (EUA) from the United States Food and Drug Administration (FDA) for use for active immunization to prevent COVID-19 caused by severe acute respiratory syndrome coronavirus 2 (SARS-CoV-2) in individuals 16 years of age and older.
Initially prioritized for essential workers, people over age 65 and individuals with underlying health conditions that increase the risk for severe COVID-19 vaccines are now available throughout the United States to most individuals seeking vaccination.
How Do the Vaccines Work?
A vaccine is designed to trigger a controlled immune system response that trains the body to fight a foreign invader (virus, bacteria) if the body encounters the invader again in the future. The coronavirus is studded with spike proteins that protrude and allow the virus to enter your cells where they start replicating. Spike proteins are recognized as "foreign" and serve as a target for the immune system.
The two vaccines are the first of a new type of vaccine based on messenger RNA (mRNA). Instead of injecting a weakened or killed virus into the body, mRNA vaccines teach cells how to make a protein—or even just a piece of a protein—that triggers an immune response.
How is the vaccine given?
The vaccine is injected into the muscle of your upper arm. The vaccine is given in 2 doses at 21 days interval and we expect patients receiving the vaccine to be immune 2-3 weeks after their second dose of vaccine.
How effective are the mRNA vaccines?
Both vaccines appear highly effective resulting in a measurable immune response in over 94% of vaccinated individuals by seven days after getting the second dose. Because it takes your body about two weeks to make enough antibodies to mount a response to the virus an immune response is evident as early as 14 days after the first dose, but the effectiveness was only about 50%.1-3
The Food and Drug Administration (FDA) has expanded the Emergency Use Authorization (EUA) for the Pfizer-BioNTech COVID-19 Vaccine to include adolescents 12 to 15 years of age. Previously, the vaccine had only been authorized to prevent COVID-19 in patients 16 years of age and older.22
As for effectiveness, analysis of immunogenicity data showed that immune responses to the vaccine in the adolescent group (n=190) were non-inferior to those observed in older participants (16 to 25 years; n=170). Additionally, a review of COVID-19 cases that occurred 7 days after the second dose among 12 to 15 year olds without evidence of prior SARS-CoV-2 infection demonstrated that the vaccine was 100% effective in preventing COVID-19. No cases occurred among the 1005 participants who received the vaccine, while 16 were reported among the 978 placebo recipients.
How Long Does Immunity Last?
The answer to this question has long been awaited and the early evidence looks good. Top line data from the phase 3 study evaluating the Pfizer-BioNTech COVID-19 vaccine released in April 2021 shows that it is highly effective beyond 6 months after the second dose - vaccine efficacy was observed to be 91.3%. The vaccine was 100% effective at preventing severe COVID-19 disease and 100% effective in preventing the COVID-19 B.1.351 South Africa variant.19
Antibodies elicited by the Moderna COVID-19 vaccine also persisted through 6 months after the second dose, according to new data published in The New England Journal of Medicine.(20) According to Moderna the vaccine may be effective up to one year.
Single dose vaccination with Pfizer was found to be 63% effective in residents of nursing homes suggesting the importance of getting both vaccine doses.21
Johnson & Johnson COVID Vaccine
The Johnson & Johnson vaccine candidate unlike Pfizer and Moderna, uses a human adenovirus that has been modified to no longer replicated in humans and cannot cause disease. The vaccine is reported to be 66% effective in preventing moderate to severe COVID-19 at 28 days post-vaccination. The vaccine is reported to be 85% effective in preventing severe/critical COVID-19. Moreover, the vaccine demonstrated complete protection against COVID-19 related hospitalization and death at 28 days post vaccination. Onset of protection was observed as early as day 14 and there were no reported COVID-19-related deaths in vaccinated individuals.
Vaccine roll out was halted due to concerns about blot clots occurring in several women of child bearing age, including one fatality.9,10 On Friday, April 23, 2021 the US FDA Advisory Committee on Immunization Practices voted to recommend resuming the use of the Johnson& Johnson COVID-19 vaccine based on their assessment that the benefits clearly outweigh the risks. Currently there are 6 reported cases of blood clots including one fatality in women between age 18 and 48 in the first 6.8 million vaccine doses administered.
COVID Vaccination and Cancer – Answers to Frequently Asked Questions
Are doctors recommending vaccination to all cancer patients?
Having cancer regardless of treatment status is a risk factor for worse outcome from infections including influenza and COVID-19. The short answer is yes once COVID-19 vaccines become more widely available. In terms of prioritization, and according to CDC guidelines, cancer patients will be part of the phase II wave of vaccination which will occur sometime in February. The vaccine is given in 2 doses at 21 days interval and we expect patients receiving the vaccine to be immune 2-3 weeks after their second dose of vaccine.
[Vaccine effectiveness in lymphoma-myeloma patients](Vaccine Effectiveness in Cancer Patients)
For newly diagnosed cancer patients - will the goal be to vaccinate before treatment?
Ideally, it is best to vaccinate before treatment as the immune response to the vaccine may be impaired in patients receiving chemotherapy. The vaccine is optimally administered at least two weeks before chemotherapy starts.
If on chemotherapy or immunotherapy will treatment be changed in anyway in order to vaccinate?
Other than timing, there should be no major changes to your plan of treatment relative to vaccine administration. It is important to note that other measures taken by your treating physician about the safety of administering the vaccine such as blood counts, concern regarding allergic reactions and others should be taken in consideration to decide on timing and appropriateness of vaccination.
How soon can vaccination occur after completion of chemotherapy or immunotherapy?
There have been conflicting results regarding the immunogenicity of immunization on the first day of the chemotherapy cycle, with one study showing poor immune protection but another study showing good protection from the flu vaccine. Since there is not enough data for the COVID vaccine, we assume similarities and recommend vaccination at the one-week mark from the start of the chemotherapy cycle.
Regarding immunotherapy, studies are relatively conflicting, but a recent study suggests that the flu vaccine does not worsen the toxicities of this type of therapy. Since COVID-19 infection can be very severe and potentially lethal for patients undergoing chemotherapy or immunotherapy, we will be recommending vaccination for all patients with cancer as we continue to study this question further.
What SARS-CoV-2 vaccines are approved for use in immunocompromised patients?
No current clinical trials of a COVID-19 vaccine have enrolled immunocompromised patients. Thus, the effectiveness and safety of a SARS-CoV-2 vaccine has not been established in the different immunocompromised patient populations.
Is it safe to receive a COVID-19 vaccine if someone has undergone a stem cell transplant?
In patients who have had a stem cell transplant, their immune systems are incapable of reacting to a vaccine for at least three months following the actual transplant - most centers recommend delaying all vaccines for at least three months following stem cell transplant,
Why might some cancer patients not respond to vaccines?
In order for the vaccine to generate protective immunity functional host immunity is required. The host must be able to correctly present the antigen to the immune system so B and T cell activation can occur, and plasma B cell antibody generated. People lacking functional adaptive immune cells may be unable to generate a fully protective immune response to a SARS-CoV-2 vaccine.
According to the American Society of Hematology the following immunocompromised patients could have attenuated or absent response to a SARS-CoV-2 vaccine. (4)
· Immunodeficiencies involving adaptive immunity
· Splenectomy or functional asplenia (sickle cell disease)
· B cell directed therapies against CD20 or CD22, bispecific agents like blinatumomab, CD19 or CD22-directed CAR-T cell therapies and BTK inhibitors)
· T cell directed therapies (antithymocyte globulin, alemtuzumab)
· Many chemotherapy regimens
· High-dose corticosteroids
· Stem Cell Transplant patients - especially within the first 3-6 months after autologous and often longer after allogeneic.
· Graft-vs.-host disease (GVHD)
· Low white blood cell counts. (neutropenia ANC<500/μL, lymphopenia ALC<200/μL)
Are there and theoretical concerns with RNA vaccines in immunocompromised patients?
Theoretical concerns for their use include a hyper-inflammatory response, which was described in some animal models. (5) This effect has not been demonstrated in humans. Another concern is the development of autoimmune syndromes related to the increased type I interferon response elicited by an mRNA/DNA vaccine. (6)
Given patients with chronic lymphocytic leukemia, lymphoma or myelodysplasia and patients after allogeneic hematopoietic cell transplantation may be prone to other immune-mediated complications, there is some concern that generating anti-SARS-CoV-2 antibodies in these patients could lead to immune enhancement and a systemic inflammatory response akin to what is seen with multisystem inflammatory syndrome in children (MIS-C).
If immunocompromised patients were not included in the vaccine trials and are less likely to respond to a SARS-CoV-2 vaccine, should they still receive it?
Most experts recommend vaccination as long as the vaccine is safe for use, even if the expected protection rate is lower than the general population because the risks of getting COVID-19 infection in patients with cancer is significant.
The risks and benefits for immunocompromised patients receiving a SARS-CoV-2 vaccine should be weighed on a case-by-case basis, with consideration of the incidence of infection in the community. This will depend on the approved vaccine formulation available, level of immunosuppression the patient has received, and the underlying reason for immunosuppressive therapy (e.g., cancer treatment, transplantation).
When should patients on immunosuppressive therapy by vaccinated?
Vaccination is recommended at least 2-4 weeks prior to the planned immunosuppressive therapy, transplant or splenectomy. If the patient is receiving or has received immunosuppressive therapy, consider vaccination 6 months after the patient has been taken off therapy to increase the likelihood of developing immunity. After hematopoietic cell transplantation vaccines are generally started after 3-6 months.
What Don't we know about the Vaccines?
· Does vaccination protect against asymptomatic cases of COVID-19?
· Does vaccination prevent transmission of COVID-19?
· How long does protection last?
Until this data is available, it's important to remember that getting vaccinated is not a passport to a pre-COVID life. People who are vaccinated still need to wear face masks and practice social distancing.
Who should not get vaccinated?
The fact sheet says that you should not get the Pfizer-BioNTech COVID-19 vaccine if you:
· had a severe allergic reaction after a previous dose of this vaccine
· had a severe allergic reaction to any ingredient of this vaccine
What if I have a history of allergies?
The American College of Allergy, Asthma, and Immunology released a statement offering guidance to patients with allergies (7) and updated its guidelines regarding the risk for allergic reactions with COVID-19 vaccines on March 25th, 2021.
All individuals planning to be vaccinated should be screened to determine the possible risk for allergic reaction and those with a history of severe allergic reaction to other vaccines should be referred to an allergist/immunologist for further evaluation. Anyone with a severe or immediate allergic reaction of any severity within 4 hours of receiving the first COVID-19 shot should not receive the second dose and may be referred to an allergist/immunologist.
People who have received dermal fillers may develop swelling at or near the site of filled injection following mRNA COVID-19 vaccination; this occurs infrequently and seems to be temporary. Individuals receiving the mRNA COVID-19 vaccine should expect local and systemic post vaccination symptoms, which are expected side effects and not allergic reactions.
· Allergic reactions to vaccines, in general, are rare with the incidence of anaphylaxis estimated at 1.31 in 1 million doses given.
· Individuals with common allergies to medications, foods, inhalants, insects, and latex are no more likely than the general public to have an allergic reaction to the Pfizer-BioNTech COVID-19 vaccine. Those patients should be informed of the benefits of the vaccine versus its risks.
· The Pfizer-BioNTech COVID-19 vaccine should be administered in a health care setting where anaphylaxis can be treated. All individuals must be observed for at least 20-30 minutes after injection to monitor for any adverse reaction. All anaphylactic reactions should be managed immediately, with epinephrine as the first line treatment.
· The Pfizer-BioNTech COVID-19 vaccine should not be administered to individuals with a known history of a severe allergic reaction to polyethylene glycol as it is a component of this vaccine that is known to cause anaphylaxis.
· Data related to risk in individuals with a history of allergic reactions to previous vaccinations and/or mast cell activation syndrome/idiopathic anaphylaxis is very limited and evolving. A decision to receive the Pfizer-BioNTech COVID-19 vaccine should be undertaken by you with your physician or other provider administering the vaccine using their professional judgment balancing the benefits and risks associated with taking the vaccine.
What are the vaccine's side effects?
The most common side effects reported in the clinical trials were pain at the injection site, fatigue, and fever. Serious side effects were rare and other reported side effects of the vaccines include:
· Injection site pain
· Tiredness
· Headache
· Muscle pain
· Chills
· Joint pain
· Fever
· Injection site swelling
· Injection site redness
· Nausea
· Feeling unwell
· Swollen lymph nodes (lymphadenopathy)
Answers to Submitted Vaccine Related Questions
Are you recommending the vaccine to patients with cancer, lymphoma, and leukemia?
Having cancer regardless of treatment status is a risk factor for a worse outcome from infections including influenza and COVID-19. The short answer is yes, COVID-19 vaccination is being recommended for all individuals with cancer and blood malignancies. According to CDC guidelines, cancer patients were part of the phase II wave of vaccination.
Is there a difference between the Pfizer, Moderna and JNJ vaccines?
The Pfizer and Moderna vaccines appear to have similar effectiveness and no differences between the two are yet apparent. These vaccines are given in 2 doses at 21 day intervals. We expect patients receiving the first vaccine dose to be developing immunity within 2 weeks and to achieve their full immune responses 2-3 weeks after their second dose of vaccine. The JNJ vaccine only requires a single injection but appears slightly less effective.
Are both vaccine doses necessary?
According to data released on March 12th the Pfizer-BioNTech vaccine provides less protection in cancer patients after a single dose than in healthy individuals but the second dose of the vaccine at three weeks improves protection significantly.
Pfizer currently recommends 21 days between vaccine doses but because the UK's vaccine strategy currently involves a 12-week gap between doses doctors were able to assess vaccinated individual's immune response following a single dose.
The immune response to the vaccine was evaluated in 54 healthy volunteers and 151 elderly patients with cancer or leukemia by measuring blood antibody and T cells levels to determine the level of immune response generated against the coronavirus. Three weeks after one dose of the vaccine an antibody response was found in 39% of solid cancer patients and just 13% of people with blood cancer. The response in healthy volunteers was 97%.In the solid cancer patients who received a second dose three weeks after the first, the antibody response shot up to 95% within two weeks of the boost.
Further evidence of the need for a boost was shown by the fact that antibody levels only increased to 43% in people with solid cancers and 8% in those with blood cancer five weeks after their first dose. It was 100% in healthy volunteers.
The data provides the first real-world evidence of immune effectiveness following one dose of the Pfizer vaccine in immunocompromised patients. Following the first dose, most cancer patients remained immunologically unprotected up until at least five weeks following primary injection. The poor one dose effectiveness can be rescued with an early booster at day 21.
These results suggest that the vaccines may well not protect patients with cancer as well as those without cancer and that cancer patients should continue to observe social distancing and shielding. The study did not evaluate single dose vaccines but suggests delayed immune responses in cancer patients are probable. (10)
Long-term side effects have not been defined for SARS-CoV-2 vaccines and will be available once phase 3 trials have followed longer. A national monitoring system exists for reporting vaccine-related adverse events.
What about 'mixing and matching' the vaccines?
There is no evidence yet on whether switching vaccines makes any difference. There are already trials underway to test whether this might work for the Covid-19 vaccines. (14)
Timing of Vaccination
It is recommended that all patients with cancer receive the COVID-19 vaccine, however there are some individuals who may need to wait to ensure that their immune system responds to the vaccine. The NCCN advises patients who have undergone an allogeneic or autologous transplant or chimeric antigen receptor T (CAR-T) cell therapy to wait a minimum of 3 months to receive the vaccine. (11)
Can I get the vaccine while receiving chemotherapy?
Yes. Having cancer regardless of treatment status is a risk factor for worse outcome from infections with influenza and COVID-19. Some individuals with suppressed immune systems may not respond to the vaccine as well as others but this is not a reason not to get the vaccine. Patients who received intensive cytotoxic chemotherapy and experienced a resulting decrease in absolute neutrophil count should wait until the neutrophil count recovers to receive the vaccine. It is also advised that patients who underwent a major surgery wait a few days to be vaccinated. All other patients with cancer, regardless of their type of treatment, should receive the vaccine as soon as it is made available to them, according to the NCCN. (11) The vaccine has not been evaluated in cancer patients specifically at this time.
What if I am about to start chemotherapy?
If possible, it is advised to delay starting chemo until 2 weeks after completing the Covid 19 vaccine series in order to max out the protective benefit from the vaccine.
· Learn more about vaccination here.
Is it safe to receive a COVID-19 vaccine if someone has undergone a stem cell transplant?
In patients who have had a stem cell transplant, their immune systems are incapable of reacting to a vaccine for at least three months following the actual transplant - most centers recommend delaying all vaccines for at least three months following stem cell transplant.
I have lymphoma and I received my second vaccine dose two weeks ago. Someone told me I would only be good about 50% instead of 95% is this true?
Lymphoma patients definitely can have a lower vaccine response and 50% is possible. Lower response rates are more likely if you are on therapy or on maintenance.
Should Rituxan (or other chemo) maintenance be held during COVID vaccination?
The answer to this is unknown but B-cell suppression typically lasts for at least 9 months after the completion of Rituxan. I would discuss with your oncologist whether Rituxan can be held safely for a prolonged period of time. If not, I would proceed with the COVID-19 vaccine whenever you can get it. Unfortunately, we still do not know the efficacy of the COVID vaccine for lymphoma patients who are actively receiving therapy.
I have been in remission from lymphoma for 2 1/2 years, has my immune system fully recovered to take the COVID-19 vaccine?
Assuming you are not on any type of maintenance therapy your immune system is completely or nearly completely recovered and the CDC and other MD groups would recommend vaccination at this time.
I have cancer, should I get the Flu Vaccine as well?
There are no data regarding the timing of the flu vaccine and the COVID19 vaccine, but I would probably not get the flu vaccine until at least a few weeks after the Covid vaccine. In the future make sure you obtain the flu vaccine very year early in the flu season.
I've had multiple types of chemo, radiation and stem cell transplant. My immune system did not recover, and I've been getting IVIG since 3/2020. Are there recommendations on when to get the vaccine?
There are no firm guidelines as to when to receive the COVID-19 vaccine in relation to an IVIG infusion. For my own patients, I am trying to do this at least 2-3 weeks after IVIG.​
Is there an estimate of the efficacy of the vaccine in the immunocompromised (percentage-wise)?
No data yet - it is however likely to be less effective than it is in people with a normal immune system - this however is not a reason to not get vaccinated.
​I have a blood cancer and am on chemotherapy and have compromised immune system and take prolia for bones, is it ok to get covid vaccine. I am 83 yrs old in ok health.
The short answer is yes, the vaccines however were not evaluated in patients with blood disorders and compromised immune systems so we are not certain how effective they will be - the CDC is recommending cancer patients should get the vaccine. You should however discuss vaccination with the doctor.
Vaccine Safety & Side Effects
I am concerned about the safety of the two RNA vaccines in general. Are there any studies on the safety and efficacy in lymphoma patients and these vaccines?
So far data shows excellent safety, most of vaccines adverse events occur on short term historically and there had been no concerns with the mRNA vaccines and enough follow up now in terms of safety, we don't have data on efficacy among patients with MPN, there is zero harm as the vaccine does not contain any virus killed or attenuated.
My friend says that the Pfizer mRNA vaccine may cause covid19 illness in some people, is it true?
Absolutely not, there is no virus in the vaccine​.
Do the vaccines cause local injection site side effects?
Immediate injection-site reactions have been observed in 84% of individuals after the first dose and reports suggest that delayed injection-site reactions on or after day 8 occur in ~1% after the second dose. Reactions consist of redness, swelling and tenderness, typically resolve over 4 to 5 days and are due to a delayed-type or T-cell–mediated hypersensitivity. Neither local injection-site reactions nor delayed-type hypersensitivity reactions are contraindications to subsequent vaccination. (17,18)
Covid vaccination seems to cause adenopathy. I received the vaccine ...currently waiting for second dose...I have a PET scan scheduled for recent diagnosis of follicular lymphoma for two weeks after second dose. Will the vaccine give false positive for more aggressive cancer?
It is very unlikely that the PET/CT will show findings consistent with a higher-grade lymphoma. However, if you're concerned about this possibility, you can speak with your oncologist about deferring the PET/CT for another two weeks.
I am Vaccinated, Now What?
Because cancer patients may not attain a full immune response the risk of infection with COVID-19 remains at some level. Hand washing, distancing, and mask wearing should continue especially in parts of the country where a "surge" in infections is occurring until we learn more about immunity and COVID risk in vaccinated cancer patients.
How long after vaccination does immunity take to develop?
It seems that some protection starts to appear about 2 weeks after the first dose, and then this increases over time. But we don't yet know how long protection lasts. Individuals can prolong immunity with a second booster dose to make sure the immune system can consolidate the protection.
Do the vaccines prevent you from spreading coronavirus?
Evidence is starting to emerge showing that vaccination can also reduce the spread of infection. Studies of healthcare workers getting the Pfizer vaccine in Israel have reported both a drop in illness and in infections.
CDC Updates Travel Guidance for Individuals Fully Vaccinated Against COVID-19
Individuals are considered fully vaccinated at least 2 weeks after they have received the COVID-19 vaccine. Fully vaccinated individuals can travel within the United States (US) without having the need for COVID-19 testing or post-travel self-quarantine. While traveling, fully vaccinated individuals should take proper COVID-19 precautions such as wearing a mask, avoiding crowds when in public, social distancing, and washing hands frequently. (15)
Can you still get ill with Covid-19 after vaccination?
The Covid-19 vaccines are very good but they're not perfect. Estimates of peak efficacy are above 90%, but not quite 100%. Therefore, vaccinated individuals can still become infected. If you do get ill, it's much less likely to be as severe. Immunity takes at least 2-3 weeks to properly develop after getting your first vaccine dose. New coronavirus variants are also emerging that might be able to avoid immunity.
The "Ask the Experts About COVID-19 and Cancer" Series
References:
Voysey M, et al. Safety and efficacy of the ChAdOx1 nCoV-19 vaccine (AZD1222) against SARS-CoV-2: an interim analysis of four randomised controlled trials in Brazil, South Africa, and the UK. The Lancet. December 8, 2020. [doi](https://doi.org/10.1016/S0140-6736(20%2932661-1).
Bos R, Rutten L, van der Lubbe JEM, et al. Ad26 vector-based COVID-19 vaccine encoding a prefusion-stabilized SARS-CoV-2 Spike immunogen induces potent humoral and cellular immune responses. NPJ Vaccines 2020;5:91.
Pardi N, Hogan MJ, Porter FW, Weissman D. mRNA vaccines - a new era in vaccinology. Nat Rev Drug Discov 2018;17:261-79.
Reynolds E, et al. Allergy warning for Pfizer/BioNTech vaccine after UK health workers with allergy history suffer reaction. CNN. December 10, 2020.
Johnson & Johnson announces single-shot Janssen COVID-19 vaccine candidate met primary endpoints in interim analysis of its phase 3 ENSEMBLE trial. [press release]. New Brunswick, NJ: Johnson & Johnson; January 29, 2021.
Janssen investigational COVID-19 vaccine: interim analysis of phase 3 clinical data released. [press release]. Bethesda, MD: National Institutes of Health; January 29, 2021.
10.
Preliminary Recommendations of the NCCN COVID-19 Vaccination Advisory Committee — National Cancer Center Network (NCCN)
[https://www.thelancet.com/journals/lancet/article/PIIS0140-6736(21)00448-7/fulltext](https://www.thelancet.com/journals/lancet/article/PIIS0140-6736(21%2900448-7/fulltext)
CDC issues updated guidance on travel for fully vaccinated people. The U.S. Centers for Disease Control and Prevention.
Baden LR, El Sahly HM, Essink B, et al. Efficacy and safety of the mRNA-1273 SARS-CoV-2 vaccine. N Engl J Med 2021;384:403-416.
Kelso JM, Greenhawt MJ, Li JT, et al. Adverse reactions to vaccines practice parameter 2012 update. J Allergy Clin Immunol 2012;130:25-43.
Pfizer and BioNTech confirm high efficacy and no serious safety concerns through up to six months following second dose in updated topline analysis of landmark COVID-19 vaccine study. [press release]. New York, NY and Mainz, Germany: Pfizer Inc. and BioNTech SE; April 1, 2021.
Doria-Rose N, Suthar MS, Makowski M, et al. Antibody persistence through 6 months after the second dose of mRNA-1273 vaccine for Covid-19. N Engl J Med. Published online April 6, 2021. doi: 10.1056/NEJMc2103916.
FDA authorizes Pfizer-BioNTech COVID-19 Vaccine for emergency use in adolescents in another important action in fight against pandemic. [press release]. Silver Spring, MD: US Food and Drug Administation. May 10, 2021.