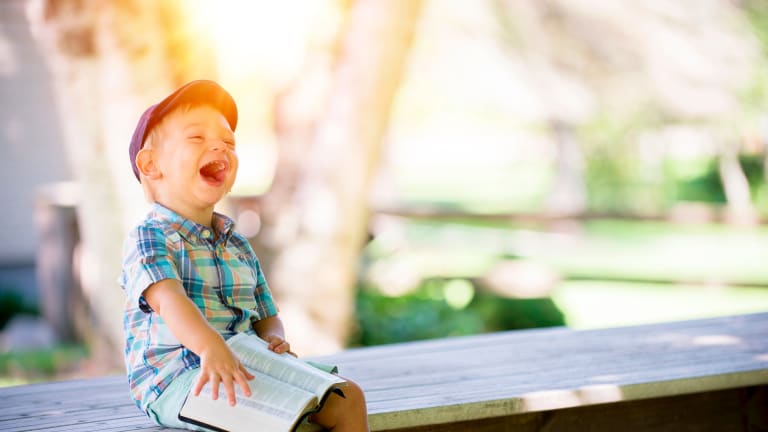 Complementary Therapies in Cancer Care: Humor Therapy
Dr. Barrie Cassileth PhD Chief of Integrative Medicine - Memorial Sloan-Kettering Cancer Center explains Humor Therapy
Complementary Therapies in Cancer Care: Humor Therapy
An ongoing series highlighting complementary therapies, adapted from The Complete Guide to Complementary Therapies in Cancer Care
Humor therapy
On his return flight home from a trip to Moscow in the mid-1960s, Norman Cousins, then editor of the Saturday Review, rapidly became ill. Within two days of landing in the United States, he was hospitalized with a high fever, severe pain, and difficulty moving his arms and legs. After two weeks of hospitalization, his condition slowly worsened while his physicians struggled to treat a debilitating problem that eluded specific diagnosis.
In a now-famous story, Cousins checked himself out of the hospital and into a nearby hotel. He began a self-invented regimen of laughter and massive doses of vitamin C. A film projector was brought to the hotel room, and each day Cousins watched Marx brothers films and episodes of Candid Camera. These were his favorite comedy routines, and they elicited continual laughter despite the pain.
In fact, the pain began to decrease as the laughter sessions continued. The illness relented, eventually disappearing entirely. It never recurred. Cousins's doctors could not explain his recovery in medical terms. Cousins later published an article in the New England Journal of Medicine and popularized his experience in a book, Anatomy of an Illness. His works set off a wave of interest in the potential therapeutic benefits of laughter and humor, and Cousins himself was appointed to the faculty of the medical school dean's office at the University of California, Los Angeles (UCLA), where he worked on mind-body issues.
Although Cousins's problem may well have been self-limiting, and recovery cannot be attributed with any certainty to the humor and the laughter he experienced, laughter may well have contributed to it. Furthermore, it no doubt enhanced his quality of his life, as it does for a wide variety of patients.
What It Is
Humor or laughter therapy is the deliberate use of humor as a complementary therapy for people suffering from physical or emotional disorders. In medical facilities laughter therapy may be available in a specific room in the hospital or ambulatory care facility. These are rooms where patients can go to relax and temporarily escape the institutional environment. Often they contain small libraries that include humorous books, videos, toys, and other amusing objects.
Some hospitals have volunteers who wheel carts filled with books, toys, audio- and videotapes, and other objects to patients' rooms. Trained laughter therapists are available in some towns, and patients or family members often try humor therapy on their own. Hospitals or sections of hospitals devoted to children often have people dressed as clowns who try to brighten the days of hospitalized children.
A hospital in Charlotte, North Carolina, set up a "Laughmobile" containing audio- and videotapes, modeling clay, coloring books, puzzles, and games. It was used with great success for adults and children hospitalized for cancer treatment. In other states volunteers have established transportable humor and laughter programs, consisting of cartons of materials that they are invited to bring to inpatient facilities. The materials may include such items as rubber chickens and water pistols, which patients apparently use to everyone's amusement.
Humor may also involve one-on-one interactions between patients and caregivers. Of course, anyone can follow Norman Cousins's example of reading, listening to, or viewing whatever they find amusing. Because people differ with regard to what makes them laugh, laughter therapy is individualized.
What Practitioners Say It Does
Of course, laughter is not promoted as a cure for disease. But as a complementary therapy, it is recognized as helpful for patients in many medical circumstances. Advocates do not claim that humor or laughter treats illness.
Humor therapy is brought to cancer patients, sick children, people under treatment for depression, the elderly in nursing homes, cardiac patients, and other groups. The therapeutic goal is to improve quality of life, provide symptom relief by distracting the patient from constant awareness of pain, and improve emotional and psychological health by encouraging relaxation and stress reduction. As part of support programs for patients, humor can provide a means of communication between patients and their caregivers and loved ones.
Proverbs 17:22 says, "A merry heart doeth good like a medicine," and there's a comparable Irish adage: A good laugh and a long sleep are the best cures in the doctor's book. Laughter is, indeed, good medicine with many therapeutic benefits. Often it does this by serving as an icebreaker, allowing patients to convey ideas or feelings that are difficult or awkward to express in other ways.
Beliefs on Which It Is Based
Although common sense would seem to be the rationale for including laughter and humor in patient care settings, laughter has a long history in medical practice. It was used as an "anesthetic" to distract patients during surgical procedures in the thirteenth century, and other references to it appear in ancient medical literature. Accounts of the physiologic benefits of laughter are also found in American medical literature from the early twentieth century.
The physiological effects of laughter include an increase in heart rate, breathing rate, and oxygen consumption, which in turn stimulate the circulatory system. Laughter also massages and exercises the muscles and the organs involved in breathing, as well as triggers the release of endorphins, which are the body's natural morphinelike compounds that help control pain. These physiological effects, advocates believe, explain the therapeutic benefits of laughter and humor.
Research Evidence to Date
Research documents the physiological effects of laughter, and anecdotal reports describe patients' appreciation and positive experiences with humor and laughter.
University-based research found that laughing lowers blood pressure and increases muscle flexibility in addition to releasing endorphins. Endorphins not only reduce pain but also induce a degree of euphoria and therefore may further enhance the positive effects of laughter. Evidence also indicates that laughter increases immune activity and can reduce levels of cortisol, a stress hormone associated with suppressing the immune system.
What It Can Do for You
Laughter and humor are distracting and uplifting. Humor helps people cope with stress and illness, and it creates a relaxing environment. Being able to laugh easily with friends seems to enhance quality of life for people generally.
Despite its clear virtues, humor is not a replacement for conventional medical treatment. Even Norman Cousins, whose diagnosis and cure were uncertain, in his writings and in later work at the UCLA medical school, cautioned against trying to use humor instead of medical treatment for any ailment.
Where to Get It
If you are hospitalized, ask what facilities or programs exist for relaxation and humor. You may ask the hospital or visitors for CDs or DVDs, or ask visitors to bring you humorous books. Beyond that, life itself is a good source of humor. Humor is an individual response, and what sends you into gales of laughter may leave another blank-eyed and unmoved. Yet humor is one of the easiest therapies to incorporate into your life, whether you are ill or well.
Adapted with permission from The Complete Guide to Complementary Therapies in Cancer Care: Essential Information for Patients, Survivors, and Health Professionals.
Copyright © 2011 by World Scientific Publishing Co. Pte. Ltd.
Barrie R. Cassileth, MS, PhD is Laurance S. Rockefeller Chair and Chief of the Integrative Medicine department at Memorial Sloan-Kettering Cancer Center (MSKCC) in New York City. She has an extensive medical leadership career and is a foremost authority on complementary therapies and Integrative Medicine in oncology. Her work includes more than 170 publications in the medical literature, more than 40 medical textbook chapters, and 22 books for physicians, patients, and families. She was a founding member of the Advisory Council to the U.S. National Institutes of Health Office of Alternative Medicine, now the National Center for Complementary and Alternative Medicine; she served previously on the National and the NY-NJ Regional Boards of the American Cancer Society, and on multiple national and international committees. She is a staunch opponent of cancer quackery. She is Founding President of the Society for Integrative Oncology. Since joining MSKCC in 1999, Dr. Cassileth has established prototypic research, education, and clinical programs in Integrative Medicine. Her most recent book, The Complete Guide to Complementary Therapies in Cancer Care: Essential Information for Patients, Survivors and Health Professionals, was published in 2011 by World Scientific Publishing Company, Singapore and UK.