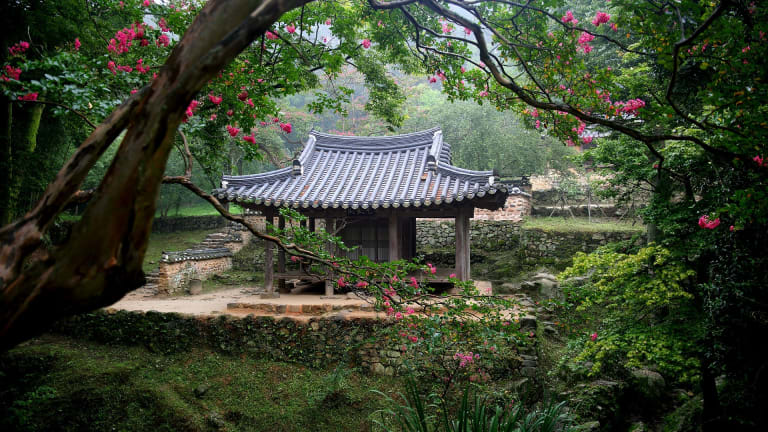 Caregivers and Patients Need a Space for Healing
Whether you are a caregiver or a patient, creating your own sacred space can become a healing exercise.
​Stonehenge, Lourdes, the Holy Land, Mecca, the Great Pyramids, Native American burial grounds, the exotic temples of Tibet and myriad churches around the world—what is it that connects these places and continues to draw visitors and pilgrims? These sacred spaces are known to evoke a spiritual response in their visitors, and all represent transformation healing grounds. Aesthetic beauty and spiritual significance meet in these places to provide a space for introspection and renewal. Though these examples represent sacred space on a large scale, the fact is that you have the ability to create your own sacred space wherever you most need it.
A space that encourages contemplation and renewal can take up as little area as a portion of a bookshelf or a windowsill and as much as an entire room. If you're a cancer patient, creating a sacred space might mean bringing your own precious objects to a hospital room or establishing a space in your home where you can retreat following treatment. If you are a caregiver, any space that will allow you a personal haven where you can take time to care for yourself in the midst of caring for others will be invaluable.
Whatever place you choose to designate as sacred, you have the power to make it beautiful and meaningful by combining the "real" world of what you see, feel, touch and smell with the emotional world of what inspires, calms and revives you. Use your imagination to decide how to best combine these two realms to create the right environment for you.
Truly sacred space will provide a refuge and an opportunity for regeneration through thoughtful attention to sensory detail. The components that come into play are as varied as the people incorporating them. Among the most universal elements are color, art, beloved objects, music, aromatics and lighting.
Color
Color can have a dramatic impact on the emotional energy of any space. The choices and combinations are limitless. Studies on the psychology of color describe that grayish-beige walls represent intelligence, technology, security and tranquility. Green symbolizes healing, growth, renewal, freshness, hope and luck. Blue can add spirituality, relaxation, peace and dependability to a setting, while joy and optimism are thought to be qualities of yellow. Red emits energy and warmth, and white is said to reflect purity and innocence. Depending upon which reference guide you look to, you will, of course, find different interpretations of color psychology and symbolism. Ultimately, your own particular associations with color will no doubt dictate your choice. Most important is to remember that there are no hard and fast rules. Select your colors based on what brings you the best emotional response.
Art
Just like color, art should be selected to suit your own taste and emotional response. Keep in mind that art need not be expensive to enhance your sacred space. It could consist of a professional piece, of framed cards from friends or family, of a drawing by your child or of something you've created yourself. The purpose is to add a visual element to your space that contributes to your happiness and sense of peace.
Music/Sound
If you find tranquility in sound, consider including music, sounds from nature or chimes to your space. A sound system of some sort will allow you to play your favorite music. If you would rather incorporate sounds from nature, a fountain or a CD that mimics the ocean or rain drops would be a nice addition. Chimes or a bell that you can incorporate into a meditation practice are also an option. On the other hand, if silence brings you more peace, you can choose to keep your space quiet. Again, the point is to create an environment that allows you to reflect and revive your spirit.
Beloved Objects
Any item that you cherish, regardless of its worldly value, can find its honored place in your sacred space. Shells from a favorite beach, significant icons, homemade gifts, flowers, plants, candles and photographs can all add to your space. Your relationship to the object determines whether or not it should be included. Whenever possible, consider using treasured objects in non-traditional ways—use a teapot as a pencil holder or fill a silver vessel with jellybeans. A touch of the unexpected can enliven the spirit!
Décor
Think of your sacred space as your personal nest. If the place you choose offers enough space for furnishings, choose items that provide you with a comfortable, inviting place. Luxurious fabrics, comfortable cushions, a cozy blanket or a plush rug might all add to your space. Diffused lighting might help bring calm to the room, as will candlelight. If your taste tends toward the spare, a clean, light room with fewer furnishings might be the right space. Whatever sort of décor invites you to relax and be at ease is the right choice.
Rituals
When you have filled your space with objects and décor that suit your style and emotional needs, you may want to incorporate a few rituals that will signify a break with your everyday routine. Light a scented candle when you enter the space. Turn on music, meditate or engage in a simple relaxation exercise. (One easy-to-remember technique: inhale peace, exhale worry.) Practice aromatherapy by placing lavender or sandalwood oil in a diffuser for relaxation; orange or lemongrass will produce an energizing effect. Create your own tea ceremony and take time to prepare and sip a cup while enjoying your sacred space. Do whatever it is that will bring you into a renewed consciousness to enjoy the environment and release the stressors in your life.
Now that you've discovered your ability to create a sacred space in everyday environments, remember that there are no rules–your sacred space is just that, yours. Now you're only obligation is to enjoy it.
Other helpful resources on your quest for sacred space: Denise Linn's books, including Sacred Space and Altars: Bringing Sacred Shrines into Your Everyday Life and Donald Kaufman and Taffy Dahl's book Color: Natural Palettes for Painted Rooms.