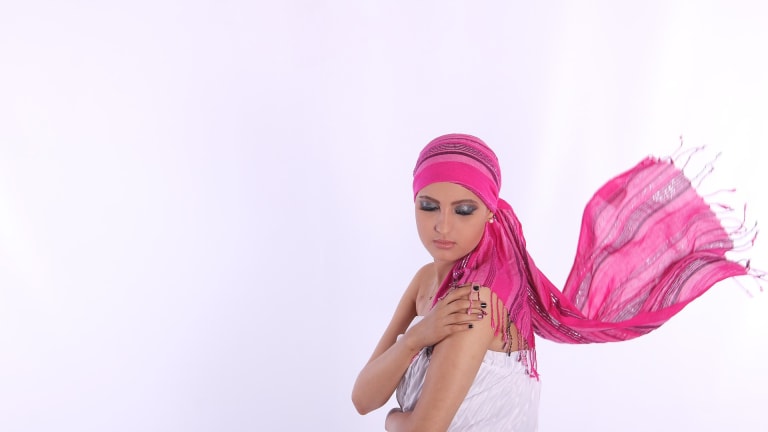 Cancer, Chemotherapy and Hair Loss
Beauty experts, fashion consultants, and hair loss experts discuss how to cope with hair loss from cancer treatment
by Laurie Wertich and The Look Good Feel Better Foundation
Hair loss or thinning is a potential side effect of some cancer treatments, including chemotherapy and hormonal therapy.  Chemotherapy-related hair loss (alopecia) can affect your scalp as well as your eyebrows, eyelashes, and body. In most cases, hair grows back after treatment is finished. But some people may experience longer term or permanent hair loss or thinning. 
You can prepare yourself for the chance that you might lose your hair during chemotherapy. Start by asking your doctor how likely it is that the particular drug you'll receive will cause hair loss (risk differs among drugs). If there's a good chance that your hair will fall out, consider cutting it short so that you'll have less hair to shed and the loss won't be as dramatic.
Think about your options to cover your head—wigs, scarves, and caps. If you choose a wig and want a close match with your natural hair color, shop for a wig while you still have your hair. Contact your health insurance company and ask if they cover the cost of wigs for cancer patients (some do). If you decide not to cover your bare head, be sure to apply sunscreen whenever you're outdoors.
Remember that hair almost always grows back after chemotherapy. It may come back with a different color or texture, but chances are it will be back!
Why does chemotherapy cause hair loss?
Chemotherapy targets and damages all rapidly dividing cells. This includes cancer cells as well as some healthy cells that divide rapidly, such as hair follicles.  If you're not in cancer treatment, cells in your hair follicles divide every 23 to 72 hours.  Within a few weeks of starting certain chemotherapy medicines, you may lose some or all of your hair. The hair loss can happen gradually or fairly quickly. Chemotherapy leading to hair loss is also called alopecia.
When does hair loss begin and what will happen?
Hair loss will typically begin two or three weeks after your first treatment. In addition to hair on your head, you may lose eyebrows, eyelashes, facial hair, pubic hair, underarm hair and leg hair. The amount of hair that you lose will depend on the type of chemotherapy drug you are taking. 
When does hair grow back?
How long it takes for the hair to grow back after chemotherapy varies a lot from person to person. In general hair regrowth on the head begins 3–4 weeks after chemotherapy ends. It starts with soft fuzz 4- 6 weeks after and "real" hair starts to grow 2–3 months after completing treatment. People get about an inch of hair after 3–6 months, 2–3 inches of hair at 12 months.
The hair on your head may grow back as a different color, texture, or volume. In many cases, hair eventually returns to the way it used to be.  Some individuals will have incomplete hair regrowth, and permanent baldness, loss of eyebrows and eyelashes can occur, particularly in people treated with Taxotere chemotherapy.
Hormonal therapy and hair loss 
Some hormonal therapies can cause mild to moderate hair loss, or hair thinning. These medicines include: tamoxifen, Faslodex (fulvestrant), Arimidex (anastrozole), Aromasin (exemestane), and Femara (letrozole). Hormonal therapies work either by lowering estrogen levels which reduces the growth of hair follicles. Hair loss is less dramatic than that experienced following chemotherapy and often levels off after the first year, tut the thinning will last as long as you keep taking the medicine. Hair will usually starts growing back a few months after you stop taking hormonal therapy.
Precision medicines immunotherapy and hair loss 
Ibrance (palbociclib), Kisqali (ribociclib), Perjeta (pertuzumab), Piqray (alpelisib), Talzenna (talazoparib), and Verzenio (abemaciclib) can cause hair loss. Immunotherapy only causes hair loss in a very small percentage of people.
What can be done to cope with hair loss?
Importantly, you should remember that hair loss associated with chemotherapy is temporary and the hair WILL grow back. In the meantime, here are a few tips to help you cope with the loss:
You may wish to cut your hair before it starts falling out. The experience of losing the hair is sometimes worse than dealing with it once it's gone. If you expect to lose all or a lot of your hair, cutting it first may be easier to cope with.
Plan ahead; shop for a wig before your hair is gone, especially if you wish to match your natural color. Or, take this opportunity to try something different.
Try hats or head scarves; these are good alternatives or a compliment to a wig.
Remember to cover your head or use sunscreen on your scalp. Skin that has been covered with hair may be particularly sensitive to UV rays of the sun.
Ask your insurance company if they cover the cost of the wig.
Treat your new hair gently once it grows back. Avoid chemicals, bleach, peroxide or colors.
Wait until you have finished chemotherapy to perm or color your hair. The chemicals used in these treatments may cause damage in addition to the effects of chemotherapy.
Learn about cosmetic techniques to compensate for lost eyebrows or lashes. Make-up can be used to create the illusion of brows and lashes. Get involved in a "Look Good… Feel Better" program, a community-based, free, national service that teaches female cancer patients beauty techniques to help restore their appearance and self-image during chemotherapy and radiation treatments.
An interview with renowned style-maker Frédéric Fekkai- one of the most celebrated names in beauty and hairstyling
Acclaimed for his modern, individualistic approach, Frédéric has made an indelible mark on the beauty and fashion communities with his innovative styling, exclusive salons, and luxurious hair care products.
Many women say that the most devastating and obvious change they experience from chemotherapy is hair loss. What advice would you give women on how to create a chic, easy-to-maintain hairstyle if they start to lose their hair due to cancer treatment?
"I think one of the most important tips at the start is to keep a positive outlook and surround yourself with advisers you trust—whether it's your hairstylist, a best friend, or your daughter. They can help you make the right decisions. Also know that we have a wealth of amazing beauty resources to help you get through this difficult time, and hair loss is almost always temporary."
"For thinning hair or minimal hair loss, try a shorter style with slight layers, which can add extra fullness to the hair. If hair loss is extreme, you can choose from a large selection of stylish ready-made or custom wigs available through salons and wig stores. Today there are salons that specialize in wigs and hairpieces especially for clients experiencing hair loss from chemotherapy. The key is to locate a hairstylist or wig specialist who is skilled in the art of wig styling—someone who will make you feel comfortable, relaxed, and confident. Ask around for recommendations to learn where people have had the most positive experience."
If a woman chooses to purchase a wig to camouflage hair loss during cancer treatment, what should she look for?
"There are many options today for women interested in finding a wig, including custom-made to ready-to-wear styles, natural or synthetic fibers, and many colors and styles. The first step should always be a personal consultation with either your hairstylist or a wig specialist. I suggest bringing a photo of yourself from a great hair day. This will give some guidance to the specialist as to what you may want to create when selecting a wig. If you find a wig with the perfect color and texture, a wig specialist can cut it to match your look."
"Most wigs look natural—even the synthetic ones, which are less expensive. Keep in mind that human hair requires more care and will have to be washed and reset from time to time, depending on use. The focus should be on finding a style that makes you feel confident and beautiful."
"As you consider your options, take the time to educate yourself before you make a purchase, as prices vary."
How should a woman go about picking a color that will enhance and brighten her complexion?
"Consult a colorist and pick a shade that will be best for your complexion. I would suggest trying a wig in a shade lighter than your natural color. Some women find that it brightens their appearance and offsets changes in their skin."
What are some suggestions for stylish alternatives to wearing a wig?
"If you want to take a break from your wig, you're running late, or you just want to change your look a little, try a scarf. I love a headscarf on a woman. It can be a very chic look. Think Jackie O and try wearing a gorgeous, richly colored scarf and a pair of oversized sunglasses—a classic style."
There are endless ways to tie scarves. For different scarf-tying techniques, visit the "Beauty Guide" section on the Look Good…Feel Better website (www.lookgoodfeelbetter.org). For additional ideas, visit "Playtime with Your Scarf" on the Hermès website. There are also some amazing hats available that can disguise hair loss. Use this time to experiment with your style and have fun. Keep it classic and look online to see how past fashion icons have worn hats and scarves.
Once hair starts to grow back after cancer treatment, what do you suggest for keeping it healthy?
"It's important to moisturize your hair with a light conditioner. Allow the conditioner to sit on the hair for extra time, and massage the scalp to relax the cuticles."
If a shorter haircut is the only option, what styles would you recommend to make it fashionable or trendy?
"I suggest a short bob like Halle Berry's current style or a classic like Louise Brooks's. Keep it short and all one length to give the impression of more body. Use moisturizing products and do regular hair masks to help maintain healthy hair."
When shopping for wigs, women sometimes want to experiment with fun new styles that they normally would not wear. What guidelines should they follow when picking new styles that complement their face shape and bone structure?
"I always believe in keeping it modern and classic. You want a style that suits your face structure and personality best. I would stay away from being too trendy, as you want to try to feel like your most beautiful and elegant self."
Dr. Denise Yardley from the Sarah Cannon Research Institute talks about the difficulties of hair loss
Hair loss, I think, is very powerful – and I think the issue with patients who are facing a diagnosis of breast cancer, they realize loss of hair is not life threatening like a diagnosis of breast cancer, but when I talk to patients it is the most visible part of their therapy. The clothes and Band-Aids and garments can hide the wound from the diagnosis of breast cancer and the issues of surgery, but we really don't have a lot to hide when you begin hair loss and it really takes a very personal issue of facing a diagnosis of breast cancer and making it very public. And I think that is very difficult for patients who are just trying to deal with their diagnosis and cope with that among themselves and with their immediate family, to now making this a very public event.
You know, I think many patients, they'll acknowledge that they think it's a vanity component and I tell them it really isn't. We get used to seeing ourselves every day as we walk by a glass or a mirror and all the sudden when your hair is gone, it's a totally different face that's looking back at you and it adds so much, you know, in terms of bringing that diagnosis to light and such a reminder on a day-to-day, moment-to-moment basis for patients that it is very difficult to deal with. We use wigs and scarves but I think many patients, myself included, have had bad haircuts and, you know, are immediately aware of just the slightest amount of abnormality. To have complete loss of hair is so powerful for patients and families. For little children, it's a whole different look to their mother and they struggle with that and that's a real entity. It becomes almost as much as struggling with a diagnosis for many patients.
Talking with Kids About Mom's Hair Loss
Dr. Denise Yardley from the Sarah Cannon Research Institute explains the importance of talking to children about mom's hair loss.
I think, again, it's a little bit of peer pressure for, depending on the age of the child, of what your mommy and daddy look like to the public and to their friends. And so for many parents, picking up and dropping off children at school and being at school functions – it's very important to have a wig or some alternative to help cover their scalp. And I think it just really helps address that peer pressure impact on children. The home circumstance, most children are really comfortable and they have games and color, you know, on scalps and make fun of it, but I think, again, to the public and the peer pressure from that makes it a little bit more of an entity for many of the moms.
Hair Transplant after Cancer Treatment
Amy Gibson and Dr. Craig Ziering discuss hair transplant after cancer treatment in this informative video.
Called "The Voice of Women's Hair Loss," Amy Gibson is the leading Women's Personal Hair Loss Consultant in the US and Cancer Hair Loss Expert for women suffering from medical hair loss. Founder of CreatedHair.com and Salons, since 2000 Amy has worked with thousands of women going through cancer treatment both in her Beverly Hills salon, in- hospital and via Skype.
Creative, fashionable ways to deal with hair loss
Talk with a hairdresser. He or she may suggest getting a shorter cut to make your hair look thicker. Or, if you are undergoing radiation therapy to your head, maybe you want to grow your hair longer so it is easier to style and cover thinning spots. If you feel comfortable without hair, you may consider the natural look. With a great pair of earrings and the right makeup, this can be a striking alternative.
Save a clipping of your hair. Use this to match the color if you get a wig.
Ask your hairdresser for styling advice when your hair starts growing back.
Use gentle shampoos and avoid chemical treatments (such as perms, coloring, and straightening) until your hair grows back.
The Inside Scoop on Wigs
Considering a Wig? Learn From The Best
Wigs can create the appearance of thick, healthy-looking hair. You can buy wigs in any color, either ready-made or custom-made just for you. Costs vary—try different types of wigs before you decide which to buy. Health insurance may pay for a wig if your doctor prescribes it as a "cranial prosthesis."
Wigs give you a chance to try new hairstyles and colors. You can use this time to find the look that flatters you the best.
Comparison-shop. Wigs vary greatly in style, comfort, ease of care, and price. They may be machine-made or hand-tied, composed of human hair or custom synthetics or a blend of the two. Most wigs today look natural—even synthetic ones. Wigs made from human hair require more care and cost more than synthetic wigs. Newer wig styles are made with loose mesh caps and are cooler and more comfortable in warm weather.
Turbans and Scarves
Turbans look good and are inexpensive. Many women like to wear them at home to protect their scalp while sleeping or as a quick, versatile, fashionable look for everyday use or for a special occasion.
To give the look of fullness, wear a terrycloth turban or put a shoulder pad at the crown of the head under a turban or scarf.
Choose colors that flatter your skin tone.
Try different styles of turbans. For instance, some have bangs or hairpieces attached.
You can make a fashion statement by adding pins, clip earrings, flowers, or other creative items to your turban or scarf.
Scarves offer an infinite array of colors, styles, and textures.
A 32- to 36-inch square can cover the entire head or be folded into a band. You can make bands from smaller squares and oblong pieces as well.
Scarves come in many fabrics: silk scarves look elegant but tend to slip; cotton scarves offer a casual look, are cool, and are easy to keep tied; wool challis scarves drape beautifully but can be itchy. Most women choose scarves that match the season and the occasion.
Choose colors and patterns that look good with your outfit. Scarves need not match exactly. Sometimes two patterns of the same color yield a very interesting look.
Clothing styles with soft curves and draping lines work well with head wraps.
Hats
Hats are always in style and are a fun and fashionable option. They include sporty baseball caps, fedoras, and even chic berets. Some hats are sold with an attached hairpiece (such as a ponytail, a bob, or bangs). You should be able to find such hats at wig stores, hair salons, and department stores as well as in catalogs and online. You can also create your own look by wearing a hat over a wig, partial hairpiece, turban, or scarf.
Managing ongoing hair thinning 
If hair isn't growing back or is noticeably thinner, it's a good idea to see a dermatologist who specializes in hair loss. Thyroid problems, nutritional deficiencies, and other factors can play a role in hair loss.
Rogaine (minoxidil) is an over-the-counter medication that promotes hair growth. It's safe for people with a history of breast cancer and moderately effective. 
Topical cetirizine has recently been reported to help with thinning hair. https://pubmed.ncbi.nlm.nih.gov/33909554/
Turn to nutrition for shiny hair and healthy nails
Diets are a dime a dozen. You can choose from just about any program—eating for your blood type, eating an immune-supportive diet, low carb, high protein, sugar free, gluten free, and more. But did you know there is a healthy hair and nail diet, too? There is—and the good news is that you don't have to buy a book or subscribe to any program to get lustrous hair and nails. All you have to do is make sure your diet includes the proper nutrients that will give your hair and nails some extra strength and shine.
If you want shiny, healthy hair and strong nails, start incorporating these nutrients into your diet:
Omega-3 Fatty Acids: Omega-3 fatty acids are a critical component of a healthy diet for many reasons, including the fact that these essential fatty acids (EFAs) support scalp health and lock in moisture. A deficiency in EFAs can result in dry scalp or dandruff. So if you want to prevent dry, brittle hair, omega-3s are key. If you want to increase your omega-3 intake, you can swallow a tablespoon of fish oil each morning or simply be sure to consume foods rich in omega-3s, such as eggs, salmon, spinach, tuna, walnuts, flaxseeds, or chia seeds.
Biotin: Biotin is part of the B-vitamin complex. In truth it is vitamin B7, though it is sometimes referred to as vitamin H (as in hair). A deficiency in biotin can result in brittle hair or hair loss. Biotin helps strengthen nails and repair split ends. Biotin can be found in foods such as bananas, eggs, oatmeal, and rice, but it never hurts to supplement with a B complex vitamin.
Protein: Protein intake is critical to a balanced diet. Dietary protein is one of the building blocks for strong hair and nails, both of which are comprised of a protein known as keratin. Vegetarians and vegans have to be especially careful to ensure their diet is meeting their protein needs. Most people think of meat as protein—and it is—but there are many sources of this vital nutrient. Choose from lean meats, chicken, eggs, dairy, nuts, legumes, whole grains, and soybeans.
Vitamin A: Vitamin A helps produce sebum in the body, which acts as a conditioning agent for the scalp. Vitamin A helps to keep hair looking and feeling healthy. To ensure you're consuming enough vitamin A in your diet, include foods such as apricots, broccoli, cantaloupe, spinach, sweet potatoes, eggs, and mangoes.
Zinc: Zinc does more than help maintain your immune system—it helps regulate the body's ability to make new proteins that become the building blocks of healthy hair and nails. A deficiency in zinc can result in dry, brittle hair and even alopecia (hair loss). To maintain optimal zinc levels, be sure to consume beans, whole grains, shellfish, cashews, lean meat, and poultry.