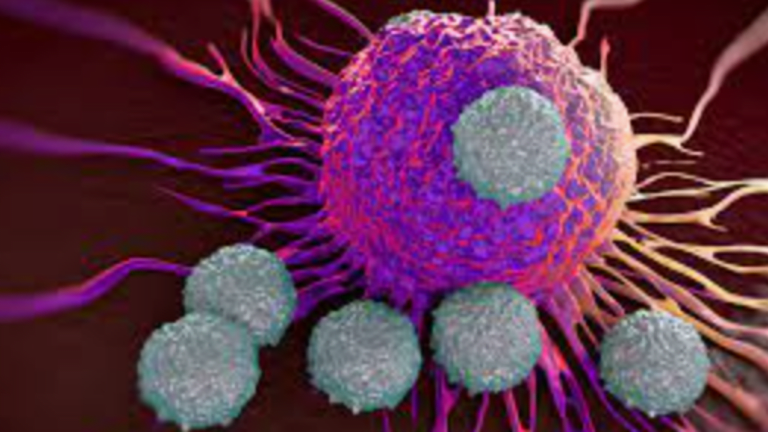 CAR T Cell Therapy for Treatment of "Solid" Tumors
Can CAR T Cell Therapy Improve Outcomes in Pancreatic, GI, Ovary and other "Solid Tumors"
T cells (lymphocytes) are part of your body's immune system. They develop from stem cells in the bone marrow and help protect the body from things that are "foreign" like infection and cancer. The basic premise of CAR T immunotherapy is to modify the bodies T cells so they can recognize cancer cells to more effectively target and destroy them.
Chimeric antigen receptors (CARs) are receptor proteins made in the laboratory that have been engineered to give T cells the new ability to target a specific protein on cancer cells. The receptors combine both antigen-binding and T cell activating functions into a single receptor.
CAR T cell therapy improves the outcomes of certain patients with 'liquid" cancers such as lymphoma, myeloma and leukemia but can CAR T cell therapy be used to treat lung, pancreatic and other "solid" tumors?1-6
What is CAR T-cell Therapy?
In essence, CAR T cell therapy is a type of gene therapy that modifies a patient's own T cells (a type of immune cell) to detect and kill a patient's cancer cells. It is unique in comparison to other types of available immune therapies for cancer, in that the patient's own T cells are the actual treatment; no other medications are used as an active component of therapy. Importantly, long term results may be achieved with just one infusion.
The process involves removal of T cells from the patient's blood to undergo genetic engineering outside of the body, which includes several steps:
First, a patient's blood is collected from a vein in the arm. The blood flows through a tube to a machine that removes and collects the T cells, and the rest of the blood is returned into the patient's body.
The collected T cells are sent to a laboratory where they are genetically modified, with the use of an inactive virus, to produce specific proteins on their surface. These proteins are called chimeric antigen receptors (CARs). The CARs are important because they enable the T cells to recognize and bind to specific proteins detected on the surface of the patient's cancer cells, known as antigens.
The genetically modified T cells, now referred to as CAR T cells, are multiplied in the laboratory into the hundreds of millions.
The CAR T cells are then sent from the laboratory to the treating hospital where they are infused back into the patient's body through a vein in the arm.
Prior to infusion, the patient undergoes one round of a chemotherapy regimen to reduce the amount of cancer cells as well as other immune cells, which improves the body's acceptance of the CAR T cells. The Lympho-depleting chemotherapy is often Fludarabine + Cyclophosphamide (FluCy) and is used in order to deplete endogenous T-cells (and Tregs), so that they are not going to antagonize/suppress and allow expansion/proliferation of the infused CAR-T cells.
Once infused, CAR T cells circulate throughout the patient's body, and attach to cancer cells. This binding action stimulates an immune attack and destruction of the cancer cells.
From the ACS
The process spanning from the initial collection of a patient's T cells to the infusion of the modified CAR T cells back into the patient currently takes approximately one week but researchers are working on ways to reduce this.
Researchers continue to modify and improve the effectiveness of the CAR T cells once they are infused back into the patients. For example, the extent of time the cells survive in circulation (called persistence) continues to be increased, as does as their ability to replicate in greater amounts in the body (called expansion) to enhance and sustain their anti-cancer activity.
The T cells are in essence a "living drug"; they multiply in the patient's body and, with guidance from their engineered receptor, recognize and kill cancer cells that possess the antigen.
CAR T in Solid Tumors
For patients with leukemia and lymphoma, CAR T-cell therapies work well even with a relatively small number of cells. For patients with solid tumors such as breast, lung or pancreatic cancer, CAR T therapies may require multiple doses of potent cells to reach and effectively attack the tumors or be modified in other ways. Studies are ongoing in several solid tumors where CARs have been identified that are only expressed on the cancer cells and not normal cells. Some examples are provided below.
CAR-T Targeting CLDN6
A limitation of CAR T effectiveness in treating solid tumors is that most of the CAR proteins present on solid tumors that could be used as targets are also found at low levels on normal cells. This makes it difficult to specifically direct the CAR T cells against the cancer.
CLDN6 is one tumor-specific antigen widely expressed in various solid tumors but not present in healthy adult tissues. A CAR T-cell product directed at CLDN6 has been developed, is reported to have an acceptable safety profile, and shows early signs of effectiveness as a "stand alone" treatment and in combination with a CLDN6-encoding mRNA vaccine (CARVac) in patients with solid tumors.
The results of 14 patients with relapsed or refractory advanced, CLDN6-positive solid tumors receiving the CLDN6 CAR T-cell therapy alone and in combination with CARVac have been reported. Four patients with testicular cancer and two with ovarian cancer experienced a partial response for an overall response rate of nearly 43%. In all evaluable patients, deepening of initial partial responses was observed at 12 weeks after infusion. This resulted in one complete response that continues six months after infusion.7
Claudin 18.2 in GI Cancers
The CLDN18.2 protein is highly expressed in the gastric mucosa and intestinal epithelium and has been found to across a variety of cancers, especially those in the gastrointestinal tract. This high level of expression in cancer cells indicates it as an ideal candidate for targeted therapies.3 CT041 is a CAR T cell therapy in development targeting CLDN18.2
Treatment with the CLDN18.2 – specific CAR T-cell therapy CT041 elicited either a response or stable disease in a majority of heavily pretreated patients with CLDN18.2-positive advanced gastric and pancreatic adenocarcinoma, according to findings from a phase 1b US-based study presented at the 2022 ASCO annual meeting.10
The objective response rate with CT041 was 33% across evaluable patients enrolled in the study which included 1 complete response in a patient with metastatic gastric cancer. Disease control was observed in two-thirds of patients. Responses, even complete responses were reported in patients who have been through 4 or more lines of chemotherapy. Results are similar to those reported by Chinese investigators who reported a 57.1% response rate in patients with advanced gastric cancer.8
Ovarian Cancer
Anixa Biosciences dosed the first ovarian cancer patient in a Phase I trial of its follicle-stimulating hormone receptor (FSHR)-targeted autologous cell therapy. One of the main challenges of applying CAR T cell therapies in solid tumors is the lack of clear antigens that enable targeting the cancer cells. The current therapy involves harvesting patients' T cells, engineering them into chimeric endocrine receptor (CER) that target follicle-stimulating hormone receptor (FSHR), a receptor found at high levels only on granulosa ovarian cells. With the CER T-cell technology, instead of targeting an antigen, the therapy targets a hormone receptor, which is expressed exclusively on ovarian cells. The Phase I trial is taking place at the Moffitt Cancer Center in Florida, will enroll up to 48 ovarian cancer patients.
Glioblastoma
MT026, an IL13Rα2-targeted universal chimeric antigen receptor T-cell (UCAR-T cell) therapy, was well-tolerated and demonstrated anti-tumor activity in patients with recurrent glioma according to research presented at the European Society for Medical Oncology (ESMO) Congress 2022, in Paris, France.
Six patients with recurrent glioma were treated with intra-lumbar injection of the "off the shelf" IL13Ra2 UCAR-T cells as of July 2022. These patients had a median age of 52 years and 4 were female. They mostly had medium IL13Rα2 expression. Five of the 6 patients responded to treatment MT026, with 1 complete response, 4 partial responses, and 1 case of stable disease for an overall response rate of 83.3%. Patients had a 66.7% 12-month survival rate after recurrence compared to 15% historically.11
GFRα4 in Medullary Thyroid Cancer
Investigators at the University of Pennsylvania are evaluating a novel CAR T-cell therapy in patients with advanced incurable medullary thyroid cancer (MTC). The pilot study is assessing the safety and feasibility of autologous chimeric T cells targeting the GFRα4 protein in patients with incurable MTC. Investigators hope to recruit up to 18 adults for this phase 1 dose finding study. Eligible patients must have incurable recurrent/metastatic MTC that is progressive after at least 1 prior tyrosine kinase inhibitor–containing regimen, or the patient was intolerant of or declined such therapy.
OR2H1
OR2H1 is another new potential target for CAR T cells. Researchers discovered that the protein OR2H1 is expressed in a variety of solid tumors, ranging from 4% of colon cancer samples to 69% of cancers of the gall bladder. The researchers have created CAR T cells that were specific to the OR2H1 protein. The OR2H1 CAR T cells were able to kill lung and ovarian cancer cells that expressed OR2H1 but had no effect on healthy cells. OR2H1 may be an effective target for CAR T therapies and is being evaluated in a wide variety of patients with solid tumors.
Osteosarcoma
ENLIGHTen-01 is a phase 1 clinical trial open to adolescents and young adults ages 15 to 30 with recurrent or refractory osteosarcoma. In this trial, patients will be given autologous "universal" CAR T cells administered with UB-TT170, a small molecule fluorescein tag that targets folate receptors to mark tumors for clearance by CAR T cells.
CAR-T cells Loaded with oncolytic virus to treat solid cancer tumors
Researchers at Mayo Clinic have devised an immunotherapy technique that combines CAR-T cell therapy with a cancer-killing virus in an attempt to more effectively target and treat solid cancer tumors. CAR-T cells deliver the oncolytic virus to the tumor where the virus can infiltrate tumor cells, replicate to bust the cells open, and stimulate an immune response.
This approach allows the tumor to be killed by the virus as well as by the CAR-T and it turns the tumor into a very inflammatory environment, which the patient's own immune system then sees and starts to attack.
The combination therapy led to high cure rates in mice without causing significant toxicity and will next be evaluated in humans.
References
National Cancer Institute.(2017). CAR T-Cell Therapy Approved for Some Children and Young Adults with Leukemia. Retrieved here
National Cancer Institute. (2017). Childhood acute lymphoblastic leukemia treatment (PDQ®)- patient version. Retrieved from cancer.gov/types/leukemia/patient/childall-treatment-pdq
United States Food and Drug Administration. (2017). FDA News Release. FDA approval brings first gene therapy to the United States. Retrieved here
United States Food and Drug Administration. (2017). FDA News Release. FDA approves CAR-T cell therapy to treat adults with certain types of large B-cell lymphoma. Retrieved here
United States Food and Drug Administration. (2017). Kymriah package insert. Retrieved from fda.gov/downloads/BiologicsBlood-Vaccines/CellularGeneTherapyProducts/ApprovedProducts/UCM573941.pdf
United States Food and Drug Administration. (2017). Yescarta package insert. Retrieved from fda.gov/downloads/Biologics-BloodVaccines/CellularGeneTherapyProducts/ApprovedProducts/UCM581226.pdf
Botta GP, Becerra CR, Jin Z, et al. Multicenter phase Ib trial in the U.S. of salvage CT041 CLDN18.2-specific chimeric antigen receptor T-cell therapy for patients with advanced gastric and pancreatic adenocarcinoma. J Clin Oncol. 2022;40(suppl 16):2538. DOI:10.1200/JCO.2022.40.16_suppl.2538.
Simeone DM, Hecht JR, Patel SP, et al. BASECAMP-1: Leveraging human leukocyte antigen (HLA) loss of heterozygosity (LOH) in solid tumors by next-generation sequencing (NGS) to identify patients with relapsed solid tumor for future logic-gated Tmod CAR T-cell therapy. J Clin Oncol. 2022;40 (suppl 16; abstr TPS2
https://www.cgtlive.com/view/carsgen-therapeutics-ct041-shows-promise-in-advanced-gastric-gastroesophageal-junction-adenocarcinoma
Huang Y, Shang X, Li X. The clinical results of an investigator initiated trial of allogeneic CAR-T cells targeting IL13Rα2 in the treatment of high-grade glioma. Presented at: ESMO Congress 2022, September 9-13, Paris, France. Poster #300P.