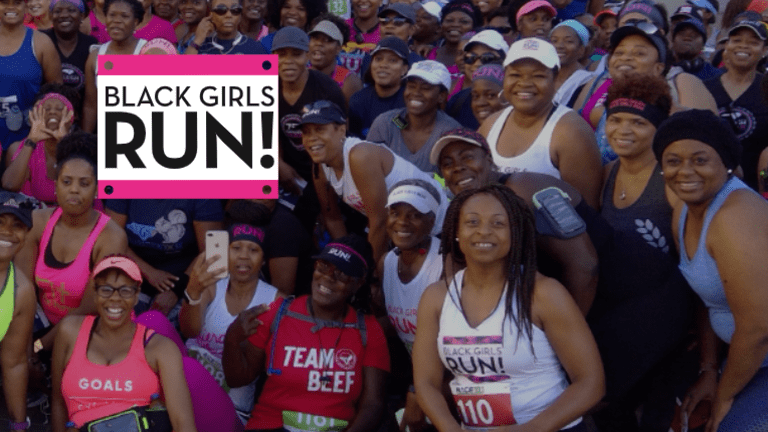 Black Girls RUN!
Black Girls Run mission is to encourage and motivate black women to practice a healthy lifestyle.
Two young social entrepreneurs inspire African-American women to lace up their running shoes and take on the obesity epidemic in their community feet-first.
Ashley Hicks loves to run in the evening after the workday is done. She reflects on her day; she moves her body; she takes in the calm that comes with the setting sun and the changing sky. "When I run I like to pray and meditate," she says of this sacred space she creates in her day. "It really focuses my mind."
Ashley noted the mental and physical benefits of running early on, when she began running regularly about three years ago to improve her fitness; she also noticed that she was one of the few African-American women running in her area. She and her friend and fellow runner Toni Carey discussed the absence of Black women in the sport as they both fielded questions about their running habit from friends and family. "We started getting questions," Ashley says. "People were noticing the change in our bodies and our diets and were curious about running." As they responded and shared their love of running, both women began thinking about the value of sharing the information with more African-American women. "We said, 'You know, we really should start blogging about this,'" Ashley says.
That initial decision to blog about their running and related fitness and wellness topics was the beginning of Black Girls RUN! (BGR!), a community the two women have created to bring Black women together around running and to promote a healthy lifestyle and the many benefits of the sport. "We really wanted to tackle the obesity epidemic, particularly in the African-American community," Toni says of the mission the two have had from the beginning. "We really want to get Black women up and active."

Toni says that many African-American women are intimidated to start with a sport when they don't see many other Black women lacing up their shoes. "I think when you see a sport and you don't see someone like yourself participating, you might automatically assume, Oh, this isn't for me," she says. "I think that's a key reason why you don't see a lot of African-American women participating in the sport." In addition, committing to self-care is a hurdle for many women who juggle so many responsibilities. "I think as women we also tend to put ourselves last, so from a time management perspective—when we're managing work and family and doing all these different things—it's hard to find 30 minutes or an hour for yourself," Toni notes.
Ashley and Toni hope that by helping Black women overcome these hurdles they can ultimately help turn the tide on the obesity epidemic that takes such a toll on the African-American community. To this end the two women strive to create programs and services that reflect their mission to "become the leading resource and source of inspiration for generations of African-American women seeking to develop and maintain a healthy lifestyle." Through running groups around the country managed by BGR! ambassadors; running workshops; an annual conference and race event called Sweat with Your Sole; and the Preserve the Sexy tour (sponsored by Essence magazine), which offers one-day health and fitness clinics in cities around the country, these two young social entrepreneurs are making a difference in the lives of Black women nationwide.
In all that they do to help Black women embrace healthier, more-active lifestyles, Ashley and Toni are fueled by the women they meet who are out there living the message of BGR!. "The success stories that we hear—of people no longer being on medication, of women inspiring their friends and families—that's what makes it all worthwhile," Toni says.
And, Ashley adds, while they love what they do, if they continue to do the job right, they may just work themselves out of this particular career: "At the end of the day, it's really just about being able to look back and know we have helped lower the statistics; if there's no need for Black Girls RUN!, then we've done a good job."
For more information about Black Girls RUN!, visitblackgirlsrun.com.