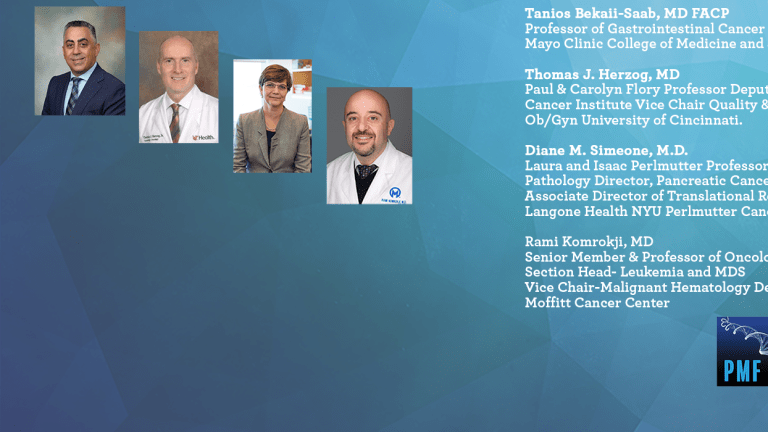 Ask The Experts About COVID-19 and Cancer
Updates on COVID-19, Cancer, Vaccination and Vaccine Safety
The Personalized Medicine Foundation and CancerConnect are pleased to provide patients and caregivers the opportunity to ask questions about the management of cancer during COVID-19. We have put together a panel of leading cancer experts to answer questions and publish a forum for the exchange of information.
Dr. Tanios Bekaii-Saab, MD FACP Professor of Gastrointestinal Cancer Mayo Clinics College of Medicine and Science.
Dr. Thomas J. Herzog, MD Paul & Carolyn Flory Professor Deputy Director, UC Cancer Institute Vice Chair Quality & Safety, Dept Ob/Gyn University of Cincinnati.
Diane M. Simeone, M.D. Laura and Isaac Perlmutter Professor of Surgery and Pathology Director, Pancreatic Cancer Center Associate Director of Translational Research NYU Langone Health NYU Perlmutter Cancer Center.
Rami Komrokji, MD Senior Member & Professor of Oncologic Sciences, Section Head- Leukemia and MDS, Vice Chair-Malignant Hematology Department, Moffitt Cancer Center.
Click here to submit your question-if it has not already been answered below- you will be notified when the responses are posted.
COVID Vaccine Related Questions
Are you recommending the vaccine to your patients with cancer?
Having cancer regardless of treatment status is a risk factor for worse outcome from infections including influenza and COVID-19. The short answer is yes once COVID-19 vaccines become more widely available. In terms of prioritization, and according to CDC guidelines, cancer patients will be part of the phase II wave of vaccination which will occur sometime in February. The vaccine is given in 2 doses at 21 days interval and we expect patients receiving the vaccine to be immune 2-3 weeks after their second dose of vaccine.
I had COVID 4 months ago should i still get the vaccine?
Because we don't know how long immunity lasts, variants exist, and rates of immunity are much higher once you get the vaccine as opposed to when you actually have the illness itself it is recommended that people to get vaccinated.
Timing of Vaccination
It is recommended that all patients with cancer receive the COVID-19 vaccine, however there are some individuals who may need to wait to ensure that their immune system responds to the vaccine. The NCCN advises patients who have undergone an allogeneic or autologous transplant or chimeric antigen receptor T (CAR-T) cell therapy should wait a minimum of 3 months to receive the vaccine.1
Are both vaccine doses necessary?
According to data released on March 12th the Pfizer-BioNTech vaccine provides less protection in cancer patients after a single dose in cancer patients than healthy individuals but the second dose of the vaccine at three weeks improves protection significantly.
Pfizer currently recommends 21 days between vaccine doses but because the UK's vaccine strategy currently involves a 12-week gap between doses doctors were able to assess vaccinated individual's immune response following a single dose.
The immune response to the vaccine was evaluated in 54 healthy volunteers and 151 elderly patients with cancer or leukemia by measuring blood antibody and T cells levels to determine the level of immune response generated against the coronavirus.
Three weeks after one dose of the vaccine an antibody response was found in 39% of solid cancer patients and just 13% of people with blood cancer. The response in healthy volunteers was 97%.
In the solid cancer patients who received a second dose three weeks after the first, the antibody response shot up to 95% within two weeks of the boost. Further evidence of the need for a boost was shown by the fact that antibody levels only increased to 43% in people with solid cancers and 8% in those with blood cancer five weeks after their first dose. It was 100% in healthy volunteers.
The data provides the first real-world evidence of immune effectiveness following one dose of the Pfizer vaccine in immunocompromised patients. Following the first dose, most cancer patients remained immunologically unprotected up until at least five weeks following primary injection. The poor one dose effectiveness can be rescued with an early booster at day 21.
These results suggest that the vaccines may well not protect patients with cancer as well as those without cancer and that cancer patients should continue to observe social distancing and shielding. The study did not evaluate single dose vaccines but suggests delayed immune responses in cancer patients are probable.2
If I have Cancer do I need a booster shoot?
Vaccine effectiveness diminishes over time, and a booster "is needed within six to 12 months after full vaccination in non-immuncompromised individuals .28,29  A study of COVID vaccine boosters suggests Moderna or Pfizer works best and both were approved by the FDA in October 2021 - reversing the previous position. Many patients with cancer however are immunocompromised and it's recommended they receive an additional "shot" instead of a booster to improve the chances of an effective immune response. 
Pfizer-BioNTech COVID-19 vaccine administration of a "booster" vaccine 6 months after the primary 2-dose series elicits high neutralization titers against both the wild type and the Beta variant (B.1.351) Corona Virus. A third dose further boosts antibody titers against the Delta variant, and new research shows that the booster reduces the risk of severe illness and hospitalization from.36
Moderna: Moderna reports its vaccine is 93% effective six months after the second dose. It's important to understand however that immunity against the coronavirus will continue to wane and eventually diminish vaccine efficacy. To improve vaccine effectiveness Moderna also believes a booster shoot will likely be necessary prior to the winter season. Study results suggest a booster dose produced a "robust" antibody response against three variants, including delta. Israel has already announced the country would give booster doses to its elderly population.33
A study by the National Institutes of Health suggested people who got the J&J vaccine as their initial vaccination against the coronavirus may get their best protection from choosing an mRNA vaccine as the booster. If you got the Johnson & Johnson vaccine as your first COVID-19 shot, a booster dose of either the Moderna or Pfizer-BioNTech vaccine apparently could produce a stronger immune response than a second dose of J&J's vaccine. And if you started out with either Pfizer or Moderna, it probably doesn't matter that much.
The bodies adaptive immune system targets specific viruses by producing antibodies against a unique virus like COVID-19 to protect us in both the short and long term. When the bodies B and T lymphocyte cells respond to a virus they create germinal centers in the lymph nodes which is where plasma cells learn how to make antibodies to fight the COVID-19 infection. The germinal centers also produce memory cells which go into action and eliminate an infection when your re-exposed. Recent research suggests germinal centers take 15 weeks or longer to form after vaccination and their production of memory cells may provide longer term immunity to COVID-19 lasting years.30 Studies have shown however that the levels of neutralizing antibodies generated by the COVID vaccines do decline over time.31
Israel's Ministry of Health has reported a decrease in vaccine effectiveness over time to 64% for preventing both infection and symptomatic illness but remains 93% effective in preventing serious illness and hospitalization.32 Although the vaccine may no longer be producing levels of antibodies that protect people entirely from infection, the long-term memory response is still working and protecting people from serious illness and death.
Pfizer said that a third dose of its vaccine elicits an antibody response five to 10 times higher than after two doses. Measuring antibody levels as a surrogate endpoint for effectiveness to guide policy however may be the wrong measure – what we really care about is preventing serious illness. The U.K. government in fact recently announced that they are considering using actual serious COVID illness as a benchmark for guiding policy instead of infection as measured by antibodies.
Currently non-immunocompromised fully vaccinated individuals appear to have the best available protection against serious illness from COVID-19 and focusing on getting the unvaccinated vaccinated should remain a priority. But what's the harm in being prepared for the time when boosters may be needed? Developing a booster and getting safety data should be a priority especially for those most at risk. Our responsibility should be to protect those who are most vulnerable.
Is an additional dose the same as a booster shot?
No. An additional dose is different from a booster dose, immunocompromised individuals, may not develop the same immune response after vaccination so an additional dose is recommended to help them build the same level of immunity as people who are not immunocompromised.
Who should get a booster shot of COVID-19 vaccine?
The Centers for Disease Control has recommended everyone 16 years and older receive a booster shot.
For Moderna and Pfizer-BioNTech COVID-19 vaccines, a single COVID-19 vaccine booster dose is recommended 6 months after completion of an mRNA primary series. The Moderna booster dose is a smaller 50 microgram dose.
For Janssen (Johnson & Johnson) COVID-19 vaccine, a single COVID-19 vaccine booster dose is recommended for people aged 18 years and older, 2 months after receipt of the initial Johnson & Johnson dose, under the FDA's Emergency Use Authorization.
Who should get an additional dose of vaccine?
Currently, individuals with moderately to severely compromised immune systems are recommended for an additional dose of COVID-19 vaccine if they previously received a two-dose primary series of either the Pfizer BioNTech or Moderna COVID-19 vaccines. More information here: COVID-19 Vaccines for Moderately to Severely Immunocompromised People | CDC
Can I get any type of COVID-19 vaccine for the additional dose or booster dose?
Yes thee FDA Authorized Moderna, Janssen COVID-19 Booster Shots, Allows for Mix and Match
The Food and Drug Administration (FDA) has amended the Emergency Use Authorizations (EUA) for the Moderna COVID-19 vaccine and the Janssen COVID-19 vaccine to include use of a booster dose.
For the Moderna COVID-19 vaccine, a single booster dose at the 50µg dose level (0.25mL) may be administered at least 6 months after completion of the primary series to individuals 65 years of age and older, as well as to people 18 to 64 years old at high risk of severe COVID-19 or to those with frequent institutional or occupational exposure to SARS-CoV-2. Additional information about the booster dose can be found in the updated Moderna COVID-19 EUA fact sheet.
For the Janssen COVID-19 vaccine, a single booster dose may be administered at least 2 months after completion of the single-dose primary regimen in individuals 18 years of age and older. The Janssen COVID-19 vaccine booster dose level is the same as the one administered for the primary vaccination (0.5mL). The updated Janssen COVID-19 EUA fact sheet can be found here.
The Agency has also authorized the use of a heterologous (or "mix and match") booster dose for all currently authorized and approved COVID-19 vaccines following the completion of primary vaccination. After a review of available data, the FDA found that the benefits of a single heterologous booster dose outweighed the known or potential risks.42-44
What is your approach to timing of the Covid vaccination for patients with cancer who have not have had prior Covid 19, and are about to start chemotherapy?
If possible to delay, is it advised to delay starting chemo until 2 weeks after completing the Covid 19 vaccine series in order to max out the protective benefit from the vaccine.
Can i get the vaccine while receiving chemotherapy?
Yes. Having cancer regardless of treatment status is a risk factor for worse outcome from infections including influenza and COVID-19. Some individuals with suppressed immune systems may not respond to the vaccine as well as others but this is not a reason not to get the vaccine.
Patients who received intensive cytotoxic chemotherapy and experienced a resulting decrease in absolute neutrophil count should wait until the neutrophil count recovers to receive the vaccine. It is also advised that patients who underwent a major surgery wait a few days to be vaccinated. All other patients with cancer, regardless of their type of treatment, should receive the vaccine as soon as it is made available to them, according to the NCCN. (1) The vaccine has not been evaluated in cancer patients specifically at this time.
When should the COVID vaccine be given if I have already started chemotherapy?
My last dose of Taxol is in 2 days. I am 51 yo and a Health Care worker so eligible to receive the vaccine now. When should I get the covid vaccine? and have there been any common side effects noted for cancer/chemo patients since we have started vaccination
The vaccines are approved for general use and you should get the vaccine. The vaccines however were not evaluated in patients with blood disorders or cancers and compromised immune systems so we are not certain how effective they will be - the CDC is recommending cancer patients should get the vaccine. You should however discuss vaccination with the doctor managing your cancer.
Thus far the reported side effects in patients with cancer are no different than the general population.
It's been 2 1/2 years since I entered remission for my lymphoma, has my immune system fully recovered to take the COVID-19 vaccine?
Assuming you are not on any type of maintenance therapy your immune system is completely or nearly completely recovered and the CDC and other MD groups would recommend vaccination at this time.
Hi! I am 37 years, I have E.T with CALR Gene, I am also pregnant-18 weeks, is it safe to have covid vaccine, my doctor suggest to wait, but im so afraid
It is recommended to all patients with any type of myeloproliferative disease of the bone marrow (ET is one of them) to receive a vaccine. Age of the patients, presence of one or the other mutation, or platelet number do not matter. So, from ET standpoint, vaccine is suggested. Currently the CDC recommends vaccination during pregnancy – guidelines are published here; CDC vaccine recommendations during pregnancy
I am 85 years old under treatment for multiple myeloma for the past 6 years. Presently the disease brought to remission stage and I am not taking any medicine for the past 2 years. Can I now take one of the COVID vaccines available in India ?
Yes you can take the vaccine and you should get a pretty good immune response if you are off therapy for 2 years.  
Can I have the covid-19 vaccine if i am taking letrozole as maintenance therapy for cancer?
Yes, the vaccine can be given with most drugs used to treat cancer. It might be advisable to hold certain medications that suppress the immune system for a few weeks to give your immune system the best chance to generate a full immune response. Make sure you discuss with your oncologist before changing any of your meds.
For those with cancer, are they in line to receive the vaccine sooner? Are they more susceptible to getting sick/die from COVID19?
Having cancer regardless of treatment status is a risk factor for worse outcome from infections including influenza and COVID-19. In terms of prioritization, and according to CDC guidelines, cancer patients will be part of the phase II wave of vaccination which will occur sometime in February. The vaccine is given in 2 doses at 21 days interval and we expect patients receiving the vaccine to be immune 2-3 weeks after their second dose of vaccine.
Vaccine Safety
I am concerned about the safety of the two RNA vaccines in general. Are they continued to be studied for safety even as people are getting them. Are there any studies on the safety and efficacy of multiple myeloma patients and these vaccines. I have low risk smoldering myeloma.
Is it safe for an 80 year old mother on 10 mg revlimid daily , with low antibodies, multiple myeloma to get the COVID vaccine.
The vaccines have not been evaluated in patients with blood disorders or cancers and compromised immune systems so we are not certain how effective they will be - the CDC is recommending cancer patients should get the vaccine. You should however discuss vaccination with the doctor managing your cancer.
Thus far the reported side effects in patients with cancer are no different than the general population.
The most common side effects reported in the clinical trials were pain at the injection site, fatigue, and fever. Serious side effects were rare and long-term side effects have not yet been well defined for SARS-CoV-2 vaccines and will be available once phase 3 trials have been followed longer. A national monitoring system exists for reporting vaccine-related adverse events. There are currently no studies defining vaccine effectiveness in patients with myeloma or other cancers. Answers to more questions about vaccination specifically in cancer patients here.
Risk of Anaphylaxis: Anaphylaxis is a life-threatening allergic reaction that occurs rarely after vaccination, with onset typically within minutes to hours. After administration of a reported 1 893 360 first doses of Pfizer-BioNTech COVID-19 vaccine the CDC estimates a rate of 11.1 cases of anaphylaxis per million doses administered. No deaths from anaphylaxis were reported.3
Local reactions to the COVID Vaccines: A report published online in the March 3 New England Journal of Medicine has described reactions near the injection site after complete resolution of the initial local and systemic symptoms associated with vaccination in 12 individuals treated with the the mRNA-1273 vaccine. Five individuals developed plaques ≥ 10 cm in diameter and some individuals experienced concurrent systemic side effects. Treatment consisted of antihistamines and steroids and all symptoms resolved a median of 6 days after onset.4
What is known about the risk of myocarditis and COVID vaccination?
The Food and Drug Administration is expected to add a warning to the Centers for Disease Control and Prevention's fact sheet about the risk of myocarditis and pericarditis following the second dose of the Pfizer and Moderna vaccine.
Myocarditis is characterized as inflammation of the heart muscle. Pericarditis is inflammation of the tissue surrounding the heart. Symptoms may include chest pain, shortness of breath and heart palpitations. Individuals developing myocarditis are typically under age 30 and symptoms appear 4-8 days after vaccination, more commonly after the second dose of the mRNA vaccine.
The CDC says 323 cases of heart inflammation have been confirmed after the second dose of the Pfizer or Moderna vaccine. More than 250 possible cases are still being investigated. According to the voluntary, self-reporting Vaccine Adverse Event Reporting System, the rate of myocarditis among adolescents 12 through 17 who received a COVID-19 vaccine was 1.8 per 100,000. For boys, it was 3.2 per 100,000. Higher rates of myocarditis have not been reported in individuals receiving the single-dose Johnson & Johnson vaccine, which does not use the mRNA technology.
Vaccination may also prevent long-term symptoms, and a hyper-inflammatory condition called MIS-C, which strikes an estimated 1 of every 3,200 children infected with SARS-CoV-2 (SN: 5/12/20).
For more information visit the CDC and VAERS website.
https://vaers.hhs.gov/reportevent.html
https://www.cdc.gov/coronavirus/2019-ncov/vaccines/safety/myocarditis.html
https://www.cdc.gov/vaccines/covid-19/clinical-considerations/myocarditis.html
I have neutropenia. Is the covid vaccine effective and safe for me? If yes, what would be the best choice of the currently approved vaccines? Is it better to wait until more data is collected since the vaccines were tested on healthy individuals?
The clinical trials suggest that the vaccine appears safe to take, there is however no data on efficacy in patients with neutropenia and both the Pfizer and Moderna vaccines appear to have similar effectiveness but they have not been directly compared.
Is it safe to get the vaccine during radiation therapy ?
Radiation therapy in patients with myeloproliferative neoplasms is extremely rarely used, and this would be in myelofibrosis patients that have terribly enlarged spleen not responding to any other therapy, in which case radiation is given over limited number of days (e.g. 7-10 days) to the spleen specifically (not to the whole body). while there is no experience giving vaccine to such patients while receiving radiation, one may wait for 10 days and provide vaccine once radiation has been done.
My friend says that the Pfizer mRNA vaccine may cause covid19 illness in some people, is it true?
Absolutely not , there is no virus in the vaccine​.
Can SARS Pfizer vaccination potentially exacerbate undiagnosed or newly Chronic Myeloproliferative disorders in elderly patients ? or this is purely coincidental.
There is no scientific possibility for a vaccine to cause a neoplasm of the bone marrow. This is therefore purely coincidental.
The "Ask The Experts About COVID-19 and Cancer" Series
References
Preliminary Recommendations of the NCCN COVID-19 Vaccination Advisory Committee, version 1.0. National Comprehensive Cancer Network. Published January 22, 2021. Accessed February 22, 2021.
Pfizer and BioNTech provide update on booster program in light of the Delta-variant . [press release]. New York, NY and Mainz, Germany: Pfizer and BioNTech; July 8, 2021.
Joint CDC and FDA Statement on Vaccine Boosters. Accessed July 9, 2021. Published July 8, 20212. Accessed July 9, 2021. https://www.fda.gov/news-events/press-announcements/joint-cdc-and-fda-statement-vaccine-boosters.
The Ask The Expert Series is made possible by support fromThe Personalized Medicine Foundation, Incyte Oncology, Abbvie, and CancerConnect. The "Ask The Expert" series is not medical advice nor is it a substitute for your doctor. It should serve as a guide to facilitate access to additional information and enhancement of a shared decision making process with your treating physician.