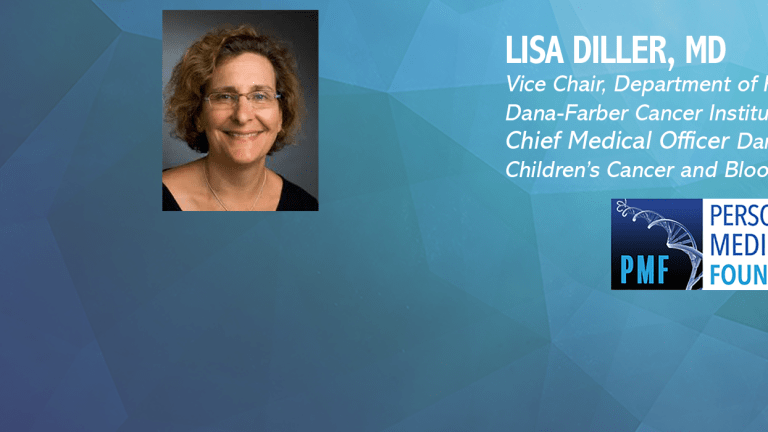 Ask the Expert: Fertility after Cancer Treatment
Understanding the impact of cancer treatment on fertility.
Dr Leslie Diller M.D. of Dana Farber Cancer Center discusses cancer and fertility.
What is the link between childhood cancer and fertility?
We have known for a long time that individuals who had childhood cancer may have limited fertility as a result of treatment. For boys, cancer therapy may lower sperm count. For girls it's more complicated. They need functioning ovaries and a functioning uterus. They need their hormonal paths to induce menstrual cycles. All these functions can be adversely affected by treatments for childhood cancer. For example, many types of childhood cancer require radiation therapy. Radiation to the pelvic area might affect the ability of the uterus to grow during pregnancy, or it might affect the ability of the ovaries to produce eggs. Radiation to the brain can affect hormones produced there that tell the ovaries to cycle.
What do we know about the likelihood that a woman who had cancer as a girl will be able to get pregnant? How does this compare with other women?
New research from Dana-Farber/Boston Children's Cancer and Blood Disorders Center as well as from Brigham and Women's Hospital gives us valuable information about the fertility of women who were treated for childhood cancer, went through puberty normally, and are menstruating like any other woman. What we wanted to find out was What are the chances that these women will get pregnant?
We looked at women of childbearing age, in their twenties and thirties, who had a history of childhood cancer. To find the women whose ovaries were not functioning normally, we asked if they were in menopause. If they were not in menopause, we asked whether they had ever tried to get pregnant for 12 months without success. Approximately 16 percent overall had some form of infertility, compared with about 11 percent in a control group composed of sisters of cancer survivors. This translates to roughly a 50 percent higher risk of infertility among women who had been treated for childhood cancer.
About 3 percent of the cancer survivors were in menopause. About 13 percent were menstruating and appeared to have functioning reproductive systems but had not conceived after trying for a year. About two-thirds of these menstruating women eventually got pregnant. That is roughly the same rate of eventual conception found among all women who have tried unsuccessfully for one year to get pregnant. This tells us that women who survived childhood cancer have a good chance of getting pregnant, even though it might take them longer.
Are certain women who were treated for childhood cancer at particular risk of infertility?
Women who had been treated with alkylating agent chemotherapy (drugs like cyclophosphamide and nitrogen mustard) or who received radiation to the abdomen or pelvis were most likely to experience infertility. They were more likely to experience early menopause and clinical infertility and not get pregnant at all following clinical infertility.
The biggest risk of infertility for any woman, whether she has had childhood cancer or not, is older age. Fertility rapidly declines after age 35. This was true among the cancer survivors as well. In fact, they didn't look all that different from their siblings when they entered their late thirties. It was really at the younger ages that we saw a significantly elevated risk of infertility among the women who had been treated for cancer as girls, compared with women who had not had childhood cancer.
What advice do you have for women who had childhood cancer and want to get pregnant?
Physicians generally advise women to see a fertility specialist after trying to get pregnant unsuccessfully for a year. With women who were treated for childhood cancer, we recommend that they see a fertility specialist after six months. If you have irregular menses, received pelvic or abdominal radiation or alkylating agents, or are not sure of your treatment or fertility status, you may want to seek a specialist's guidance as soon as you are ready to start trying to conceive. In addition, a 20-something young woman who had alkylating agents or radiation may want to have children at some point in the future but is not yet ready to conceive. She should make an appointment with a reproductive specialist to get information about egg preservation.
What advice about fertility preservation do you have for parents whose child is diagnosed with cancer?
It is often very hard for a parent to deal with a new diagnosis of cancer in a young child and at the same time imagine a future when the child's fertility becomes an issue. It is important to talk with a professional about various options so that you have the information you need to make a decision about fertility preservation.
With post pubertal boys it is worth collecting their sperm because it is so easy. For adolescent girls it's more complicated. Preserving eggs can delay cancer therapy for one to two weeks. It involves taking hormones and a minor procedure to harvest the eggs. It is more invasive than collecting sperm, so we reserve it for adolescent girls who are receiving therapies that we suspect will limit ovarian function. In addition, if a girl is being treated with radiation, we can sometimes move the ovaries away from the area where the radiation is being delivered.
Whether it is a newly diagnosed child or a young woman who survived childhood cancer, parents and patients alike are best served by asking questions to help them make decisions about fertility and fertility preservation. Likewise it is important for caregivers to provide patients and parents with the information they need to make those decisions. Our research strengthens clinicians' ability to do so by filling in some gaps in our understanding of the complex relationship between childhood cancer and fertility
Lisa Diller, MD, chief medical officer of Dana-Farber/Boston Children's Cancer and Blood Disorders Center, is an internationally known expert on issues facing survivors of childhood cancer. She is founding director of Dana-Farber/Boston Children's David B. Perini, Jr. Quality of Life Clinic, established in 1993 as one of the nation's first clinics for survivors of childhood cancer. Dr. Diller is also founder and director of the Perini Family Survivors' Center at Dana-Farber Cancer Institute. She has served as co-chair of the Chronic Disease Working Group of the National Cancer Institute's Childhood Cancer Survivor Study and on the survivor study's steering committee. She is a founding member of the Consortium for New England Childhood Cancer Survivors. Dr. Diller earned her BA from Harvard College and her MD from the University of California, San Diego. She completed her residency in pediatrics at Boston Children's Hospital and a fellowship in pediatric hematology/oncology at Dana-Farber/Boston Children's.
This Ask The Expert Series was made possible by support fromThe Personalized Medicine Foundation, Incyte Oncology, Abbvie, and CancerConnect. The "Ask The Expert" series is not medical advice nor is it a substitute for your doctor. It should serve as a guide to facilitate access to additional information and enhancement of a shared decision making process with your treating physician.