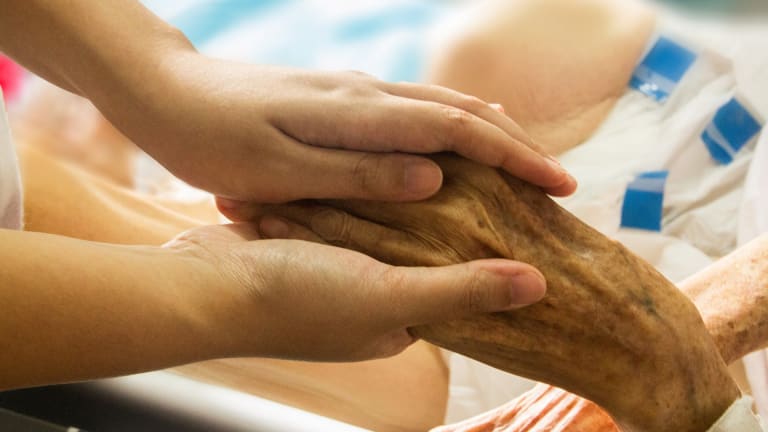 ASCO Recommends Early Integration of Palliative Care for Advanced Cancers
Understanding the role of palliative care for advanced cancers
by Dr. C.H. Weaver M.D. updated 5/2022
The American Society of Clinical Oncology (ASCO) has updated its guidelines on the integration of palliative care for patients diagnosed with advanced cancer, as well as their caretakers. In essence, the guidelines state that palliative care should be administered as early as possible for all patients diagnosed with advanced cancers, alongside their active treatment, as part of their care. The updated guidelines were published in the Journal of Clinical Oncology.1
The definition of palliative care used for oncology patients, adopted by the National Consensus Project, is the following: "Palliative care means patient and family-centered care that optimizes quality of life by anticipating, preventing, and treating suffering. Palliative care throughout the continuum of illness involves addressing physical, intellectual, emotional, social, and spiritual needs and to facilitate patient autonomy, access to information, and choice."
Historically, palliative care was often reserved for patients who suffered from symptoms caused by their cancer and/or were at the end of their lives. However, more recently, palliative care has been recognized to improve numerous aspects of quality of life for cancer patients and their caregivers, and is now being evaluated for its possible benefits in earlier-stages of the disease.
According to ASCO, palliative care for cancer includes the following aspects of care:
Open discussions and relationship-building with the patient and family caregivers
Management of symptoms, distress, and function such as pain, shortness of breath, fatigue, mood, nausea, constipation, etc.
Education and understanding of the illness and prognosis
Clarification by the patient of treatment goals
Assessment and support of needs for healthy coping, such as maintaining dignity
Assistance with medical decision-making
Coordination of care or assistance with other care providers
Referrals to other care providers, as needed
The updated guidelines were set forth following extensive review of data and clinical trials exploring outcomes associated with palliative care administered to patients with advanced cancer, as well as their family and caregivers. An Expert Panel was convened that included healthcare providers from multiple disciplines to objectively interpret the evidence of published results.
Overall, palliative care demonstrated a significant improvement in quality of life measures for patients, whether the patients were admitted to the hospital, or were receiving outpatient treatment. Furthermore, family members and caregivers of patients also demonstrated an improvement in their quality of life as caretakers to the patient with the integration of dedicated palliative care to the patient.
Due to the overwhelming positive outcomes associated with integration of palliative care alongside active treatment for patients with advanced cancer, with no detectable negative outcomes associated with palliative care measures, the panel determined the following 5 recommendations:
"Palliative care for patients with advanced cancer should be delivered through interdisciplinary palliative care teams, with consultation available in both outpatient and inpatient settings;
Patients with advanced cancer should be referred to interdisciplinary palliative care teams (consultation) that provide inpatient and outpatient care early in the course of disease, alongside active treatment of their cancer. For newly diagnosed patients with advanced cancer, the Expert Panel suggests early palliative care involvement, starting early in the diagnosis process and ideally within 8 weeks of diagnosis;
Among patients with cancer with high symptom burden and/or unmet physical or psychosocial needs, outpatient programs of cancer care should provide and use dedicated resources (palliative care clinicians) to deliver palliative care services to complement existing program tools;
For patients with early or advanced cancer for whom family caregivers will provide care in outpatient, home, or community settings, nurses, social workers, or other providers may initiate caregiver-tailored palliative care support, which could include telephone coaching, education, referrals, and face-to-face meetings. For family caregivers who may live in rural areas and/or are unable to travel to clinic and/or longer distances, telephone support may be offered;
Interventional studies support early specialty palliative care referrals among patients with advanced-stage malignancies and their caregivers."

According to the updated ASCO guidelines, the Expert Panel issued the following final determination that included palliative care into the standard treatment guidelines for patients with advanced cancer: "Inpatients and outpatients with advanced cancer should receive dedicated palliative care services, early in the disease course, concurrent with active treatment. Referral of patients to interdisciplinary palliative care teams is optimal, and services may complement existing programs. Providers may refer family and friend caregivers of patients with early or advanced cancer to palliative care services."
Patients diagnosed with advanced cancer, loved ones of patients with advanced cancer, and/or caretakers of patients with advanced cancer should ensure they receive referrals to the appropriate palliative care specialists. As stated within the recommendations, dedicated palliative care services should ideally be initiated within 8 weeks of the diagnosis of advanced cancer.
The place where cancer patients die may affect their quality of life and end of life as well as the psychiatric health of their caregivers, according to a study published in the Journal of Clinical Oncology.
End-of-life care for cancer patients may be provided in a variety of settings, including the hospital, intensive care unit (ICU), or at home with hospice care. The place where a cancer patient dies may not only affect the patient but the caregiver as well.To better understand how place of death impacts patients and caregivers, researchers followed 342 patient-caregiver pairs. All patients had advanced cancer and were followed from enrollment in the study to their death (an average of 4.5 months).
Caregivers reported on the quality of life and end of life of their patients within two weeks of their death. The caregivers' mental health was assessed at enrollment and again six months after their patient had died.It appeared that patients who died in the hospital or ICU had a worse quality of life and a worse end of life and experienced more physical and emotional distress than patients who died at home with hospice care. Caregivers whose patients died in the hospital or ICU had a greater risk of post-traumatic stress disorder and extended grief disorder than those whose patients died at home; this remained true after accounting for any preexisting mental illness among caregivers.
The researchers conclude that place of death does affect patients and caregivers, with home deaths associated with better quality of life for patients and better mental health for caregivers. They suggest increased efforts to avoid hospitalization at the end of life and increase use of home hospice care.2
References:
Ferrell B, Temel J, Temin S, et al. Integration of Palliative Care Into Standard Oncology Care: American Society of Clinical Oncology Clinical Practice Guideline Update. Journal of Clinical Oncology. DOI: 10.1200/JCO.2016.70.1474. Available at: . Accessed November 21, 2016.
Reference: Wright AA, Keating NL, Balboni TA, et al. Place of death: correlations with quality of life of patients with cancer and predictors of bereaved caregivers' mental health. Journal of Clinical Oncology [early online publication]. September, 13, 2010.
Copyright © 2018 CancerConnect. All Rights Reserved.