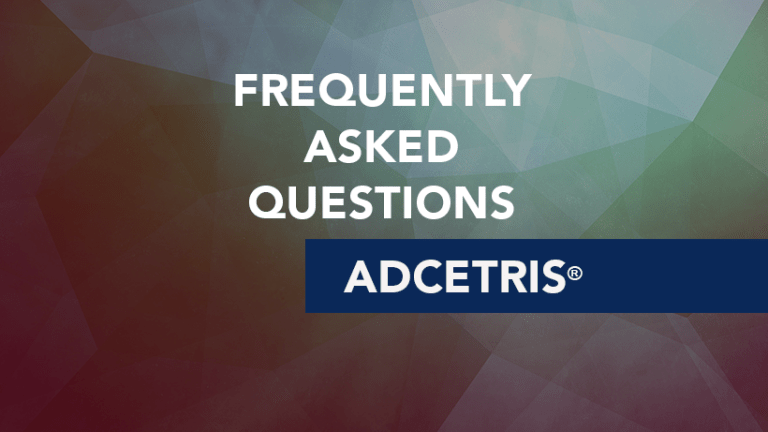 Answers to FAQ's About Adcetris®
Understand the administration, side effects and answers to frequently asked questions about Adcetris.
Adcetris® (brentuximab vedotin)
Class: Precision Cancer Medicine-Targeted Therapy
Reviewed by C. H. Weaver M.D. CancerConnect Medical Editor 12/2018
​
How is Adcetris used? Adcetris is used for the treatment of Hodgkin lymphoma that has progressed after autologous stem cell transplant or has progressed after at least two prior multi-agent chemotherapy regimens in patients who are not candidates for a stem cell transplant, and for patients with Hodgkin lymphoma with a high risk of progression or relapse after autologous stem cell transplant. In addition, Adcetris is also used for the treatment of systemic anaplastic large cell lymphoma (a type of non-Hodgkin lymphoma) that has progressed after at least one prior multi-agent chemotherapy regimen.
What is the mechanism of action? Adcetris targets a protein known as CD30, which is present on Hodgkin lymphoma cells as well as cells from other cancers, including anaplastic large cell lymphoma. Once Adcetris enters CD30-positive cells, it releases the chemotherapy drug monomethyl auristatin E.
How is Adcetris given (administered)? Adcetris is given as an intravenous (IV) infusion.
How are patients being treated withe Adcetris monitored? Patients will usually have scheduled meetings with their healthcare provider while they are being treated with Adcetris. Typically, blood will be drawn to check levels of blood cells and to monitor functions of some organ systems. Patients may undergo physical examinations and other tests to assess side effects and response to therapy.
What are the most common side effects of treatment with Adcetris?
Low blood cell counts (low levels of white blood cells, red blood cells, and platelets)
Peripheral sensory neuropathy (a nerve problem that causes pain, numbness, tingling, or swelling of the hands or feet)
Fatigue
Nausea
Upper respiratory tract infection
Diarrhea
Fever
Rash
Cough
Vomiting
This is not a complete list of side effects. Some patients may experience other side effects that are not listed here. Patients may wish to discuss with their physician the other less common side effects of this drug, some of which may be serious.
Some side effects may require medical attention. Other side effects do not require medical attention and may go away during treatment. Patients should check with their physician about any side effects that continue or are bothersome.
What are less common but potentially serious side affects of treatment with Adcetris?
Blood and lymphatic disorders
Gastrointestinal disorders such as pancreatitis, perforation, hemorrhage, erosion, ulcer, obstruction, enterocolitis, neutropenic colitis, and ileus
Skin reactions such as Stevens-Johnson syndrome and toxic epidermal necrolysis
Progressive multifocal leukoencephalopathy (PML), a rare and often fatal disease characterized by damage to the white matter of the brain, caused by the JC virus due to a weakened immune system
Infusion reactions
Severe neutropenia, thrombocytopenia, or anemia
Increased toxicity for patients with kidney or liver impairment
Tumor lysis syndrome
Pulmonary (lung) toxicity including pneumonitis, interstitial lung disease, and acute respiratory distress syndrome (ARDS)
What can patients do to help alleviate or prevent discomfort and side effects?
Pay careful attention to the physician's instructions and inform the physician of any side effects.
Maintain adequate rest and nutrition.
If possible, avoid large crowds or people who are sick or not feeling well, as this drug may leave some patients susceptible to infection.
Wash hands often to reduce the risk of infection.
Eat small meals frequently to help alleviate nausea.
Are there any special precautions patients should be aware of before starting treatment?
Patients should inform their physician about all medical conditions.
Patients should inform their physician of any other medication or supplement they are taking (whether prescription or over-the-counter).
Patients should inform their physician if they are pregnant, breastfeeding or planning a family in the near future. Adcetris may harm an unborn baby.
When should patients notify their physician? Tell your doctor if you experience any side effects that bother you or don't go away. Also watch for and report symptoms of neuropathy (numbness or tingling in the hands or feet or muscle weakness), infection (fever, chills, cough, or pain on urination), and infusion reaction (fever, chills, rash or breathing problems within 24 hours of infusion).
What is a package insert? A package insert is required by the FDA and contains a summary of the essential scientific information needed for the safe and effective use of the drug for healthcare providers and consumers. A package insert typically includes information regarding specific indications, administration schedules, dosing, side effects, contraindications, results from some clinical trials, chemical structure, pharmacokinetics and metabolism of the specific drug. By carefully reviewing the package insert, you will get the most complete and current information about how to safely use this drug. If you do not have the package insert for the drug you are using, your pharmacist or physician may be able to provide you with a copy.
Copyright © 2018 CancerConnect Last updated 08/16.
Important Limitations of Use
The information provided above on the drug you have selected is provided for your information only and is not a substitute for consultation with an appropriate medical doctor. We are providing this information solely as a courtesy and, as such, it is in no way a recommendation as to the safety, efficacy, or appropriateness of any particular drug, regimen, dosing schedule for any particular cancer, condition, or patient nor is it in any way to be considered medical advice. Patients should discuss the appropriateness of a particular drug or chemotherapy regimen with their physician.
As with any printed reference, the use of particular drugs, regimens and drug dosages may become out-of-date over time, since new information may have been published and become generally accepted after the latest update to this printed information. Please keep in mind that health care professionals are fully responsible for practicing within current standards, avoiding use of outdated regimens, employing good clinical judgment in selecting drugs and/or regimens, in calculating doses for individual patients, and verifying all dosage calculations.
DISCLAIMER OF WARRANTIES
CANCERCONNECT SPECIFICALLY DISCLAIMS AND EXCLUDES ALL EXPRESSED OR IMPLIED WARRANTIES, INCLUDING ANY IMPLIED WARRANTIES AS TO QUALITY, ACCURACY (INCLUDING TYPOGRAPHICAL ERRORS), MERCHANTABILITY, OR FITNESS FOR ANY PARTICULAR PURPOSE OF THE INFORMATION CONTAINED HEREIN. CANCERCONNECT DISCLAIMS ALL LIABILITY OR DAMAGES ARISING FROM ANY USE OF THE INFORMATION.
The prescribing physician is solely responsible for making all decisions relating to appropriate patient care including, but not limited to, drugs, regimens, dose, schedule, and any supportive care.