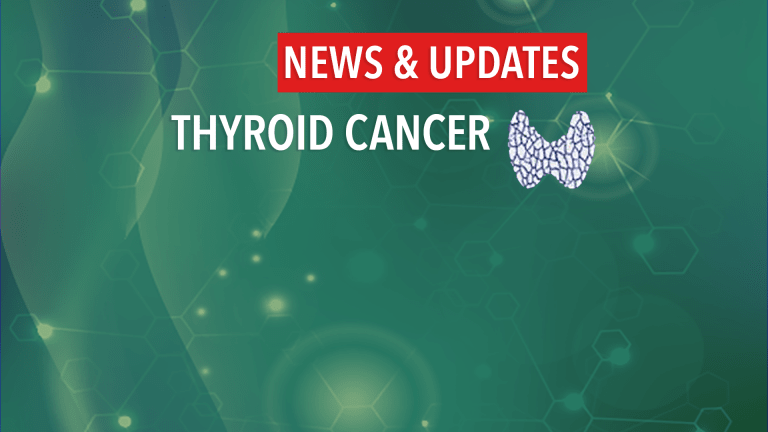 Vandetanib Approved for Medullary Thyroid Cancer
Vandetanib Approved for Medullary Thyroid Cancer
The US Food and Drug Administration (FDA) has approved vandetanib for the treatment of adult patients with metastatic, medullary thyroid cancer that is growing or causing symptoms and cannot be treated surgically.
Medullary thyroid cancers account for approximately 2-3% of all thyroid cancers. These cancers tend to have a somewhat worse prognosis than more common types of thyroid cancer, and up to 25% of cases are thought to be hereditary. When possible, treatment involves surgery to remove the thyroid gland. Conventional chemotherapy has limited effectiveness against medullary thyroid cancer, and prior to the approval of vandetanib there were no medications approved for this type of cancer.
Vandetanib is a targeted therapy that interferes with medullary thyroid cancer's ability to grow and spread. The safety and efficacy of vandetanib were evaluated in a Phase III clinical trial of 331 patients with advanced medullary thyroid cancer that could not be surgically removed. Patients were assigned to receive either vandetanib or a placebo.
Vandetanib delayed the progression (worsening) of the cancer. Median progression-free survival was 16.4 months among patients treated with placebo and at least 22.6 months among patients treated with vandetanib (the final result in the vandetanib group requires more follow-up). Information about overall survival in the two groups is not yet available.
Common side effects of vandetanib include diarrhea, rash, nausea, high blood pressure, headache, fatigue, decreased appetite, and stomach (abdominal) pain. Less common (but potentially serious) side effects include heart problems. Because of the potential for serious risks, vandetanib is being approved with a Risk Evaluation and Mitigation Strategy (REMS). Healthcare providers and pharmacies will have to be certified through the program in order to prescribe or dispense the drug, and patients will receive an FDA-approved Medication Guide that describes use of the drug and potential risks.
Reference: FDA News Release. FDA approves new treatment for rare form of thyroid cancer. April 6, 2011.