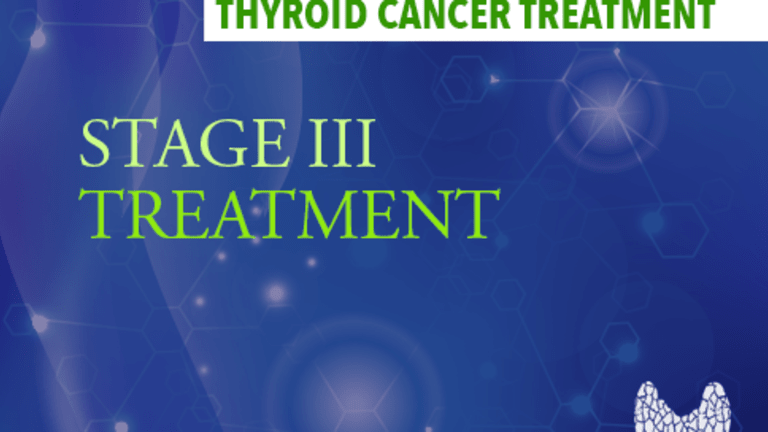 Treatment of Stage III Thyroid Cancer
Treatment of Stage III or locally advanced Thyroid Cancer consists of surgery and radiation therapy.
by Dr. C.H. Weaver M.D. updated 8/2019
Stage III thyroid cancer is greater than 4 cm in diameter and is limited to the thyroid or may have minimal spread outside the thyroid. Lymph nodes near the trachea may be affected. Stage III thyroid cancer that has spread to adjacent cervical tissue or nearby blood vessels has a worse prognosis than cancer confined to the thyroid. However, lymph node metastases do not worsen the prognosis for patients younger than 45 years.
Stage III thyroid cancer is also referred to as locally advanced disease. The following is a general overview of treatment for stage III thyroid cancer. Cancer treatment may consist of a combination of surgery, radioactive iodine treatment, and radiation therapy. Combining two or more of these treatment techniques has become an important approach for increasing a patient's chance of cure and prolonging survival.
Combination Therapy for Stage III Thyroid Cancer
Patients with locally advanced thyroid cancer have a higher risk of cancer recurrence. Typically, cancer recurs because there are small amounts of cancer that have spread outside the thyroid gland and were not removed by surgery. These cancer cells cannot be detected with any of the currently available tests.
To help reduce the risk of cancer recurrence, patients with stage III thyroid cancer typically receive a combination of treatments in an attempt to eliminate as much cancer as possible.
Surgery for Stage III Thyroid Cancer
Surgery for stage III thyroid cancer typically consists of removing the entire thyroid—a procedure called a total thyroidectomy—plus removal of affected lymph nodes. Researchers from Italy have reported that including aggressive surgery in the initial treatment of patients with locally advanced thyroid cancer improves survival. (1)
Total thyroidectomy is associated with a side effect called hypoparathyroidism, which is a low level of a hormone that is normally released from the thyroid called parathyroid hormone. Parathyroid hormone is important for maintaining calcium levels in the blood. Without a functioning thyroid, blood calcium levels become abnormally low, causing a variety of symptoms that typically include weakness and muscle cramps, tingling, burning, and numbness in the hands. This condition is called hypoparathyroidism.
Radioactive Iodine Treatment
Iodine is a natural substance that the thyroid uses to make thyroid hormone. The radioactive form of iodine is collected by the thyroid gland in the same way as non-radioactive iodine. Since the thyroid gland is the only area of the body that uses iodine, the radiation does not concentrate in any other areas of the body. The radioactive iodine that is not taken up by thyroid cells is eliminated from the body, primarily in urine. It is therefore a safe and effective way to test and treat thyroid conditions.
Research indicates that treatment with radioactive iodine improves survival for patients with papillary or follicular thyroid cancer, specifically those with cancer that has spread to nearby lymph nodes or to distant locations in the body. Anaplastic and medullary thyroid carcinoma are inherently non-sensitive to radioactive iodine treatment. (2)
Radiation Therapy after Surgery
Radiation therapy uses high-energy rays to damage cells so that they are unable to grow and divide. Without the ability to replenish themselves, the cancer cells die. Similar to surgery, radiation therapy is a local treatment used to eliminate cancer cells in the area where the rays are focused but cannot kill cancer cells that have already spread throughout the body. (4)
References:
Rosa Pelizzo M, Toniato A, Boschin IM, et al. Locally advanced differentiated thyroid carcinoma: a 35-year mono-institutional experience in 280 patients. Nucl Med Commun. 2005;26(11):965-8.
Podnos YD, Smith D, Wagman LD, Ellenhorn JD. Radioactive iodine offers survival improvement in patients with follicular carcinoma of the thyroid. Surgery. 2005;128(6):1072-6.
Keum KC, Suh YG, Koom WS, et al. The role of postoperative external-beam radiotherapy in the management of patients with papillary thyroid cancer invading the trachea. International Journal of Radiation Oncology Biology Physics. 2006;Mar14:
Rosenbluth BD, Serrano V, Happersett L, et al. Intensity-modulated radiation therapy for the treatment of nonanaplastic thyroid cancer. International Journal of Radiation Oncology Biology Physics. 2005;63(5):1419-26.