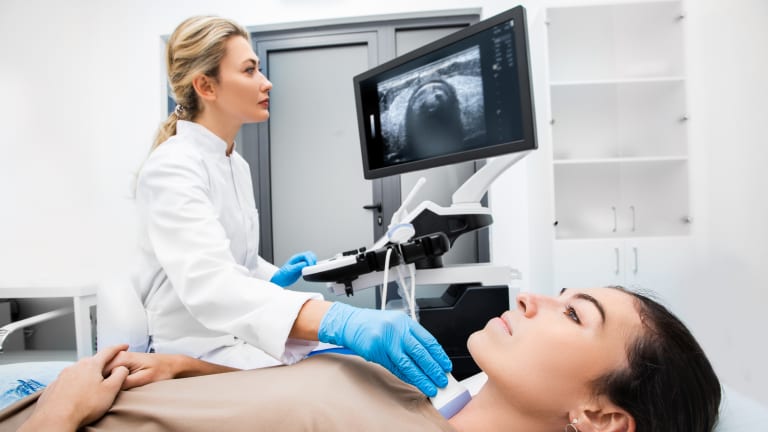 Thyroid Ultrasound May Cut Biopsy Rate
Thyroid Ultrasound can help determine if a nodule is cancerous and requires a biopsy.
Thyroid ultrasound may help identify certain characteristics of thyroid nodules that can predict the likelihood of cancer—and subsequently help determine whether biopsy is necessary, according to the results of a study published in the Journal of the American Medical Association.
The thyroid gland is located in the front of the neck and is attached to the lower part of the voice box (larynx) and to the upper part of the windpipe (trachea). It has two sides, or lobes, that are connected by a narrow neck. The thyroid gland produces thyroid hormones, which regulate metabolism, growth, and development and are essential for life.
Thyroid cancer may be suspected if a small abnormal growth—called a nodule—is found to protrude from the thyroid gland. However, here's the catch—thyroid nodules are quite common, whereas thyroid cancer is rare and develops in only about 1 percent of people. Because the nodules are common and some of them do contain cancer, there is a wide variation in how to handle the nodules—often resulting in overuse of biopsy.
To determine whether certain features on ultrasound imaging could help narrow the number of nodules needing biopsy, researchers conducted a retrospective case-control study that included 8,806 patients who underwent 11,618 thyroid ultrasound exams between 2000 and 2005—and 105 patients were subsequently diagnosed with thyroid cancer. Thyroid nodules were common—96.9 percent of patients diagnosed with thyroid cancer had nodules and 56.4 percent of those not diagnosed with thyroid cancer had them.

There were three ultrasound characteristics associated with the risk of thyroid cancer: microcalcifications, a nodule size greater than 2 cm, and an entirely solid composition. The strongest predictor of cancer was the presence of microcalcifications. The researchers found that if only one characteristic was used as an indication for biopsy, most thyroid cancer cases would be detected, but there would be a high false-positive rate and 56 biopsies would be performed per cancer diagnosed. If two characteristics were required for biopsy, the sensitivity and false-positive rates would be lower and only 16 biopsies would be performed per cancer diagnosed.
When compared with the existing guideline of performing biopsy on all thyroid nodules larger than 5 mm, adoption of a rule requiring two abnormal nodule characteristics on ultrasound prior to biopsy would reduce unnecessary biopsies by 90 percent.
The researchers concluded that thyroid ultrasound imaging could be used to identify patients who have a low risk of cancer and for whom biopsy could be deferred, as well as those with a higher risk for whom biopsy should be recommended. These results will need to be validated in a larger trial, but could lead to more standard recommendations for biopsy of thyroid nodules.
Reference:
Risk of thyroid cancer based on thyroid ultrasound imaging characteristics: Results of a population-based study. JAMA. Published early online August 26, 2013. doi:10.1001/jamainternmed.2013.9245.