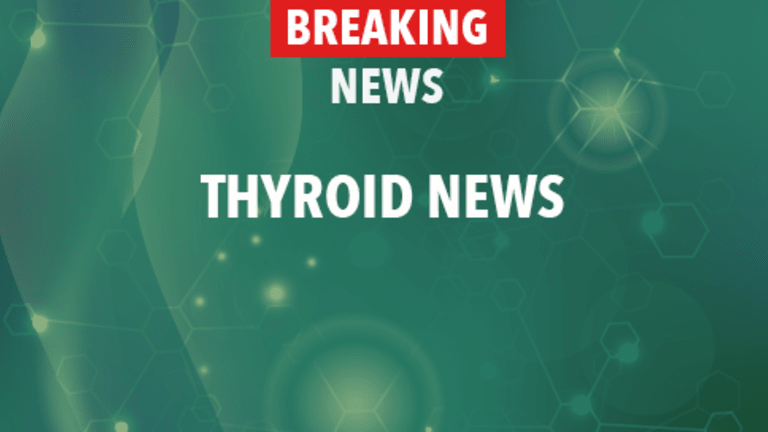 Targeted Drug Caprelsa Slows Thyroid Cancer
Targeted Drug Caprelsa Slows Thyroid Cancer
The targeted drug Caprelsa® (vandetanib) delays progression in advanced differentiated thyroid cancer, according to the results of a study published in The Lancet Oncology.
The thyroid is a gland in the throat that produces hormones mostly related to metabolic processes in the body. Nearly 95% of all thyroid cancers are classified as differentiated thyroid cancers; the distinction refers to the type and characteristics of the cancer cells. Advanced differentiated thyroid cancers have historically not responded to treatment with chemotherapy. It has been thought, however, that tyrosine kinase inhibitors may be effective in the treatment of this form of thyroid cancer, as tyrosine kinases have been implicated in the development of the disease.
Caprelsa is a targeted therapy known as a tyrosine kinase inhibitor. The drug has several mechanisms of action, blocking the vascular endothelial growth factor receptor (VEGFR) and epidermal growth factor receptor (EGFR) pathways, as well as RET-tyrosine kinase activity, which contributes to the growth of some thyroid cancers. Caprelsa is approved for the treatment of medullary thyroid cancer and researchers continue to evaluate its role in advanced differentiated thyroid cancer.
Researchers conducted a randomized, double-blind, phase II study to evaluate the role of Caprelsa in radioiodine-refractory, advanced differentiated thyroid carcinoma. The study included 145 adults with locally advanced or metastatic differentiated thyroid carcinoma (papillary, follicular, or poorly differentiated) at 16 European medical centers. Patients were randomized to receive Caprelsa or placebo.
The results indicated that patients who received Caprelsa had a longer progression-free survival (11.1 months) than those who received placebo (5.9 months). The drug was, however, associated with significant toxicity. The most common grade 3 or higher adverse events were QTc prolongation, diarrhea, asthenia, and fatigue. Two patients in the Caprelsa group died from treatment-related serious adverse events (hemorrhage from skin metastases and pneumonia) compared to one in the placebo group (pneumonia).
The researchers concluded that Caprelsa is the first targeted drug to show evidence of efficacy in patients with locally advanced or metastatic differentiated thyroid carcinoma. Research will likely be ongoing to determine optimal use of the drug in this setting.
Reference:
Leboulleux S, Bastholt L, Krause T, et al. Vandetanib in locally advanced or metastatic differentiated thyroid cancer: a randomised, double-blind, phase 2 trial. The Lancet Oncology. Published early online August 14, 2012. doi:10.1016/S1470-2045(12)70335-2
Copyright © 2018 CancerConnect. All Rights Reserved.