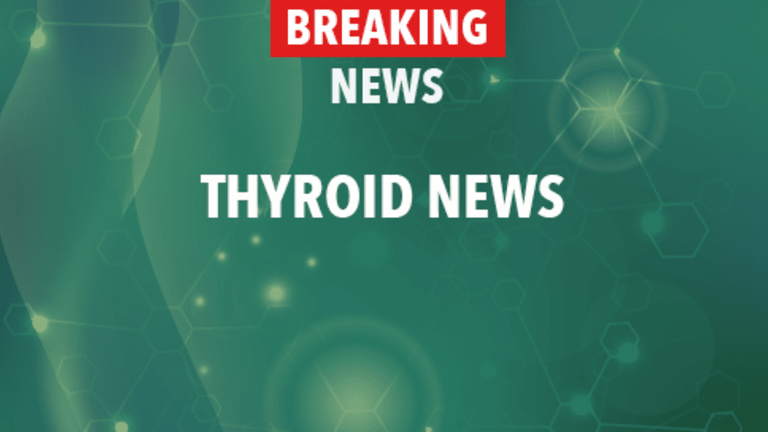 Selumetinib May Reverse Radioiodine Resistance in Advanced Thyroid Cancer
Selumetinib May Reverse Radioiodine Resistance in Advance Thyroid Cancer.
The experimental drug selumetinib (AZD6244) may help some patients with advanced thyroid cancer overcome resistance to radioiodine, which is the most effective treatment for the disease, according to the results of a study published in the New England Journal of Medicine.
The thyroid is a gland in the throat that produces hormones mostly related to metabolic processes in the body. Overall, thyroid cancer is considered to be a highly curable cancer, with 97% of individuals alive at least five years following diagnosis. However, about 5 percent of patients diagnosed with thyroid cancer will develop advanced metastatic disease and sometimes these metastatic thyroid cancers become refractory—or resistant—to radioiodine. These cancers are associated with a poor prognosis. The ten-year survival rate for metastatic thyroid cancer refractory to radioiodine is about 10 percent.
Some research has indicated that a cell's ability to absorb radioiodine is controlled by the MAPK pathway. Selumetinib is an MAPK inhibitor that has shown activity in several types of cancer, including non-small cell lung cancer, thyroid cancer, and melanoma. Researchers from Memorial-Sloan Kettering Cancer Center conducted a study to determine whether selumetinib could reverse radioiodine resistance in patients with metastatic thyroid cancer by inhibiting the signaling of genetic mutations in this pathway.
The study included 20 patients with tumors resistant to radioiodine. Nine patients had tumors with BRAFmutations, and five patients had tumors with mutations of NRAS. After a five-day low-iodine diet, patients received selumetinib (75 mg twice daily) for four weeks. After four weeks, patients underwent positron-emission tomography (PET) scans to determine how much radioiodine their tumors would absorb.

The results indicated that selumetinib increased the uptake of iodine-124 in 12 of the 20 patients (4 of 9 patients with BRAF mutations and 5 of 5 patients with NRAS mutations). Eight of these 12 patients reached the dosimetry threshold for radioiodine therapy, including all five patients with NRAS mutations. Of the eight patients treated with radioiodine, five had confirmed partial responses and three had stable disease. In seven of the eight patients, outcomes remained unchanged during six months of follow-up. All eight patients had a decreased level of serum thyroglobulin – a protein in the blood used to screen for advanced thyroid cancer – and none experienced serious side effects from selumetinib.
The researchers concluded that selumetinib produces clinically meaningful increases in iodine uptake and retention in a subgroup of patients with thyroid cancer that is resistant to radioiodine. The approach seems especially effective among patients with a RAS mutation, which is a component of the MAPK pathway. Research will be ongoing to continue to evaluate selumetinib in patients with thyroid cancer.
Reference:
Ho AL, Grewal RK, Leboeuf R, et al. Selumetinib-enhanced radioiodine uptake in advanced thyroid cancer. New England Journal of Medicine. 2013; 368: 623-632.
Copyright © 2018 CancerConnect. All Rights Reserved.